Navigate to: Chuck's Falconry Home Page
2012/2013 Cisco's 8th Season, Farrah's 2nd in Houston

The previous season log can be found at Cisco's 7th Season
Please email me: cisco@virtualvideo.cc
Newest Updates at Top

| | |
| --- | --- |
| Cisco: Summertime, and the living is easy | Farrah: Just something they like to do in the hot summer sun. |
| Last season, actually being a hawk (eating a squirrel head) | Farrah's last squirrel of last season, caught in a flood. |
---
March 25,
2013 - The season has been over

Farrah caught a pregnant female rabbit nine days ago. That did it for 2012/2013. I have already taken Cisco and Farrah out for off-season exercise. My goal this year is to have Cisco molt at around 960 to 970 grams, and let him fly loose on the transmitter for exercise. Farrah is much easier in this regard (Harris' hawk that she is). I flew her last summer loose, she never chased anything but was easy to fly. Cisco stayed on the creance most of the time, though I let him loose in Denver last summer; he punished me by hanging out in a neighborhood all day, coming back in the late afternoon.
This was an email to Jeff LeCompte over in Louisiana - sent March 14:
---
It was a surprisingly good season after last year's lousy one. Things have leveled off lately. Yesterday I had great flights with my two hawks. Lots of chases, nothing in the bag. Mid-day I flew Farrah, who every time I think is invincible on rabbits, shows me that she isn't. She had two rabbits in her sights that I thought were doomed. After an hour or more of vigorous chases I fed her a quail and went home. She also chased a fox squirrel - it's a routine at this place, but she doesn't have any real intention of catching this one. She's smart. I think she got bitten enough where she doesn't want to mess with adult squirrels anymore. I think the Coulsons are right - don't use HH's on squirrels, though they have plenty of agility and can navigate the trees like nuthatches. Farrah had two squirrels actually pounce on her this season. She looks better when she chases them but Cisco puts them in the bag much more consistently. On the other hand, out of nowhere about a month or so back she clobbered a buck fox squirrel, handling it perfectly. Farrah became a really good rabbit hawk, and continually improves. One more rabbit and she ties Cisco's single season rabbit record.


Last evening I took Cisco out to the west side of Bush Park near Addicks. He was primed and ready. At one point he hovered above a rose bush for about twenty seconds as if his computer were telling him no, no, no.......... suddenly a teardrop stoop into a very thick bush which he penetrated and had a squealing rabbit. But he was so encumbered by the bush that he could not control it and it pulled away. Probably a swamp rabbit. He was pinned flat by the bush and I had to help him out. He is a marvellous hawk. That was one of the coolest flights I've seen from him. Other chases followed. After an hour or more I fed him a quail and went home. I have over 100 kills with these two this season so I can't complain. This time of year with mama squirrels, rabbits and cotton rats running around, I don't mind the hawks missing.

---
It was a season with both hawks doing well, with good flights and catching game. Cisco caught twenty squirrels, his personal best, and Farrah caught 29 rabbits, so she tied Cisco's best rabbit season ever. Farrah began the season with squirrels, but she devolved as a squirrel hawk, getting worse rather than better. She turned into a terrific rabbit hawk and to the end steadily improved. As always it was a season with lots of cotton rats for both hawks; Cisco only caught one sparrow this season.
My apprentices all did great. In Houston, we held a mini-meet for THA Associate members in late February. Daniel Rasi took a brace of rabbits with his Harris' hawk, Cora; Joe Philabaum took a rabbit with his passage MRT, Rocky. Rocky is on the cover of the next issue of Bob Dalton's
World of Falconry.
A very nice looking hawk and a lot of fun to fly. Then there's Joe Sedrak, my apprentice and dermatologist from Sugarland. He had his first season with a sweet natured but powerful female red-tail. They caught some rabbits, a squirrel, a cotton rat, a lizard, and some unidentified creature that filled her crop on her first kill. Dr. Sedrak will release her in a few weeks.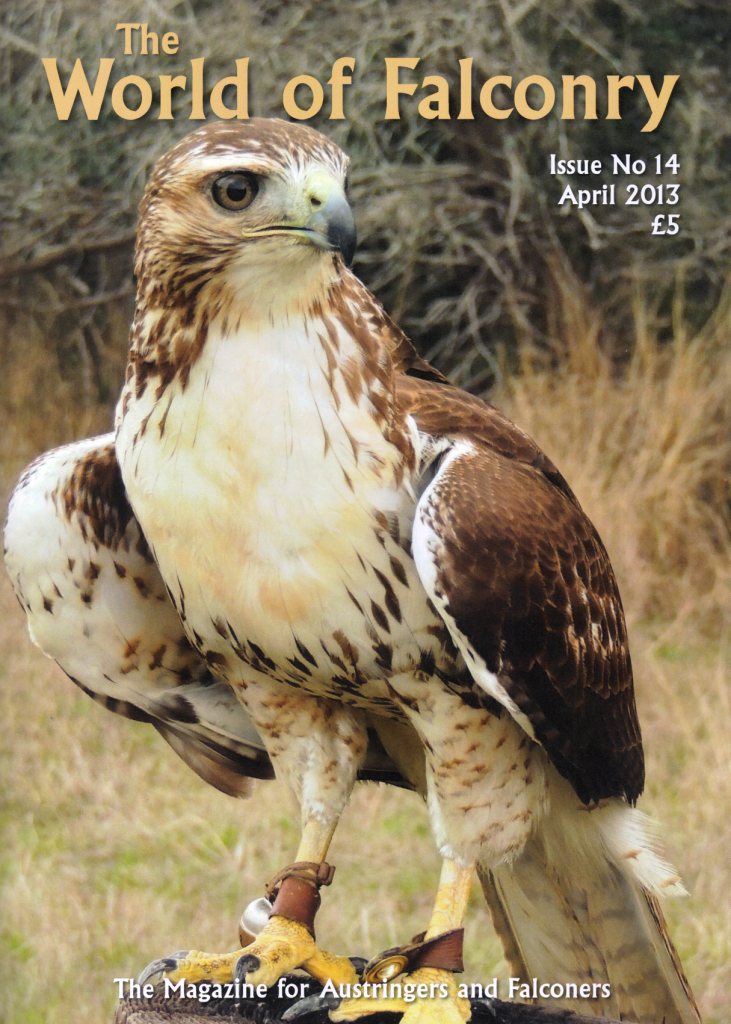 Rocky
Dart, my erstwhile male Harris' hawk, is being very competently flown by Lynne Holder up in Chappell Hill. Lynne and Dart, along with their trusty new team member, Max the lab, had their best winter ever. Dart was bred by Jen and Tom Coulson. Here's Dart doing what he loves: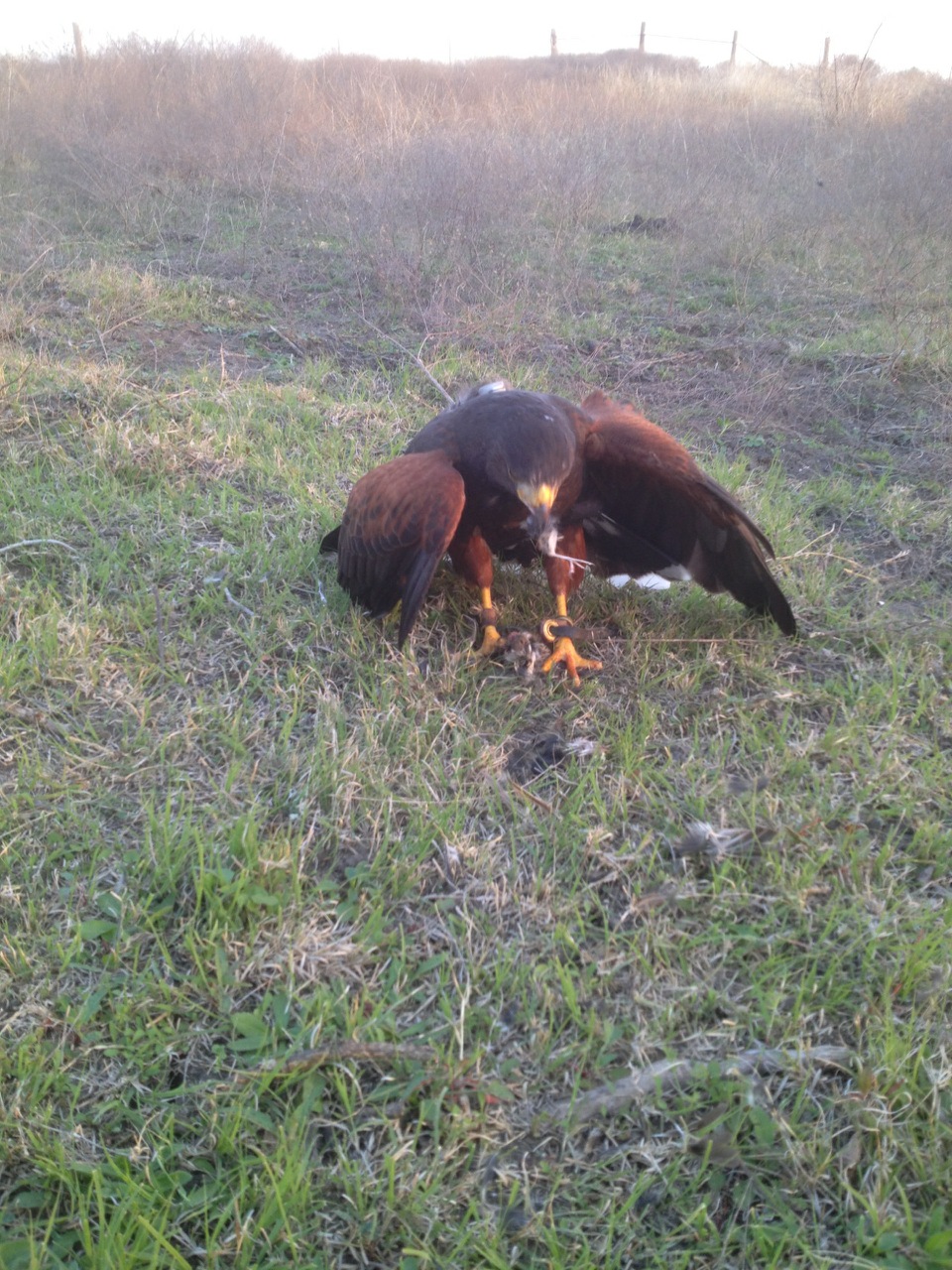 ---
February 23, 2013 - Roger Crandall brings me luck again
Cisco was caught on Roger's trap more than seven years ago up in Fort Worth. Over the years, Cisco and I have always had good luck when Roger's taken me to fields up in that area.
I took
Cisco
to Fort Worth this weekend, leaving Farrah in Houston.
Roger
and I put him on some cottontails at a new place on the side of a small hill, near some apartments.
Cisco
NEVER looked so good. Caught the first rabbit on a beautiful spiral drop from a tree in just a few minutes. Then we had a number of good flights before he caught the second. When
Cisco
's in his groove he is amazing. A brace of rabbits caught very stylishly.
Afterwards: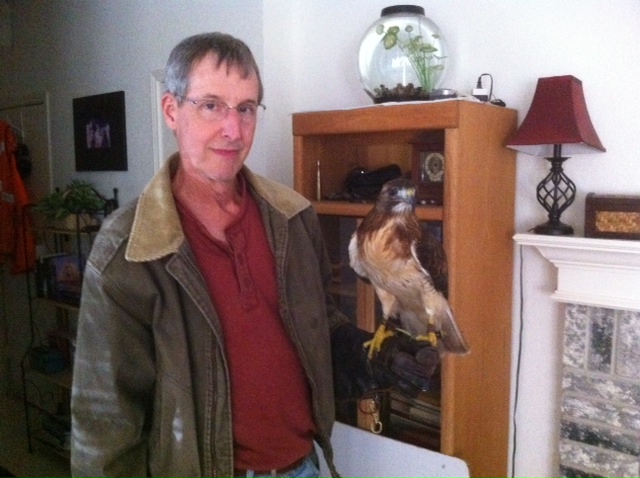 Cisco and I at the Crandall's
---
February 11
, 2013 - Overcast skies with lots of Cisco field time


As is typical, I met Mike Wiegel for breakfast, today at Denny's. It was cool and overcast. Cisco was fat, but I normally fly him regardless of weight. Lately I have been feeding him amply, carelessly, and flying him too heavy. Saturday he blinked at a half dozen swamp rabbits at De Soto Street and nailed a cotton rat. I need to get serious with him and watch his weight. Today I thought about squirrels. I took a different route to the woods, through Bush Park; on the west side of that park I happened to spot a promising looking area. A couple of hours there yielded one flight on a small rodent, some old rabbit sign, and lots of exercise. I hooded Cisco and drove to our original destination near Cullen Park. When Cisco is at weight, around 920 grams, he
always
catches squirrels. Today we put in an hour or two at the second spot and got a few good flights. For some reason there were not a lot of squirrels out. I fed Cisco some chicks and went home.
Yesterday evening Farrah caught her 25th rabbit at a field just west of my house. It is a relatively new field for me, a little narrow in spots for me to fly Cisco, but fine for a Harris' hawk. Cisco likes to roam when he is first released at a hunting field. In this place that would put him over busy traffic and neighborhoods. I drove past the place for years and never noticed it until about a month ago. Farrah has taken three eastern cottontails there. Because these pictures all look the same I did not attach any of the hawk on the kill. Instead, here is a picture of my apprentice Daniel Rasi with his female Harris' called Cora. Also my friend from Scotland, Gill Kippin took a flattering picture of me with Farrah, so that's here too.
u
I took this picture of Daniel Rasi out in Katy, TX with Cora, his first year passage female Harris' - a very good bird, and beautiful. Best looking immature Harris' that I've seen so far.


---





Picture at right by Gill Kippin. I fly one
pretty Harris' hawk, no?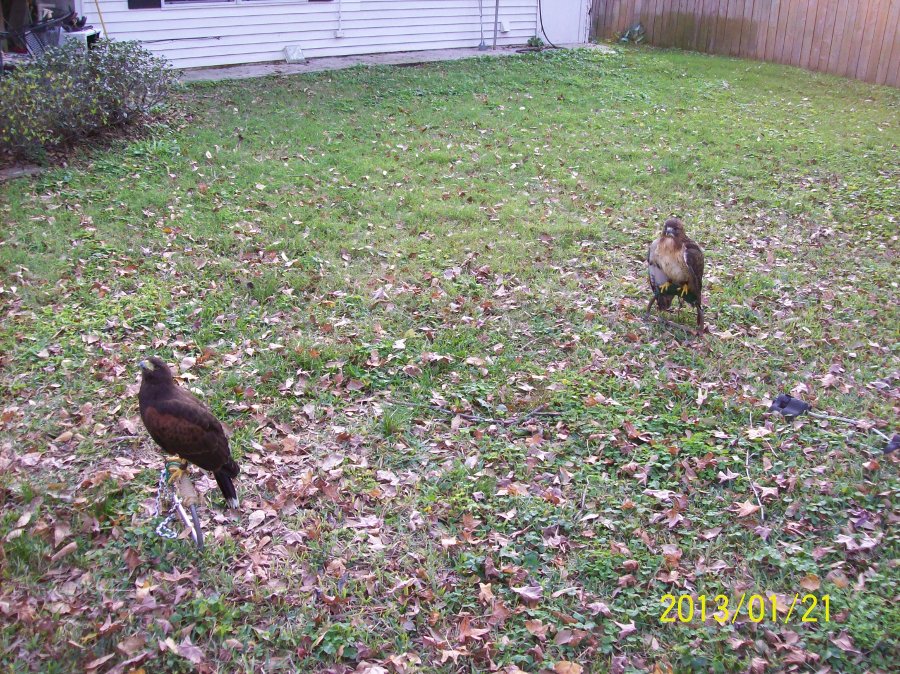 Farrah and Cisco looking at the squirrels in Stephanie's yard.
---
February 5th and 6
th - A sunny evening and wet Houston morning - squirrels for my hawks


This evening (2/5) Cisco caught his 18th squirrel of the season. He spent about twenty minutes working on one squirrel in a tree. He was panting, an ounce heavy, and the weather was sunny and warm. When the squirrel escaped to the other side of the creek, Cisco moved along the creek about 70 feet. I saw him looking down for about a minute. He dropped straight down crashing into a bush below him. Another cat squirrel for Cisco.
The next morning it was drizzly and wet. I met Mike Wiegel for breakfast at Taco Cabana, and wondered if I would even get out. I decided to just take a walk with Farrah behind Addicks Dam, really not expecting much. I spent hours out here with her early in the fall (see Nov. 7 entry), chased nothing and only saw a small covey of quail. This morning I sat in the parking lot and even napped a little, waiting for a rain break. When we got one, I carried the hawk closer to the dam, releasing her after I walked in about 1/5 of a mile. Up the stairs, over the dam and down on the other side, we headed south.
The Harris' hawk followed along loosely, then smacked a tree on the side away from me. I know the sound of a fox squirrel growling. Jeeeez..... instant stress and worry. She had the squirrel about ten or twelve feet high so I could not help her. Farrah seemed to have a good grip on its head, but I could see a bloody slit on her leg too (the bloody slit is a claw gash). I saw a virtually identical one on Cisco a while back. After about five minutes, she dropped down a little. The squirrel was very much alive. I reached up and squeezed the squirrel as hard as I could with both hands until it died. She really did have a good grip on it, holding it perfectly, which is rare for her at least with squirrels. It was a buck fox squirrel, which weighed 1.55 lb. Fox squirrels are bigger and stronger than cat (gray) squirrels, but they are easier to catch and my belief is that they are not as nasty to deal with for the hawks. Farrah has been bitten by nearly every cat squirrel she's grabbed. When Keith flew her the first season, she didn't have as much trouble catching fox squirrels until the last day, when she got gnawed on. I try to avoid all squirrels with her. Cisco seems to handle them consistently better. Today was good though. This is the first fox squirrel Farrah has taken since I got her. Cisco took one fox squirrel in Denver in late November, his first and only big fox squirrel. He took a fox squirrel in Abilene a few years ago, but those Abilene fox squirrels are the size of gray squirrels.
| | |
| --- | --- |
| That oblong shape is a rolled up buck fox squirrel, and you can see Farrah's legs. | I traded her off with some chicks.... |
---
February 4, 2013 - Steady as She Goes
Another couple of weeks have gone by. The hawks have been doing well, filling the freezer. Cisco mostly with squirrels, and Farrah with rabbits, both swamp rabbits and eastern cottontails. I will post some pictures of friends and apprentices soon.
| | |
| --- | --- |
| virtually identical | |
| | Farrah caught a big swamp rabbit out at De Soto. I foolishly gave her the head to eat, something I frequently do with Cisco. She immediately ducked back under the bush. After an hour of hacking the bush apart with my game shears, she was almost finished with the head. Here she is. Don't have log book handy, but late January is my guess. |
---
January 14, 2013 - Time to catch up
Sorry to those fans of this web site, that I have not been keeping up. My hawks have had a very busy six weeks since the NAFA meet. Farrah caught two more cottontails on the trip, one in Kearney, the other in Amarillo in a very cold and hard wind, and since then has caught a bundle of them. After the meet, Cisco caught a good sized fox squirrel in Denver. As of this writing he has caught about 13 or 14 squirrels this season, and has become a first rate squirrel hawk. Chasing squirrels, he hurt himself a few weeks ago, requiring x-rays, but had no broken bones. He is now recovered. In his last three outings he caught a sparrow, two cotton rats and a squirrel. Farrah in the meantime has turned into a superb rabbit hawk, and has earned tenure on Team Cisco.
Mike Wiegel's Barbary is doing well. Dart is catching lots of game in Chappell Hill, and my three apprentices' birds (two RT's and a Harris') are all catching game.
Pictures below are generally in chronological order with latest at top.

Farrah's latest rabbit 1/14/2013



1/1/22013 - An eastern cottontail on New Year's Day


Farrah with swamp rabbit that really kicked her butt...

An email to Jeff Lecompte in Baton Rouge:
Pretty intense today with me and Farrah. I was truly under one of those Cherokee rose bushes trying to help my hawk subdue a rabbit, a big swamper. Rabbit tried to drag her through and out of the bush. I was concerned about her eyes and I cut my way into the bush from one side, then the action shifted to the other when the rabbit retreated. I was down on my belly with thorns in my neck and glove. Looked like a Cooper's had killed and eaten a dove under the bush and there was a mandible of another rabbit there also. Along with thorns! Farrah was flying at 803 grams - I weighed her just before the flight. She is on an amazing rabbit tear right now. It's been a while since a cotton rat, maybe eight rabbits straight, including two large cane cutters. She caught a tiny eastern a few days ago at a place that will be a one-hit wonder.

I picked up

Cisco

from my buddy's mew tonight - he's much better, but I won't fly him tomorrow. It may be a few more days at least. He still favors the left foot, but I guarantee he would hunt anyway. He's hard-headed and determined. I may have told you that he once caught a swamp rabbit and a hispid cotton rat when he could hardly fly, the result of another squirrel chasing injury a few years ago.

Here's Farrah with the rabbit today and Mike Wiegel's apprentice, Andrew Hill. Yesterday his PFRT killed first cottontail from a teardrop stoop. Classic RT flight. Gave me chills......



An excited Andrew Hill with his first RT with first cottontail


Cisco recuperating at Mike's

An email to Jason Willis:
I picked up

Cisco

tonight - he's much better, but I won't fly him tomorrow. It may be a few more days at least. He still favors the left foot, but I guarantee he would hunt anyway. He's hard-headed and determined. I told you that he once caught a cane cutter and a hispid cotton rat when he could hardly fly after another squirrel chasing injury a few years ago.


12/31/2012 - Cisco under anesthesia in preparation for x-ray - injured his leg chasing squirrels. His right leg was very sore, but no break. Dr. Mark Peckham recommended no treatment other than not flying him. Cisco recovered within two weeks; caught a sparrow and cotton rat on his first day back hunting.




12/14/2012 - A busy afternoon for

Cisco

- these squirrels caught within ten or fifteen minutes of each other plus he caught and killed a copperhead snake......

12/11/2012 - A small swamp rabbit Farrah caught down the street from Gold Fire


12/13/2012 - Farrah's cottontail caught just west of my house - field developed away now after just a couple of days..... I saw the place years ago, and did not take advantage.


My apprentice Daniel Rasi's immature female Harris, Cora - now a rabbit catcher...


Jimmy Walker with Vinnie in Amarillo on my way back from Kearney - Vinnie chased some ducks, and Farrah caught a cottontail the next morning.


Cisco and Farrah enjoy being home after NAFA trip. Both right into the bath pans upon our return.


11/25/2012 - Cisco with remains of fox squirrel caught in Denver after meet


Same day


Darryl Perkins, Don Adams and two of Darryl's friends during NAFA meet


What?

---
November 20, 2012 - NAFA Meet Update for My Team
An edited (for grammar and punctuation) email that I sent to some friends.....

I got up here a day early, Saturday. The next day, Cisco caught a rabbit after waiting-on overhead, then returning to a tree. He was spectacular to watch. I flushed a rabbit from the field, it ran toward the tree line in an arc, and Cisco nailed it perfectly. That was Sunday afternoon.
Since then, until tonight, it had been frustrating. I took Cisco out this morning at dawn to the same field. There was a very possessive female red-tail patrolling the field. Cisco chased her for a while, then flew back, but was frequently looking up nervously. I beat the brush and got the best flush I've had in several years. The rabbit had to run 100 yards to the trees. Unfortunately, Cisco was distracted just enough that he missed on the initial strike from the T pole. He bounced off the ground to continue pursuit. Rather than closing, he paced the rabbit across the field, and bunny made it to the tree line. I have seen him fly rabbits down in the open field many times - it was obvious the local FRT was affecting him. I brought the Harris' out because in Houston the RT's ignore her, and vice versa. Not this local girl though. She was screaming overhead at Farrah. Farrah went to chase fox squirrels. I went along with that for a few minutes, then put her up. Her feet are almost healed from her last squirrel grab in Houston.
Tonight I took Farrah out very near this field, on the same property. She chased some rabbits, but was generally not impressive. Out of position, not following well............. Then I took her to that same tree line where the rabbit ran this morning. Eurasian collard doves roost there by the scores. Farrah attacked the trees the other night, but the trees are conifers and she can't easily catch the doves. Tonight I walked along, she kept crashing in and out of the trees. We flushed a bunny. A game pin for each of my hawks.........


Farrah's bunny:
---
Friday & Saturday - November 9th and 10th - Rodents - Terrestrial and Aboreal
A nice couple, Ramsey and his girlfriend, Kristal met me at Denny's on Saturday. We went to the woods with Cisco, who weighed in at 940 grams this morning. A little high, but I was hopeful. Since they had driven in from Killeen, where Ramsey's stationed, I was really hoping to get a good show out of my red-tail. Initially Cisco was distant, taking off for a pretty good while, and it took the lure to get his attention. Then he got serious. In no time he attacked a dray, extracting a cat squirrel. It balled up and down he came. Ramsey called it "awesome......"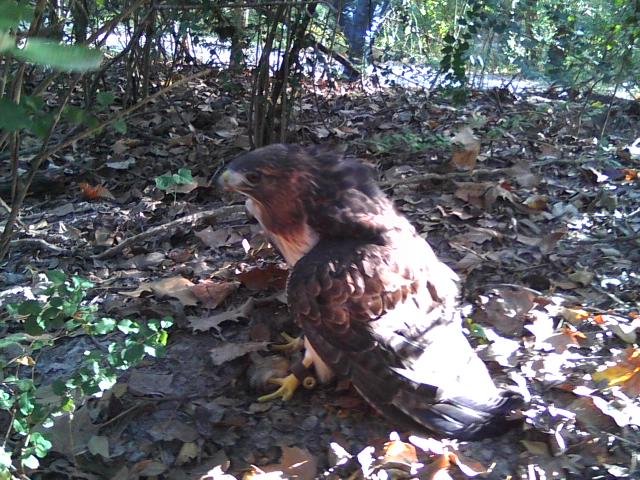 Lynne met up with us - Dart chased some creatures at De Soto Street. Grabbed a cotton rat that managed to wiggle away in the brush.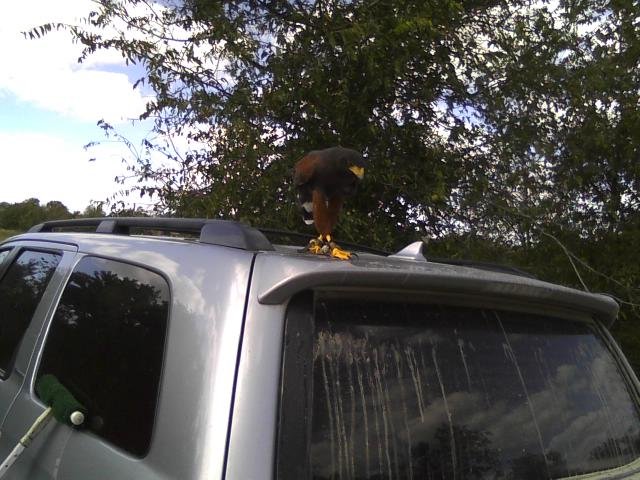 Dart on Saturday
On Friday, I tried a new field with Farrah. Southwest of Gold Fire, it's next to the parking lot of a big church. I had spotted the place a day or two before, but never walked it. Farrah was ready, attentive, and riding the T pole. She chased a couple of rabbits then zipped into the woods in pursuit of another creature. No lagomorph, this was a good sized Norway rat. She moved into the brush, but I am improving my technique with her. I found that if I give her a minute to break in, I can approach her and usually get her to move off the kill to the lure. Today in the brush, not too successful. She weighed 1010 in the evening, as she ate the rat, along with a chick or two.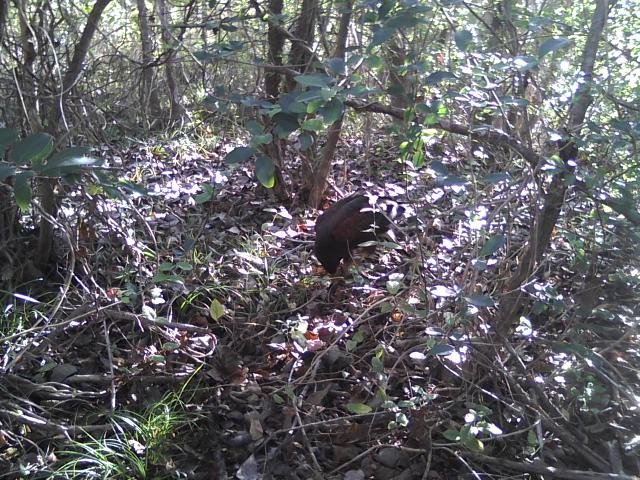 Afterwards I went to go hunt with my apprentice, Dr. Joe Sedrak. He has a newly trained, very powerful and well-manned red-tailed hawk that he calls Sally. We took her to some nearby woods to try to scare up some game for her. No luck but she followed along well until right at the end. Joe went into the open field, swung the garnished lure, and soon she was clipped to his glove.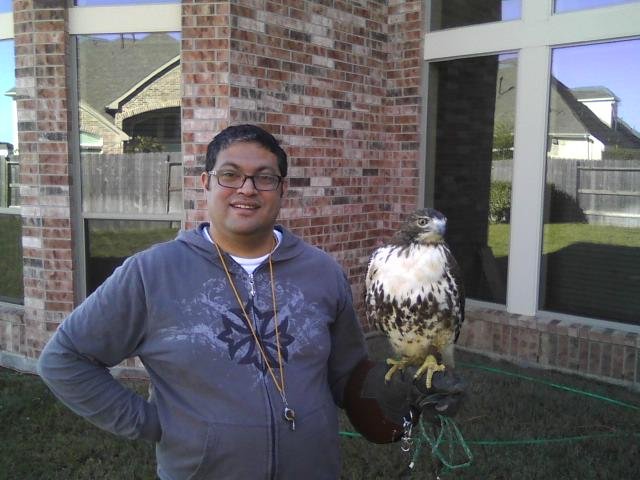 ---
Wednesday - November 7th, 2012 - Nice Looking Fields Don't Translate Into Good Hunting
In desperation I tried a new field in west Houston. My other fields are disappearing, especially fields for rabbits. Rob Evans is having the same problem. I found this area while practice hiking for Colorado. Looks beautiful, but that's always deceiving - I never took a hawk here because I'm a creature of habit, and most fields are barren of game. Today after breakfast I brought the Harris' hawk out here and hiked for miles. The best flight was on a large grasshopper. She also chased a great-horned owl, great egret, and osprey. She looked at a small bird in the grass that either Cisco or Dart would have nailed. I did not see a single rabbit, but found some very old rabbit sign. So old it looked antediluvian. Actually this flood may have been in the last few months. My friend George Nalbandian told me he had seen swamp rabbits very near here while bike riding. I'll need to talk to him. Maybe there would be more game at dawn and dusk. Here are a few cell phone pictures of this morning.
---
Tuesday - November 6th - Same Quarry, Same Tree, Different Results
An email to Lynne Holder:

Lynne,
I have to tell you (and everybody else) about Fatty this morning. Out to the woods just after dawn, I put him up so he could hang out and burn off some steam. He disappeared for about ten minutes while I got my gear on and got set up. We walked along through the woods with lots of squirrel irritation noise going on in background. He followed on pretty well, and we found ourselves by the very same tree that he rented for the day a Saturday back. He recognized it, and sure enough started working a squirrel. This squirrel decided to hide in some vines below the dray, which is now marked "Crime Scene" with some of that yellow tape. OK, not really. At any rate, my bunker buster slams the vines and I could tell from the sound that Cisco had the squirrel, though the squirrel was vocally silent. Fatty was holding the squirrel for a very long time with apparently extended legs. After about five or ten minutes I saw him plucking! Oh no! There couldn't be any way he could eat that guy up there in that mess. Fortunately not, as he began to try to maneuver the squirrel out of the vines without letting go of it. He was up there a really long time. It seems like it took forever before he launched - the weight of the squirrel brought him to a lower bunch of vegetation in another tree. He was trying to get to the ground, but the vegetation and his unwillingness to let go made it hard for him. His next move brought him lower, maybe 12' high or so. This morning I took an 80 gram rat out of the freezer to bring with me instead of my usual tidbits. It paid off. Because squirrels are tough to break into, he's very willing to trade off. Today he flew out of of the tree to my fist carrying that squirrel! He was on my fist only briefly, grabbing the rat, then taking the squirrel to the ground. He started to work on the squirrel, and I attached the rat to the lure. He traded off and began to work on the rat. In the picture the squirrel is in the foreground, its tail plucked while Cisco was way up in the tree. This is four squirrels in the last five trips out here. I'll put this on my web site.
Ciao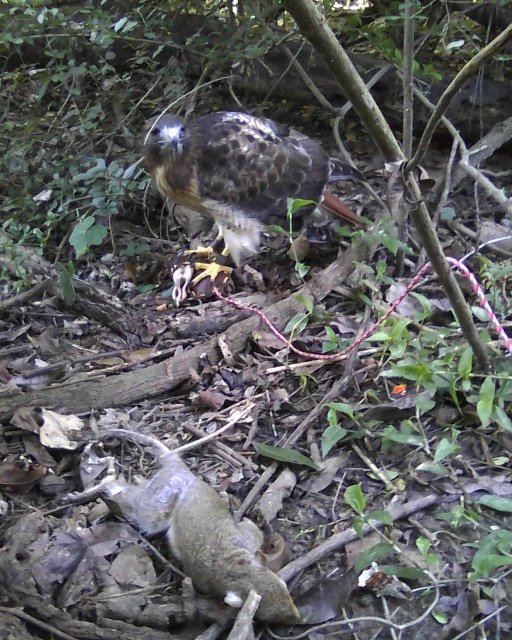 Cisco eating rat on lure
---
Monday - November 5th, 2012 - Farrah at Gold Fire
I took Farrah early over to De Soto Street. I left right away because someone had dumped a dead horse and the upper part of a small buck right in front of the field. I guess a derelict speed boat is not bad enough. I drove down to Gold Fire burning up valuable cool weather time. At Gold Fire she did well, catching a small cotton rat. We hunted for a good while after that but we didn't get too many flights.
| | |
| --- | --- |
| Farrah on pole on north end of Gold Fire - Paintball place - closed during week | Farrah hooded in living room of my house - she can't get this one off. and it fits well. |
---
Thursday/Friday - November 1st and 2nd - A Tale of Two Squirrel Hawks
I am finally going to retire Farrah from squirrel hawking. This time I mean it. She has great ability to catch up with squirrels in the trees, has a crushing grip comparable to a red-tail, gets her feet on the squirrels, follows wonderfully well in the woods, and is really fun. But she has problems getting adult gray squirrels in the game bag - it is related to her consistently poor footing. Thursday, because of record high temperatures, I took her to the woods. It was too hot to field hawk. She went to work, looked great, and in a little while grabbed a squirrel in some vines. She seemed to be in control - I thought she was killing it. When she dropped down with it, I was elated. She landed on the the ground and it was gone, but she was chewed on..... again. %#$&*!!!! -OK, I'm slow, but that's it. She's a great hawk in the open field and I have a competent squirrel hawk in Cisco. I'll hunt rabbits with my Harris' hawk. Farrah really is not a very good squirrel hawk and one of these days she will get hurt. She finished her first two seasons with lots of healing squirrel bites.
This morning I took Cisco out at dawn. Too heavy at 940 grams, I put him in the trees while I got the hawking gear set up. Today it took longer to get ready, than it did to hunt. I walked to the trees, Cisco flew over and began his pursuit. He missed a squirrel on the first pass, but the squirrel made a fatal mistake. Instead of turning up the trunk, it broke to the open. A squirrel cannot outrun a red-tail. Elasped time was about 90 seconds. Cisco's third squirrel in four outings, with one of those outings being a situation where he really was too heavy for serious pursuit. Below are pictures of Cisco eating the head, and the squirrel itself. OK, it's not
Wild Kingdom.


| | |
| --- | --- |
| Breakfast..... | |
---
Wednesday, October 31 - Non-Falconry with a Red-tailed Hawk
Bob Dalton, in his fine treatise,
Hunting with Harris Hawks
, mentioned an incident wherein he went "hawking" with a well known falconer. Essentially the hawk flew off and caught several head of game out of sight of the falconers. The other falconer collected the game as they went along, and was quite proud. Mr. Dalton's comment to the reader was that this was not falconry.
This morning Cisco got his weight down to 932 gram on a 36 hour basis, with his last intake being a 9 gram mouse Monday evening. Sunday evening, more than 24 hours after he ate that entire buck cat squirrel on Saturday, he was at a fine molting weight of 1013. I flew him at 963 on Monday night. He responded OK, but showed no real vigor. This morning he was about 10 to 15 grams higher than I would of liked, but once released went looking for squirrels - not near me. I wondered whether we wouldn't have a scenario similar to the one described by Mr. Dalton. He has done that a couple of times with squirrels in the past. Then, about twenty minutes into the hunt, Cisco showed up, worked a cat squirrel right over my head and captured the rascal............ the squirrel was caught up in some vines in a tree, and Cisco dropped straight down with it. Life is good, at least in the hawking world.
| | |
| --- | --- |
| | Sorry, poor picture of Cisco's eating some post-squirrel tidbits |
---
Tuesday, October 30 - Una Nueva Reyna en Calle De Soto
Farrah's starting to really get going as a rabbit hawk, today catching her first big swamp rabbit at De Soto Street. A swamp rabbit in each of last two trips. At a portly 844 grams, she did really well here today. She earned this one with a lot of hard chases. There seem to be a lot of rabbits here this season. Cisco's taken one big one, and Farrah's taken three total, but the first two were not full adults. She's getting efficient enough that I may need to back off this field a little. Put her back on squirrels, or not..........
| | |
| --- | --- |
| Working those swamp rabbits.... | A big 'ole bunny - biggest yet for Farrah. Field squeezed and with leg missing was 3.5 pounds, so probably about 4.5 pounds. |
| Munching on the leg | Back in the box.... |
---
October 27 and October 28, 2012 - Cisco ate the whole thing.......


For the first time ever, in nearly seven years, I had to leave Cisco out overnight in the wild. Things started innocently enough, with Joe Philabaum's meeting me at Denny's around 0700 on Saturday morning. Joe wanted to give his rookie hawk another shot at the woods, after his bird caught a bird there a couple of days earlier. Cisco was at hunting weight for the first time all season. 915. I think I mentioned to Joe that Cisco catches squirrels at this weight, and I'd prefer to fly Cisco ahead of his bird.
We released Cisco into the woods - it was apparent that he was serious. Cisco made a few attacks then started working a squirrel in one tree. At some point the squirrel headed to the dray. Though normally a good strategy, it didn't pay off this time. Cisco hit the nest and soon there was squealing. Most of the time when Cisco attacks drays, the squirrels head out the bottom and get away. I told Joe that I hoped it was not a junior squirrel like the ones Farrah has been catching lately. Also I expressed hope that Cisco would not carry the squirrel across the creek. In hindsight, either of those would have been preferable.
Cisco killed the squirrel up on top of the dray, and I waited, expecting him to carry it to the ground. Not this time, as he began to break into the squirrel. This could be trouble. Joe and I waited for a while, then I suggested (or maybe Joe did) that Joe's time would be better spent training his bird to the T pole or hunting out in Fayetteville. Joe lives in Fayetteville, TX. I called my other apprentice, Joe Sedrak, and suggested that he meet me at the nearby park field, as I would be pinned down for a pretty good while, maybe days. Joe wanted to fly his female RT ("Sally") on the creance. The hawk did well, flying 100 feet with good response. In the meantime Stephanie came by to say hello too.
I went back home to take a shower and get some clothes for the evening plans I made. On the way back the receiver battery died and the spare was stone-cold dead. I quickly drove to a nearby Shell station to buy a replacement. I wanted to be at the tree when Cisco went to roost, and also to at least try a late day retrieval. I had my lure, T pole, and a garnished fist. Back at the tree, I blew the whistle, and it provoked Cisco, not to come down, but to apparently finish the remaining squirrel meat. This was about nine or ten hours since he caught it. He then waddled to the edge of the dray and carried his football sized crop across the creek. I waited him out some more, still attempting ineffectual means to get him to come down. I even brought his hawk box out - it's his favorite roosting place at the house. No luck. The sun set, he flew about fifty yards away and I left.
The next morning I was back before dawn. I had to track him down. He had moved a few hundred yards overnight. My Marshall RT+ transmitter had moved into "Apollo 13 mode" meaning the beep rate decreases to half to conserve battery life. Cisco was sitting, very content looking, and had put over that enormous crop of squirrel. I put a chick on my glove and whistled. He chirped, which he'll do when he's interested but feeling lazy. I started to take the receiver back to the car, dragging the lure behind me. Behind me I heard a bunch of bell noises, so I offered the garnished glove. Instantly he responded and I had him clipped to the glove. In this picture he does not appear too agitated by the experience. I had hoped to fly him Monday morning, but Cisco tipped the scales at 1040 grams Sunday night. This was 34 hours after he killed the squirrel.
He's thinking, "What's the big deal?"
Late Sunday afternoon, I took Farrah to the De Soto Street. Cisco had the audacity to be restless in his hawk box when I was getting the hawking gear ready. Farrah chased cotton rats, birds and a swamper or two before she grabbed a small swamp rabbit heading into a rose bush. One of her flights was stellar, with her tracking an adult swamp rabbit as it ran across the field. Other than Dart's flight on a cottontail up in Amarillo a few years ago, this was the best Harris' hawk chase I have witnessed yet. Here she is munching on the head of her rabbit.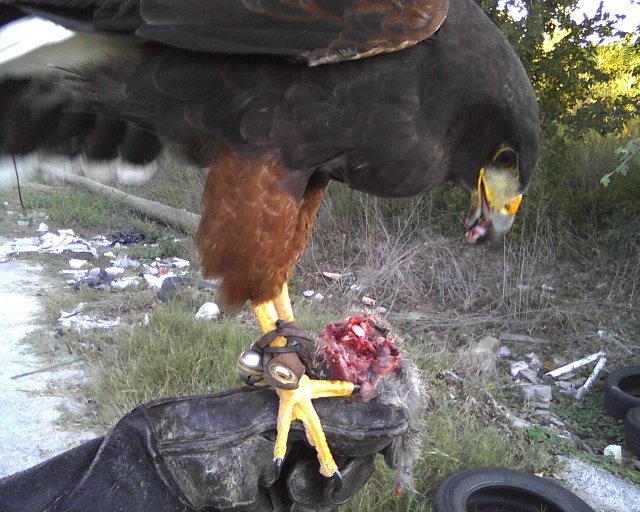 Team Cisco is doing well. Farah has about eight squirrels, mostly well underage, two swamp rabbits, two cotton rats, and a bird. Cisco, although mostly flying an ounce heavy until Saturday, has a swamp rabbit, squirrel, three mice and a cotton rat. Dart is chasing rabbits and catching birds and small rodents with Lynne up in Chappell Hill.
---
October 26, 2012 - Farrah's Cotton Rat


Out at De Soto, Farrah caught a cotton rat. Below she looks to a rose bush to hide under. She succeeded, so I had to wait her out as she munched on it.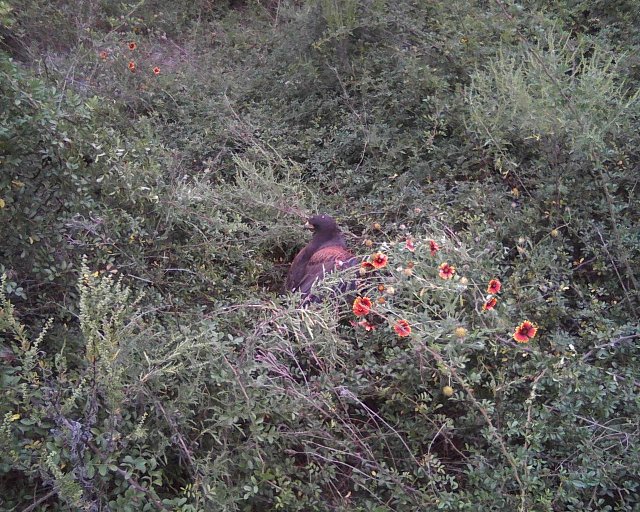 since
---
October 20, 2012 - Farrah's Gordian Knot


Who says that Harris's aren't smart? Cisco, the dummy, solved his squirrel biting problem by improving his footing. Farrah being the smarter one, now catches only harmless squirrels. In the last couple of weeks she caught three that were the size of chipmunks. Downsizing more, today she raided a dray and ate at least two, possibly three squirrels that looked like little moles. I'm so proud........ She left the house at 820 grams this morning. After our outing she was at 1012. That included some meat that was on my fist and lure. More later.
Farrah after solving her problem with squirrel bites: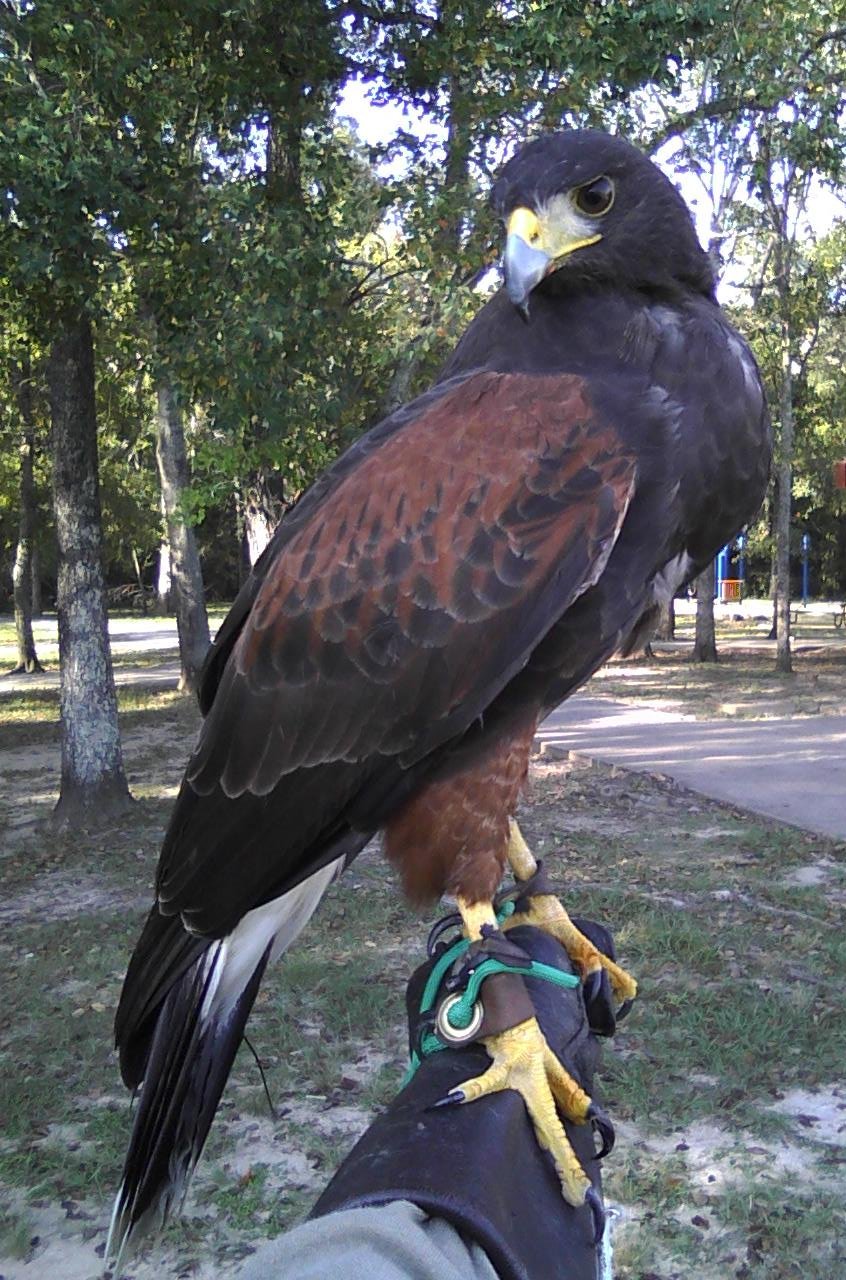 ---
October 19, 2012 - Cisco's first swamp rabbit of the fall


Here's what greeted me at De Soto this morning - a derelict boat that someone decided that the taxpayers of Houston should pay to remove. Need to shoot a few of the folks who do this kind of thing, but is that politically incorrect?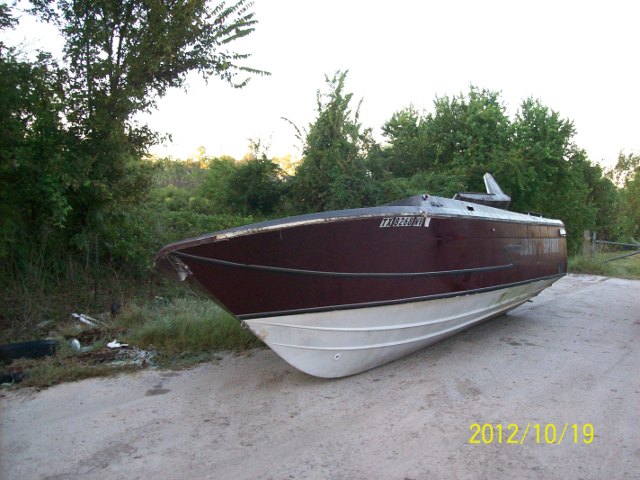 In another week or so I won't point out that Cisco is still over weight. Today at 961 grams, he was a good 1 1/2 ounces heavy. It was clear and cool today - I went to De Soto Street. While thrashing the brush early, I wondered why I didn't fly the Harris' instead. Cisco started out slowly, sitting in the dawn sunlight, but soon came over to the trees at De Soto and was ready to hunt. Incidentally, someone left a derelict speedboat right in the street by the field. Jeez.
Riding the pole, he suddenly launched, hitting the brush hard. A swamp rabbit struggled to kick loose, and I moved in to dispatch it. A big rabbit it was, probably four to five pounds.
Afterwards I went to help my apprentice. Joe Sedrak has a PFRT that we trapped about twelve days ago. We flew her to fist out in yard today.
Earlier this week, Rob Evans took his new red-tail out for her first free-flight. She caught a rabbit! A first for Rob..............

Up in tree a few minutes before grabbing bunny

My apprentice Dr. Joe Sedrak with "Sally"

Rob Evans' new female red-tail - shown on first free-flight and rabbit!
She's called "Redrum"

Cisco last November in Amarillo with his first and only jackrabbit.


October 17, 2012 - A small triple for Cisco


Although still 2/3 ounce heavy, I took Cisco to the woods to chase squirrels. The last couple of times out here he was...well, boring. Too high in weight, he would sit and very occasionally chase a nearby squirrel. Today was different with his spending the first 30 to 45 minutes vigorously chasing. He kept missing, but it was fun. I gave him a tidbit, and the action slowed to a crawl. Boring again. I took him out to Pederson Road and let him ride the T pole. He was just fine, catching two mice on the same slip. He pounced on the first, gulped it down, looked into the brush and plucked out another. He hopped to the T pole with it and ate it there. They have mostly destroyed this place. It looks like development is imminent. I walked along a brushy strip, but didn't kick up any rabbits. The local red-tail showed up and Cisco soared a little. He caught a third mouse.
Link to YouTube is
Soar
Here are two pictures from today.
| | |
| --- | --- |
| Cisco is sitting silhouetted against sky - middle of picture | Sibling rivalry..... |
---
October 16, 2012 - No Country for Old Men


Or old squirrels either. Apparently tired of bites, Farrah now spends her time in the woods looking for very young squirrels. Today, when Farrah flew into the trees by South Mayde Creek, she looked so good that I thought we might fill the game bag. An hour later she was still looking for that "perfect squirrel." The Harris' hawk found it hiding in a clump of vegetation about 25' high in a tree. After grabbing it, she dropped nearly straight down with the diminutive squirrel. In the last month, all of her squirrels have been smaller than any Cisco has caught in his six seasons of hunting squirrels. Interesting that her first season was spent almost exclusively catching large fox squirrels, which Cisco typically avoids. I was happy that the hawk was on my side of the creek, and started to garnish another chick onto the lure. That didn't last long as Farrah took off across the creek. Now I had to shinny across a conveniently placed, but tricky, tree trunk that spanned the creek. It occurred to me that there are a lot of guys my age who wouldn't consider doing this. The middle of my tree was blocked by another vertical tree that made it impossible to get around while keeping hold of my bamboo pole. I threw it across to the other bank, and worked my way around. At the end I had to drop down, and was glad I didn't slip. A few years ago, Cisco made me do this a couple of times either catching or carrying from a tree, and ending up on the other side with a squirrel. The problem is then getting back. No way to carry a hawk across it. The falconer needs to hike all the way to the bridge, easily a 1/4 mile away along the slimy creek bank.
I found my hawk as in the picture below. Having broken into the little squirrel Farrah had little inclination to carry, barely mantling. I offered the lure, she bound to it, and the squirrel went into the game bag. I wanted to feed her some of the freshly killed squirrel - that was when I realized I left my shears in the car. Ever try to tear off parts of squirrel without using shears? I called Farrah to my fist, fed her a mouse, clipped the hawk to the glove, and headed back. The trek back was slippery, brushy, full of poison ivy and mosquitoes, and long. Beats working............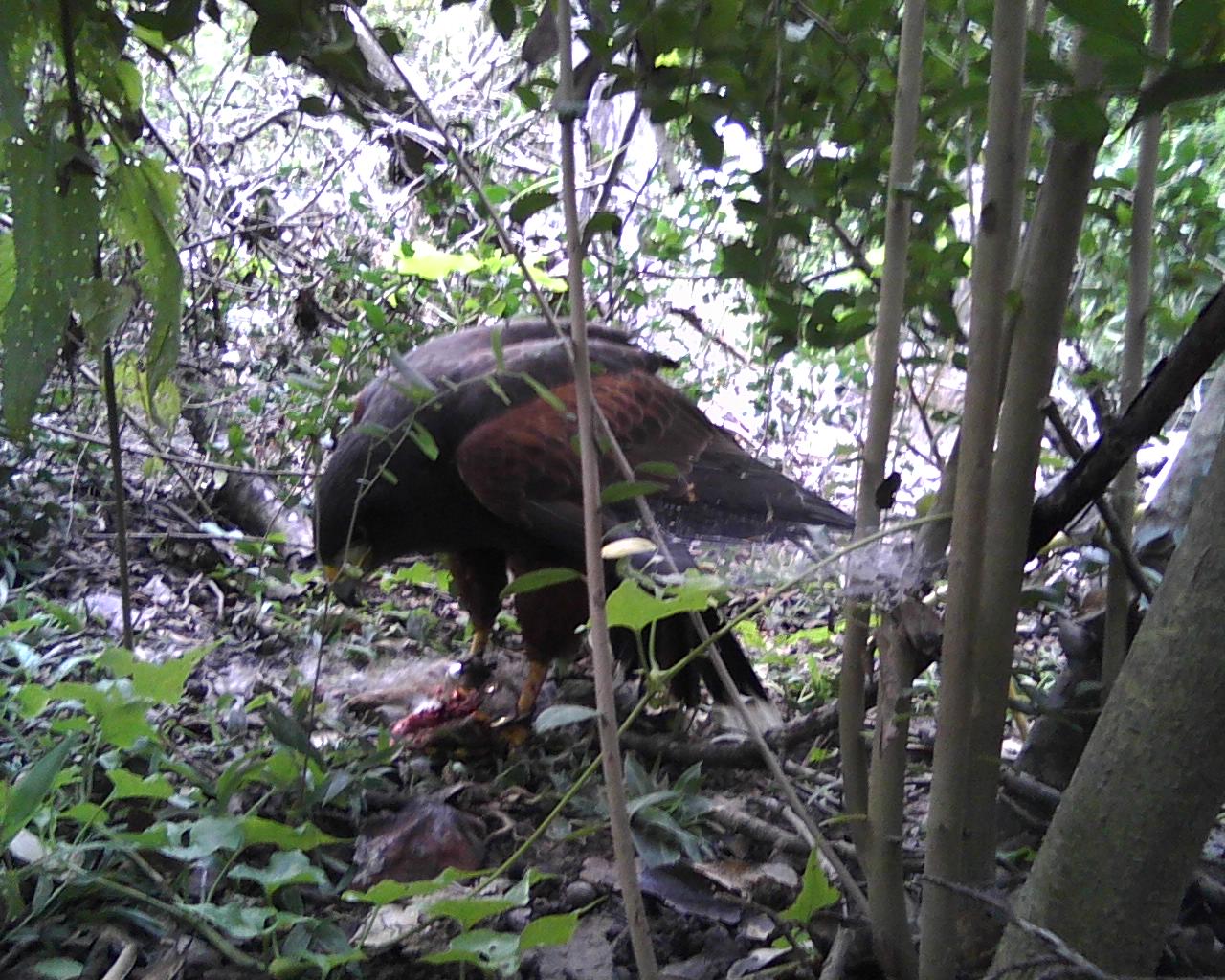 ---
October 15, 2012 - Cisco at De Soto Street
At dawn today I took Cisco over to the De Soto Street field. Still above flying weight at 950 and molting a little, he did fine. Cisco chased a rail, a small bird, cotton rat, and a swamp rabbit. He rode the T pole and was attentive. The field is overgrown, so it's really tough for a hawk to catch things here. Cisco caught a cotton rat, and Farrah a small swamp rabbit thus far this season out here. Within a week or so I will bring Cisco's weight down to around 920.
---
October 13, 2012 - Farrah's being selective


Since Farrah managed to grab a nice squirrel two days ago without being bitten, I took her back to the creek today. She was 2/3 of an ounce heavy, having eaten an enormous slug of food on the previous outing. Her response is always good, so I took her anyway. She would not pursue the abundant adult cat squirrels running around screaming at her - she was looking for something more to her liking. Juvenile squirrels. I soon heard the soon of a distressed squirrel. She was in a tree not far above my head. I took the picture with my new high-tech flip phone.
She killed the squirrel, and dropped to the ground very near the tree, fortunately. Because she is so carry prone I left her alone for a while, giving her time to break in. I loaded up the lure with a chick and a big squirrel chunk and stuck it in front of her. It worked. She started on the lure, and I slipped the squirrel into the game bag. This may be the ticket. She finished the food on the lure and began footing the lure aggressively. I called her to glove and we went home.
| | |
| --- | --- |
| Farrah in tree with squirrel, just above my head | Excitedly working the lure - the line is tied to my belt |
---
October 12, 2012 - A hunt in the heat
Here's a picture of Cisco eating a squirrel head (courtesy of Farrah). Even starting at sunrise it was too hot and sweaty to hunt, but we put in an hour and a half. Little game at Gold Fire, though Cisco had a chase or two.
---

Three Day Update - 10/9/2012 through 10/11/2012
We'll start with Tuesday, the ninth. I had both birds in the car with me. Monday I flew neither bird because there were some issues at the house to be attended to. Tuesday, Cisco was up first, as I was encouraged by his Sunday's performance. Tuesday he was only so-so in the woods by South Mayde Creek. He is still above his good hunting weight but responds to the fist. Until he really finishes the molt I will keep him on the high side. This morning he showed mostly lethargy, but occasionally put in a nice flight on squirrels. I put him back in the car and brought Farrah out. She was red hot, putting in a lot of chases, but it appeared that she wouldn't score. On the way back to the car she grabbed a squirrel. When I made in, she had both feet on the head, and no bites. Finally! Because of her often sloppy footing, bites, and a mild infection, I had actually decided not to fly her on squirrels, but changed my mind. Today she was good. I fed her up and put her back in hawk box. I brought Cisco out again, and he was about the same. Lackluster, with one or two attacks that were pretty good.
Wednesday early I took Cisco to De Soto Street, still a bit heavy, but he looked super. He rode the T pole and perched in the tops of the small trees, hunting intently. We flushed no swamp rabbits, but Cisco grabbed a large cotton rat, hopped to the T pole and consumed it. His first kill of the season.
Thursday it was Farrah's turn again. Back to the creek - she was looking great. 819 grams when I left the house, a 48 hour weight as I generally feed every other day. She pursued a few squirrels, followed well, panhandled just a little, then attacked a squirrel nest (dray). From the ground there didn't appear to be much activity, but she was persistent. She made a grab and I heard a squeak, vaguely similar to a "Mr. Squirrel" call. This immediately brought another squirrel running toward the nest tree, which concerned me. The Harris' hawk was mantling over the dray, and I was afraid the other squirrel might grab her. Reader may recall a squirrel did jump on my hawk a week or two ago. Instead, nothing happened. Farrah stayed up on the dray for about five or ten minutes, apparently killing the squirrel. Then she took off with it, flying off into the woods, also carrying a large twig from the dray. I walked back to my car to get my receiver and a drink of water. A while later I found her on the squirrel in the cover munching away with a large crop. Like a lot of passage Harris's she is very possessive with kills and will take off with about anything she can. I got a chick under her and managed to trade her off. At the house she weighed 970 grams. Her seventh kill, fourth squirrel. but no hunting for her tomorrow. She is getting to be an awful lot of fun. And she took another squirrel without getting chewed up.
Cisco's up tomorrow.
---
Jeff LeCompte from Baton Rouge - Sent October 10, 2012
Matthew Mullenix's friend and apprentice has a nice intermewed PMRT. Alex the hawk is doing well in the new season. Here are a couple of pictures:
| | |
| --- | --- |
| Squirrel | Appears to be a small swamp rabbit |

Sunday, October 7, 2012 - Lots of adventures


This was one of the best days for Farrah in the field. Weather was cool and she weighed just under 800 grams. We went to De Soto Street field where she pursued the elusive swamp rabbits vigorously. None caught, but she snagged a cotton rat by a rose bush. She took the rat under the bush and spent a good twenty minutes eating it.
I had Cisco in the car, but had not planned to fly him as he had flown yesterday. He was jumping around his hawk box so I weighed him. 940 grams. He was also fired up and put in some great flights on the rabbits, nearly catching one from a tree. That flight was beatiful - gave me goose bumps.
I headed to Daniel's house to get a gerbil, then on to my house where Joe Sedrak was to meet me. Joe got his permit this week and was ready for his red-tail. We headed out from the house about four, and caught a nice passage female about 20 minutes before dusk. She weighed 1370 grams, and was nice and plump. Powerful feet.
| | |
| --- | --- |
| | Joe's bird at my house on Wednesday (trapped Sunday) |
---
Friday, October 5, 2012 - Joe Philabaums' New RT
Last Saturday we met at Denny's at 0630, and headed out west a little to trap my apprentice a red-tailed hawk. Lots raptors around: White-tailed, Swainson's, caracaras, and adult red-tails, but no juveniles. Around 10:00 we spotted a juvenile bird on a power pole, on Old Hempstead Highway, a couple of miles SE of Waller. Joe and I set the trap several times - once the hawk squabbled with another RT, and twice he went to the field to catch a varmit. Nice bird, a male trapped about Cisco's weight, 989 with hood, but in better physical condition than my hawk. He was very strong. He's now flying to the fist and doing well. He has big feet. Joe calls him "Rocky." Picture below taken yesterday (Thursday). Tomorrow will be exactly one week off the trap.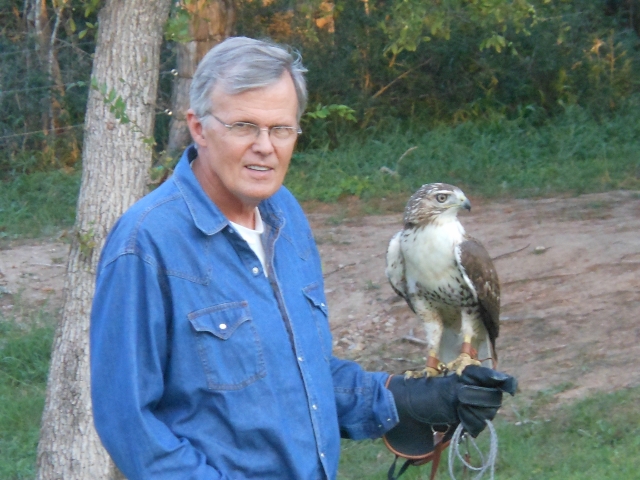 ---
---
9/23/2012 - Farrah and I battle a 12 point buck
From an email to some of my falconry buddies
Chuck Redding

chuck.redding@gmail.com

12:58 PM (22 hours ago)




to

Jonathan

,

Jim

,

Jim

,

Matthew

,

Jeff

,

Kate

,

Lynne

,

Cody

,

Roger

,

Daniel

,

Rob

,

Mike

,

Joseph

,

Joe

,

mike

,

Stephanie
Okay - would have been if cat squirrels had antlers. Farrah is now on a nice roll. We have caught game three outings straight, beginning last Saturday when she caught a 1/2 grown swamp rabbit over at De Soto Street. That rabbit would have been a smallish to medium sized eastern cottontail except it was definitely a swamp rabbit.
Two days ago, Tuesday by South Mayde Creek she caught the smallest cat squirrel ever to end up in my game bag. Farrah began that hunt by leaving the big woods, circled an open field, and flew into a small wooded area. I followed and flushed a small red-tail. Then I heard a red-shouldered hawk screaming and hoped she hadn't grabbed its mate. Instead she was bound to the little fuzzy shown in the picture (above in group of photos).
Until this week I had been taking her by Buffalo Bayou where there really must be too many squirrels in the woods. Neither she nor the RT have taken a squirrel from that place, both have been bitten, and neither hawk chases them with much relish. Farrah has been flying loose all summer wearing her transmitter showing excellent fist response, but no inclination to chase game. I digress.
Today we went back to South Mayde Creek. She initially flew out away from the woods into some rabbity looking area, then back to the woods where she quickly grabbed a squirrel which bit her toe. I washed off her foot by the car and we set out again. Soon she was in pursuit. She grabbed a big old buck cat squirrel, and parachuted down. On the way down they crashed into a very low small tree. When I ran in, she had a strong but poorly positioned grip on the squirrel, which had buried its teeth in her leg, just below the feathers. I reached in, and Farrah instantly got a solid grip on its head. Since she had one foot holding the tree, and the other encircling the head, it could have taken an hour to finish the squirrel - it may have died of old age first. I had no room and angle to do anything with my gloved hand, and am keeping my right handed squirrel-crunching glove in the garage so I won't lose it.He Right next to my "Mr. Squirrel" call. I knew I could quickly kill this squirrel with my right hand, but was afraid that if I reached in again, Farrah might switch her grip from the head, and the squirrel might attach its jaws and teeth to my hand. Farrah had the squirrel well under control so I had a minute to think. I gambled, reached in, and dispatched the squirrel.
That's the latest hawking news. Cisco continues to molt - probably be ready within a month, starting his eighth season. Each season he comes up with something new. We'll see. I guess this email will end up at
http://virtualvideo.cc/
falconry/cisco8.html
---
Other stuff from mostly September:
| | |
| --- | --- |
| Nathan Andrews' intermewed PFRT Karah, already having a good season | Leashes on right I made after studying Kylie Taylor's leash, at left of the other two |
| 9/24/2012 - Farrah with her first squirrel of season, a runt. She caught a small swamp rabbit a couple of days ago. | My apprentice Daniel Rasi with his male Harris' that he trapped with Mike Mosley last weekend. |
| Date stamp wrong here. Rob Evans with his beast of a female Red-tail that he caught the morning of this picture. He calls her Redrum............. His new hawking vehicle behind us. | Matt Mullenix's hawk, Ernie and whippet, Rina (Photo: Matt Mullenix) |