Leashes and Jesses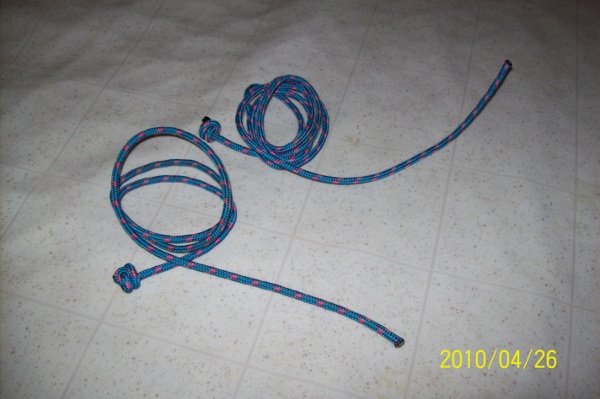 Leash. This is a cheap and simple leash that I make out of 4 mm yacht line. Fine for the bigger hawks and falcons. $5 each plus shipping.
One of the best leashes I have seen was made by Laura Kirby, but I have lost touch with her.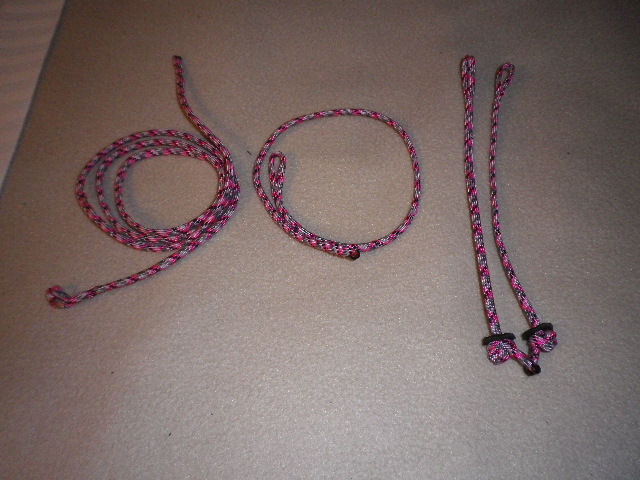 Leash Set: Un-braided parachute leash, glove leash, and jesses. Leash is $10, glove leash is $8, and jesses are $14 per pair. The set is $30. Strong, and resilient, there is a loop on the end. The jess may be turned around and converted from mew jess to field jess. Put the loop through the anklet and pull snug. Very handy, and if the bird is lost, she may pick it loose, which makes it safer. They come in a huge variety of colors. If I don't have a color, it will cost an additional $7 for the first order. The ones shown above are black and pink, very easy to find if dropped in brush. Problem with the single loop para-cord leash is that it is very limber and may wrap around legs with some hawks. I recommend the braided leashes to right, unless you have used the un-braided before with no issues.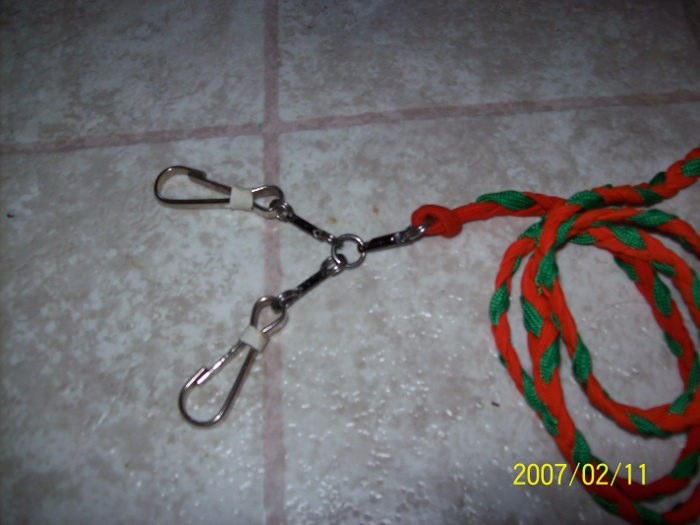 Braided leash with small SPRO swivels.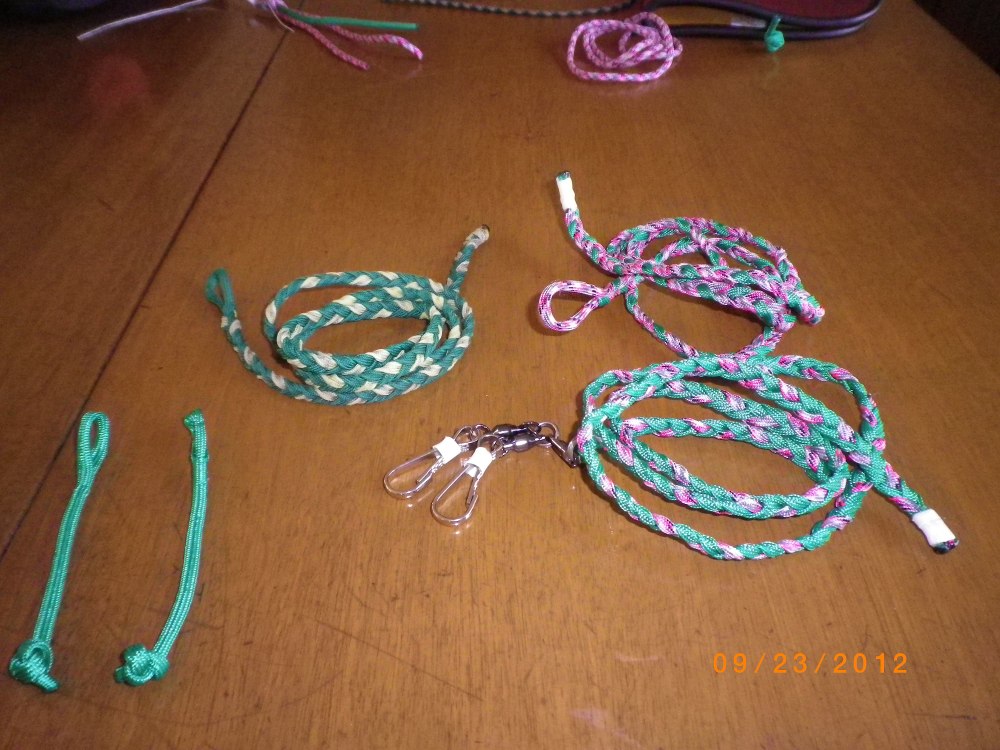 I now make braided paracord leashes, which I copied from Kylie Taylor's leash (upper left in upper picture) Difference is leash end, which I whip, and then seal with epoxy. $15 for stock leash of available color, $20 for custom color. Add $15 for SPRO swivel and snap set. Three feet long minimum. Custom length add $5.

Swivels shown above are combination of SAMPO and SPRO. Currently I use #4 and #3 SPRO swivels (240 lb and 150 lb test), with #6 and #5 SPRO Split rings (150 lb and 90 lb test). Shown to left (date stamp is wrong in picture). Amply strong for a red-tailed hawk. Because they are so small and light they will work with any hawk. Obviously this is not a traditional setup, which I have abandoned. A few years ago I switched to a system very similar to a Heinz Meng design. I find it much safer especially when deploying a bird to fly. If you build your own, realize that it is VERY important to put that heat shrink on the snap. If you want to learn more about this, email me.
U Perch This is an excellent small bow perch that requires no sliding ring. Tie up the hawk on the same side of the perch as bath pan is sitting. $65 without perch padding, either dull finish 316 stainless steel, cold galvanized mild steel or bright black painted mild steel. For an extra $15 I will put an AstroTurf cover on the perch. Build your own for less than $50. This is the best perch that I have ever used - not perfect but very good.
More info at: http://virtualvideo.cc/falconry/50_dollar_perch.html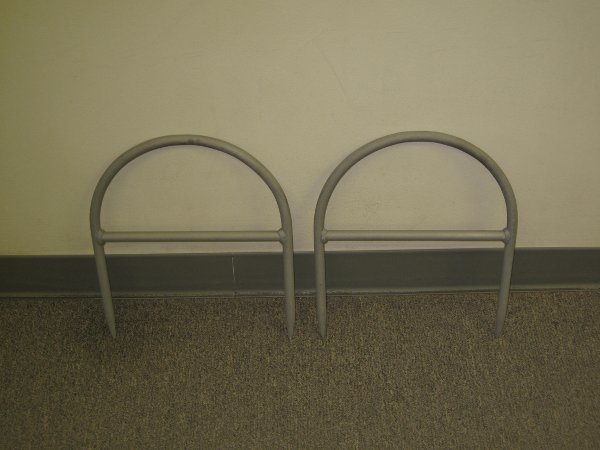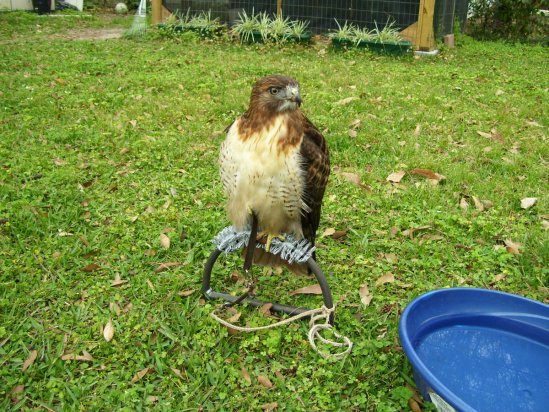 Red-tail sitting on U perch

Hawk Box made of Coroplast, based on the design by Charlie Kaiser (above).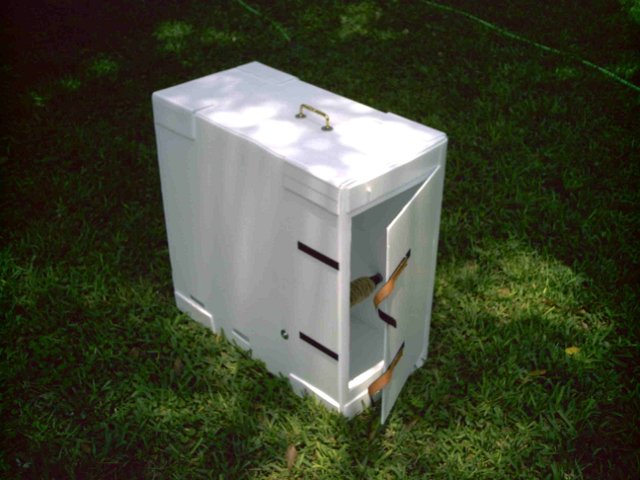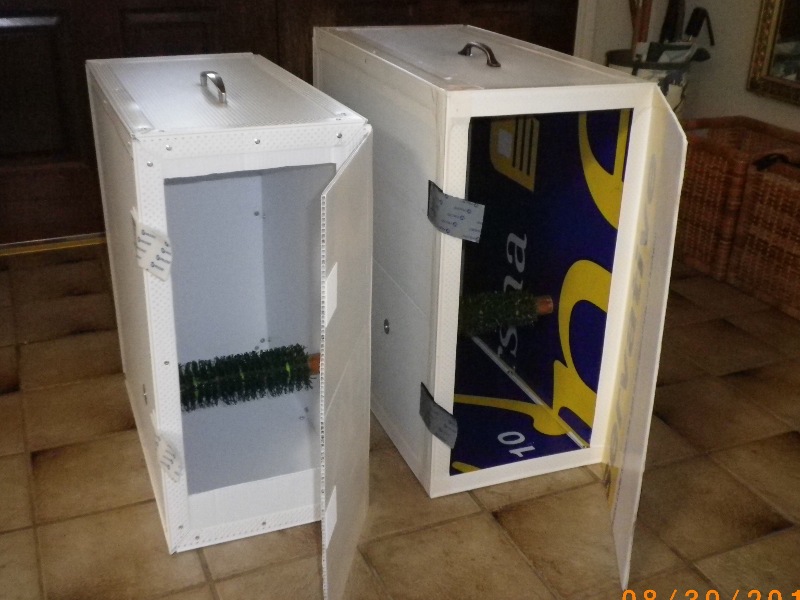 Above two boxes pop-riveted. All boxes sell for around $100 - price varies so email for quote.

Mavro Anglo-Indian Hoods - $75 - I recently began making hoods from Jack Mavrogordato pattern, glued Anglo-Indian hoods. For really fancy hoods, including Dutch hoods and desert Hurr, Keith Denman's hoods are beautiful, and probably are in the same ballpark for price. See blurb elsewhere on this page.
Bells by Jim Ince This one shown on a tail mount. Very limited availability - Email for price and lead time.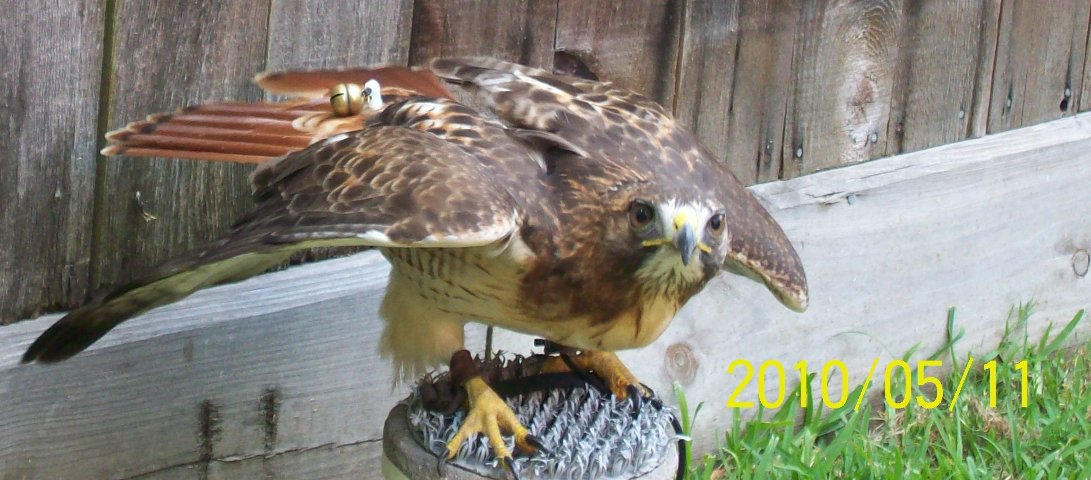 Falcon Blocks by Mike Wiegel - shown is a red-tailed hawk sitting on one of Wiegel's blocks. Very inexpensive, but good quality. To the left is a U perch, the first prototype. Email for price and lead time.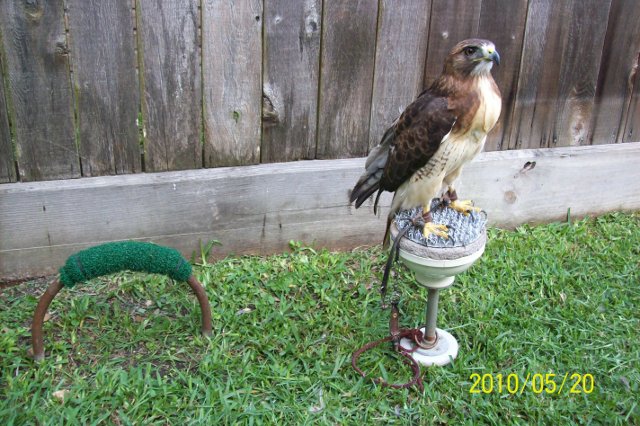 Hawk Cooler and Mister

- $40 each plus shipping (ships flat)
For very hot summer days, keep your hawk cool. Made from PVC pipe and fittings, plus an Orbit mister nozzle, it works well for hot afternoons in any climate, even along the Gulf Coast. Works whenever the relative humidity (RH) is below about 50% which includes summer afternoons almost anywhere. In dry climates, the mister works even better. Hooked up to a garden hose, the mister consumes 1/2 gallon of water per hour.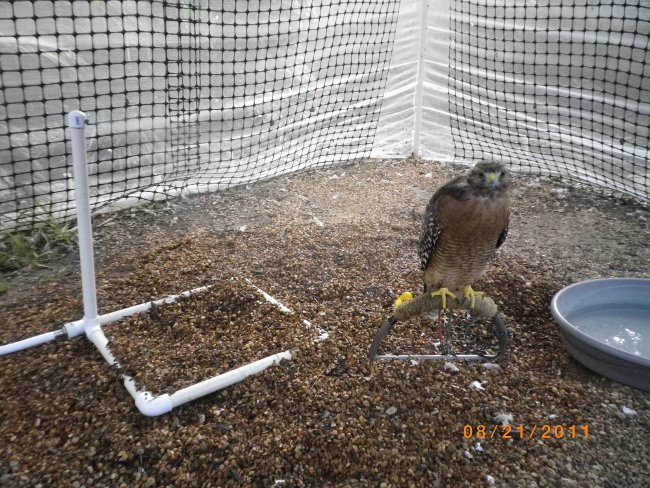 Red-shouldered hawk during molt


If you have the materials, you can make one. Materials: A length of 3/4" PVC pipe, some slip joints, a cap, the Orbit mister nozzles (Amazon.com), PVC cement, and about thirty minutes of your time. You'll need a 10-24 UNC tap with drill. If you want to build one, send me an email and I will help you. I would not leave the mister running overnight on your hawk, especially in damp climates. In Houston the relative humidity varies from about 40% in the afternoon to 80% at night and early morning.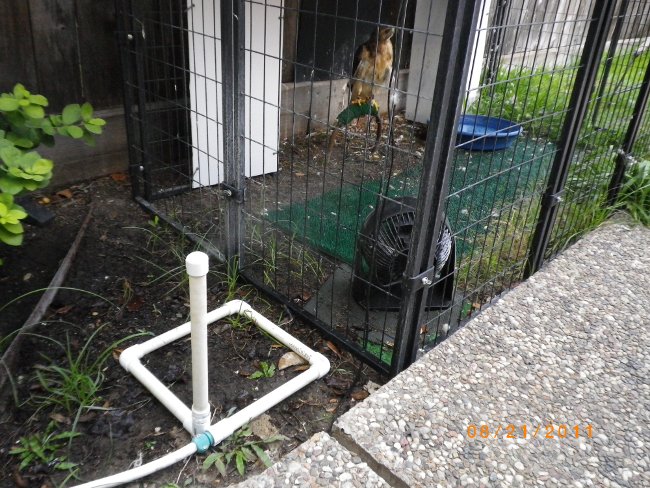 Red-tailed hawk during molt
In conjunction with a fan, it really cools the bird down. In still air, the fan pulls the mist through it.