the Navigate to: Chuck's Falconry Home Page


Cisco's Fifth Season, Dart's Second - 2009/2010
Update 4/12/2009: Cisco began to molt on April 5th - that concludes the 2008/2009 season. The previous season log can be found at Cisco's 4th Season
Newest updates towards top of page, except for field meet logs, where order is reversed
Please email me. Click on hypertext below, or copy and paste address using your email client.
cisco@virtualvideo.cc
Update 6/20/2010 - The red-tail can be seen via webcam during most weekday daylight hours here:
Buzzard Cam1
Buzzard Cam2
---
For seasonal totals, please email me.
| | |
| --- | --- |
| Cisco, 4X intermewed passage red-tail hawk (Bob Dalton, October - 2008) | Dart, October of 2008, intermewed captive raised Harris' hawk (Picture by Bob Dalton) |
Cast of characters for those not familiar with the web site: Mike Wiegel is a falconer friend who lives about two miles from me in Houston, and flies a tiercel Barbary falcon. Rob Evans, another friend out in Katy has flown red-tails for years and is now flying an intermewed female. Cody Birdwell is Jim Ince's apprentice, and has had a couple of successful seasons flying two red-tails. Cameron Turner is my 16 year old apprentice, living in Sugar Land. Jim Ince is my former sponsor, another friend, not flying any bird right now. Lynne Holder is my former apprentice, lives in Chappell Hill, TX with husband, Ron. Over Thanksgiving, I gave her my Harris' hawk, Dart. Dart spends occasional time in Houston, and I will record his kills when he is here.
---


In the side weathering yard, here are Cisco and Dart late in the season: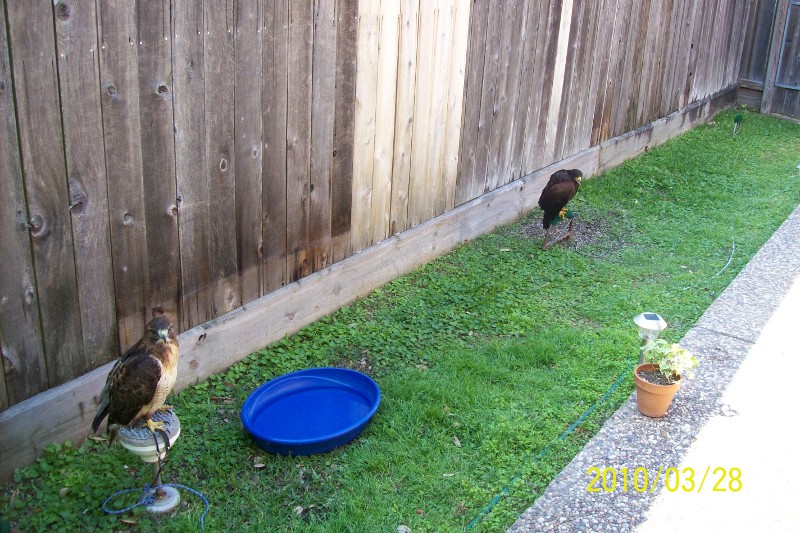 ---
3/28 and 3/29 - Season's over

Cisco closed out with six birds on 3/29 and a rodent the day before. The rodent was caught at dusk. I was putting Cisco into the hawk box, when I saw he was getting excited. I unclipped him and he slammed the brush, catching a small creature. He gulped it down so fast that I didn't see it; plus it was quite dark outside. Dart was with us; he caught six birds over the same two days. He was very impressive in the wind on 3/28, catching four birds under tough conditions. He got little field time on the 29th but managed a couple.

For the season, Cisco caught 31 birds, 25 rabbits, 2 squirrels, plus a bunch of mice and rats. Dart did well this season, adapting to the more limited game he is exposed to in Chappell Hill, TX. He has had lots of field time, but fewer flights under tough conditions. When Dart has hunted in Houston, whether with Lynne or being left with me, he has been good.
Kansas Trip - Late March
I drove to Kansas to catch up with Mark Reindel. After a two day's delay I headed out. Stopped in Fort Worth, met a falconer with two Harris's, Cisco chased a rabbit. More later.

| | |
| --- | --- |
| Dave Auten in Fort Worth | Frankie, Mark's gyr X Barbary in Kansas |
| At Strother Field, Mark with Steve Trent and huge imprint RT - flies at 1500 grams | Cisco, Willow, and Frankie |
| Willow on steve's lawn | |
| Trying to wait out the wind at Strother Field | Jim DeBruin in Dallas |
---
3/21/2010 - The wind dies and Cisco catches two rabbits at dusk

A windy day, prohibitive of game hawking. Late in the day, the wind dropped off enough to take the hawk out. The rabbits obliged, and he caught two after sunset. Had three flights on an equal number of rabbits, and the hawk nearly went three for three. I scored them as an eastern cottontail and a swamp rabbit, but don't know for sure.


---
3/18/2010 - Six more birds after work

A fine rabbit chase also.


---
3/15/2010 - Seven birds and an unknown - no rabbits

After work, a bird catching spree. No rabbits and no wind means Cisco will catch plenty of them. He also caught some unidentified creature. A mouse possibly.


---
3/13/2010 - Cotton rat and soaring

Cisco caught a cotton rat and soared to horizon. Jay Magnum was along and took some fine pictures. Here are just a few. Mike Wiegel, Daniel Rasi, and Cameron Turner also came out to the field.

All pictures by Jay Mangum

| | |
| --- | --- |
| Cisco watching a wild RT soaring. He followed and I needed the lure to get him back. | After recovery, feeding a cotton rat |
| Cisco riding the pole | Mike's Barbary, Tariq |
---
3/11/2010 - Cisco's second squirrel

Cisco caught his second squirrel of the season near the park. Very deliberate and professional he was, catching the rodent right at the edge of the woods. He missed on his first attempt, just minutes after arrival. Then Cisco sat in a nearby tree acting very blasé. When the moment was right he caught the squirrel, a rutting buck, on a single pass. No squirrel chaps and no bites. I think he is safer without the chaps. His footing is very clean, with nothing interfering with his feet. Both squirrels taken from tree, not the ground.

---
3/7/2010 - Near disaster for Cisco

Lynne Holder wanted to catch a rabbit with Dart, so came into Houston. She had to settle for a sparrow, as the rabbits were nowhere to be seen out in the Katy field. It was very breezy, probably 15 kts.

We flew Cisco who also chased sparrows and then flew across the field and into a cyclone fence. I ran after in panic but he was OK. In this breeze it could have been fatal. We were very fortunate, as he was flying with the wind, apparently chasing a house sparrow right into the fence. Lynne and I just saw the flash of his wing. When I got there he was on the ground, looking into the yard, apparently hunting and seemed fine. It was later in the evening that I realized he had actually hit the fence. Scary situation.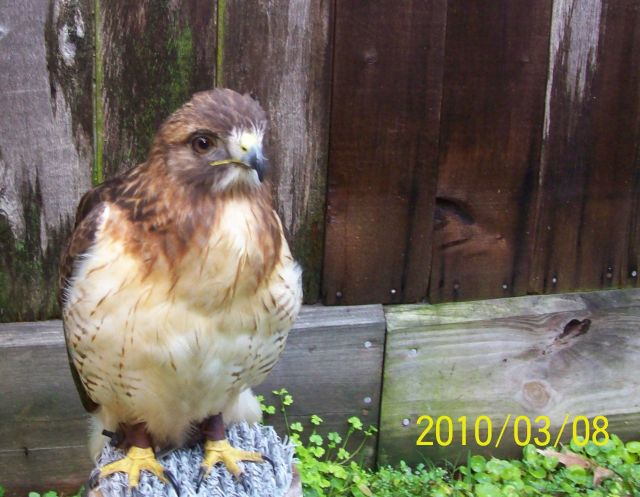 The day after his fence collision, the injury to the superciliary ridge barely visible, if at all

---
3/6/2010 - Two birds caught by Cisco out in Katy

Wiegel and I took the Barbary and Cisco out to the Katy field. Tariq, the Barbary tiercel flew around for a bit, getting excercise.

Cisco rode the T pole, catching two sparrows while looking for rabbits. At the end of the hunt we flushed a rabbit near the car, which ran upwind, and Cisco missed catching it by inches. This same rabbit has done this to him before.

He soared for a few minutes, and I called him down.
---
3/4/2010 - Cisco's first squirrel kill is smooth as silk

After work today I took Cisco to some woods by a golf course near the big airport. He spotted a squirrel immediately and put in several good flights. Then the action slowed down a bit. I flushed a couple of swamp rabbits, which he also pursued. The second one came very close to a being kill. Immediately after that I lost Cisco. I thought he was in some thick brush low to the ground and was getting a strong signal from the receiver. I could not find him, but could hear his bell, softly. I got a little panicky, it was beginning to get late, even though there was still plenty of light. I looked up and he was sitting above me in a tree. How many times has he done that to me?

I walked deeper into the woods, and started to think about finishing up. We had been out for close to two hours. He dropped off the branch he was perched upon, and flew low and fast across the clearing, right into some thick growth in a tree. Thwack! A squirrel! It was balled up in his talons, and he dropped to the ground. The first squirrel of the season occurs with just a few weeks left.

After feeding him up, we worked our way out of the woods with Cisco chomping on the squirrel's head. A man pulled up in a truck and warned me that I was about to get locked in. Yikes. Normally after a hunt, Cisco dives into the hawk box, especially late in the day. But of course, since I was in a hurry to get out of there, he didn't want any part of the box (great timing), and I had to quickly hood him. One more reason to have a hood trained bird.

It was a good day and the first real squirrel hunting of this season.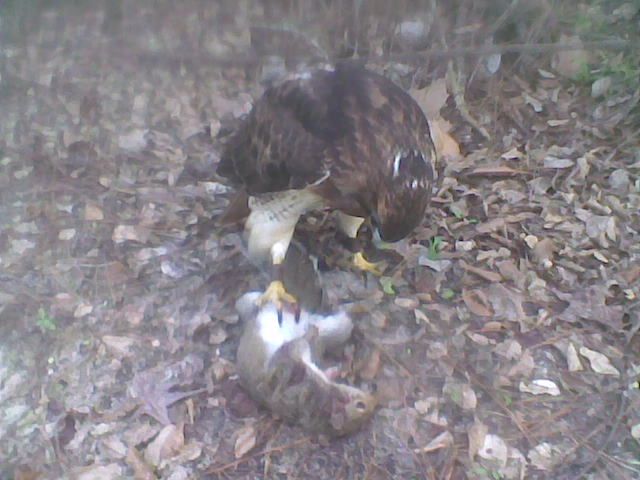 ---
3/2/2010 - A sparrow and cotton rat at the "Tuesday Field"

From an email to Lynne Holder:
Cisco had another brush with the locals at the field by the Homeland Security office near my office. No game in a promising looking field there, so I drove a few hundred feet under the Hardy spur, and took him to the field I now call the "Tuesday Field." Fatty rode the pole very tight, and caught a cotton rat on a nice flight. A while later, he caught and ate his ninth sparrow of the season. He has now caught three cotton rats and a sparrow there. No rabbits live in that field as far as I know.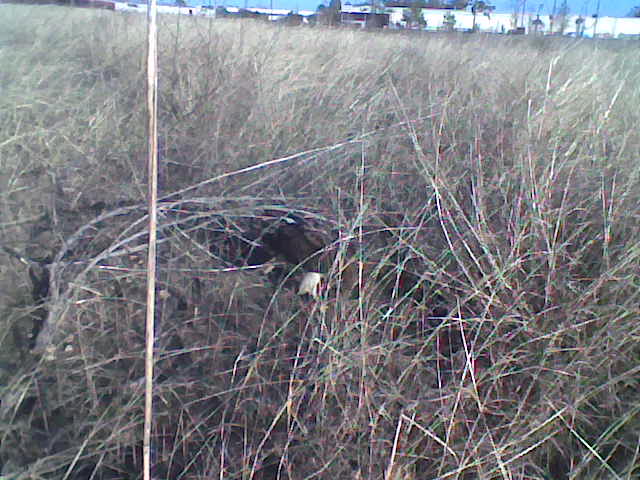 Eating a cotton rat

---
2/27&28/2010 - Rodents and soaring

2 mice and a cotton rat on the weekend.

From an email to Lynne Holder:

He always wants to go mess with the local pair. But Saturday they got really aggressive and with telemetry we found him hiding under a bush. Then we hunted very close by, with his watching and being not overly distracted, and he caught a cotton rat. Yesterday, he set right to the T pole, no soaring, but he was a little uneasy. Chased a sparrow or two, there weren't many out there, and caught the two voles. When I went to the car he crashed head first into the box, and was happy to be put up. He turned around on box perch, looking out of the box door while I messed with his gear.
I'm convinced sometimes that as far as he's concerned, I'm his mate, a huge female. One time near my office, he chased the locals, then flew to a nearby tree and chirped at me, like, "we showed them, eh?" And he always comes back to hunt, except this Saturday.
Yes he was glad to see me. I thought he had a kill but he was just hanging out down there under the bush. A tidbit brought him right out and we went hunting.
Seeing him come out of the sky for the lure was amazing. I can see how folks like to soar hawk these guys. I released him right away, and it was after that that they drove him to the ground.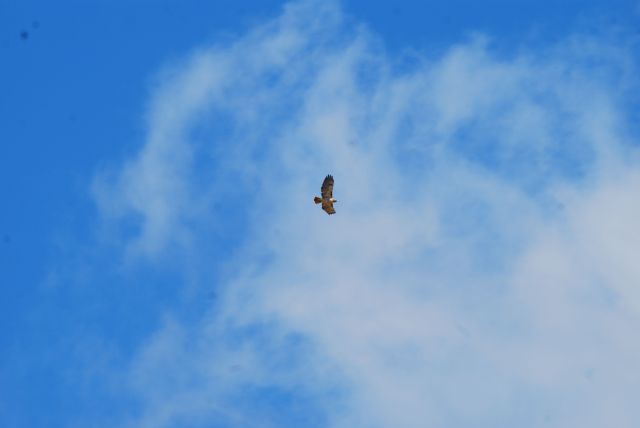 Cisco soaring on Saturday (Daniel Rasi)


---
2/21/2010 - A Sunday for Buteo jamaicensus sparverius

I took Cisco down to Sugar Land, to chase some easier rabbits. Yesterday at De Soto was tough, with lots of flights, but we left after three hours without a single swamp rabbit. Daniel Rasi was in attendance.

Today, Wiegel and I went to Cameron's grandfather's land in Sugar Land. We flew Tariq the Barbary tiercel, then walked Cisco around the field on the T pole. He started out very balky, which at 945 grams on a warm day, should be no surprise. This is a full ounce heavier than I like to fly him even in cooler weather. At one point he just sat on a power pole, and I thought about taking him home. Once he got settled on the T pole, he got interested. He caught three birds and a mouse by the time it was over. Three out of four kills he carried to the T pole for eating. We did not flush a single rabbit.

At Gold Fire, Cameron caught a rabbit with his bird, Katy, and lost another as Cameron was trying to dispatch it. For some reason the hawk just let go and off it went.


| | |
| --- | --- |
| Cisco by field in Sugar Land | Tariq and Cisco after the hunt at Wiegel's house |
| Cameron, Katy, and the rabbit that stayed - Sunday was a big day for the Houston red-tails | Rob steadily takes rabbits in Katy, TX with his well trained, second year bird, Fury. He called while Mike and I were in Sugar Land. This was also on Sunday. |
---
2/16/2010 - More cotton rats

I found a new field, just minutes from my office. It is big and grassy, with trees sprinkled around. The usual routine is mess with the local Red-tails, then get serious about hunting. Cisco rode the T pole some, chased and almost caught a sparrow, then had a long flight on a cotton rat, which he caught and ate. When he left the pole, I thought he was chasing a bird, or a rabbit even. It was a cotton rat. He caught another, and then was just slightly balky coming from the tree. I pulled the lure out and down he came. He started this morning at 1002 grams, but dropped down to around 945 by 4:30 p.m. He cast today in the box also. Back out Thursday, possibly to this field.


---
2/15/2010 - President's Day

An interesting thing happened. I was working in the garage and put Cisco out in the side weathering yard to get sun. Where he stays normally, is shady, especially in winter. I came out of the garage and he was sitting very tall and stiff, looking stressed, not moving, his nictitating membrane flicking away. I saw a squirrel and grabbed the camera. This was one jumpy squirrel. Cisco would freeze and the squirrel would get closer and closer, trying to get the seeds under the feeder. Cisco would twitch and the squirrel would jump back. If he stayed out there he would eventually catch one, I'm sure.
---
2/14/2010 - Sunday afternoon with cotton rats


The following is an email exchange between me and Lynne Holder who now has Dart; Dart has taken to going after her peacocks.

From Lynne:
Except for the peafowl he attacked- again, we got skunked yesterday and I did another face plant. He nailed the peafowl and she got away. Then he went after the other two smaller ones. He won't bother with George-I guess it's the giant tail, but he'll sure try for the other three.

My response:
He's an idiot - that's why I gave him to you. :-) Bring him to town - we'll go chase sparrows.

Cisco is beginning to have mushed tail feathers from all the rough and tumble. Today we went to the field and I just let him go jack with the locals, and didn't bother stopping him. He was back shortly, ready to hunt and caught a cotton rat. Then a beautiful stoop on a swamp rabbit on the other side of a bush. Then a second cotton rat, and he was ready to crash into the box and go home.

Cisco always visits with the local red-tails, apparently getting permission to hunt. The field today was again De Soto Street.

Cisco with second cotton rat -cell phone picture, sorry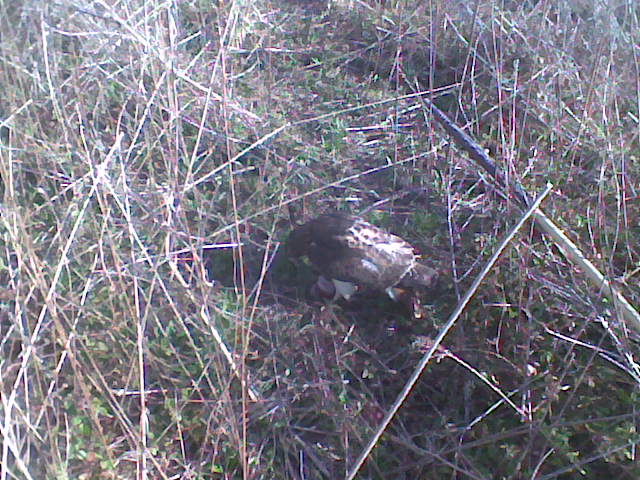 ---
2/12/2010 De Soto grudgingly yields a rabbit

Lynne Holder and I gave a presentation at Cornerstone Elementary School in Sugar Land. After lunch we parted ways, and I sent this email to her a day or two after:

Did you get my text picture showing Cisco with a swamp rabbit at De Soto Friday afternoon? We hunted for a long time as the bunnies ran from bush to bush. He was spot-on, very attentive, doing everything right, but it was tough. You have hunted in this field, so you know (whether you have a brush crashing RT or a quick tiercel HH) that this place is challenging. Cisco put in lots of attacks, some real good ones, but I ran out of time, and put him up in a tree across De Soto Street so we could do some fist flying. He suddenly ignored me and flew to another tree very relaxed, just goofing off, I thought and paying zip attention to me. He was casually watching the brush below. I had all my gear off, car doors open, when he dropped from the tree and the screaming started. He nailed a big swamp rabbit in the HEAVY brush in those woods. I didn't want him attacked by dogs, etc. so ran crashing through with little gear, leaving my car wide open, yelling at top of my lungs. I finally got over there, and he had a very big, feisty, tawny colored swamp rabbit by the head with both feet, but it was still doing its best to kick him in the head. I had to deal with the rabbit, and get him transferred off, all the time wondering if my car was being ransacked. It wasn't and we slogged back to the street through a shallow pool on the east side of the field, and I let him feed up.

I have caught many rabbits and squirrels with him while heading back to the car, but never when I have already put up most of my stuff. I had no tidbits with me, but fortunately had my game shears still on my belt.


| | |
| --- | --- |
| After the inside part of presentation | Lynne calling Dart from T pole - kids are watching...... |
| Cisco was jumpy. | Friday after we quit hunting, or at least I had........ |
---
2/9/2010 - After work cotton rat
At De Soto, no rabbits, but a plump cotton rat.

---
2/6/2010 Three rabbits for Brother Cisco (with apologies to Clint Eastwood and Shirley McLaine)

I was hoping for three sparrows out in Katy today, but ended up with three rabbits. He caught the first one at the far end of the field, had a great flight in the open and missed, and then caught two more from the T pole on the way back to the car. Picture by Daniel Rasi. My computer tanked so I'm updating on Stephanie's. More later I hope.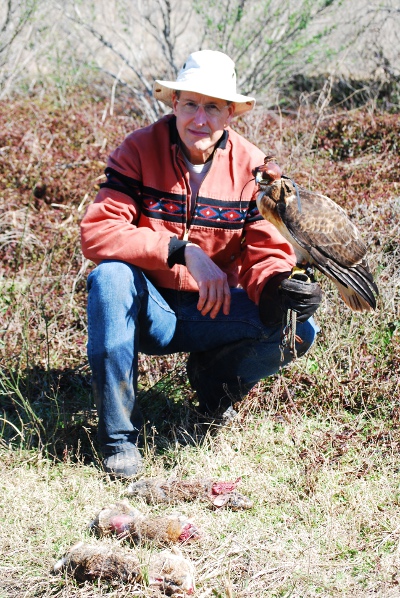 ---
2/2/2010 Sigmodon hispidus painintheassicus

The hawks certainly like cotton rats, but thay can spoil an outing sometimes. Today I took Cisco to work, leaving him in the car on a cool day. After work we went to a field farther away than usual, right next to IAH. It is grassy, and has had sparrows, a rabbit or two, and cotton rats. Today there were two adult RT's sitting in a tree in the middle of the field. Cisco always has to visit the locals, screaming and so on. A tidbit is more important and he can be drawn back pretty easily. Today he was a bit heavy at 935 grams. He was eager, taking the T pole, and was only slightly distracted by the local RT's. He chased a sparrow, then grabbed a good sized cotton rat. I retrieved some of it, but he got a pretty good crop full between the rat, and my rabbit tidbits. We flushed few birds, and no rabbits, even by the trees on the east side. Oh well, he did catch game, putting in some pretty soaring while fooling around with the locals.


---
1/31/2010 The giant sparrow hawk - redux

Cameron came over to the Stephanie's house and we went out with his hawk, Katy, along with Cisco. First to De Soto Street, where Katy looked impressive. She had already caught two swamp rabbits this week, her first two rabbits ever. She crashed the brush, appeared to be a very fast hawk, and it looked like we would wrap things up quickly, and get Cisco going. But she struck out, and we headed out to Katy, TX (she was named after Katy, TX). We ran into Mike Wiegel and Ryan Sandstrum - Ryan was instrumental in my trapping my RT, Bravo, about four years ago. He lives in Fort Worth but was in Houston this weekend. We released Katy the hawk, but she just sat on a power pole. We put her back in the hawk box; Cisco was fired up. He looked vigorous, chasing a number of sparrows, catching two, and he later caught a rabbit (cottontail or small swamp rabbit), the intended quarry. He now appears more interested in small birds than anything else.

As I fed Cisco up after the hunt, Cameron, along with Mike and Ryan, hunted more with Katy. She rode the T pole well, and got a number of flights. But went home with no kills. A good hawk though.

Yesterday Cisco was shut out at this same field but put some in some fancy aerobatics while trying to catch sparrows. We did not flush a single rabbit or cotton rat.

A side note: on the way to the field, we saw a big immature female red-tail eating a swamp rabbit by the road. We stopped and threw the carcass farther in so that the hawk would be less visible. Cameron saw other RT's right there with this hawk.


---
01/26/2010 Half a squirrel

After work today, I took Cisco to the 1960 field (off FM 1960, north of my office). I have discovered that it is much bigger, going back off the road easily a 1/2 mile, but for a long time I only hunted a strip by the road, where Cisco caught a couple of squirrels last season. Cisco weighed 945 grams this morning, which would put him at a good weight for this afternoon. I took him to work with me, unhooded, but at noon hooded him so he would not jump around the hawk box and break feathers.

I left work, and arrived at the field at 4:30. I released Cisco and walked east along the road (FM 1960). Soon Cisco was hunting a fox squirrel and shortly had the squirrel cornered high in a pine tree. Cisco worked deliberately, made his move, grabbed it, and dropped out of the tree with a wiggling squirrel. I could see he did not have the best grip on it, and about twenty feet from the ground, he dropped it. The squirrel took off with Cisco in pursuit, but disappeared, and we couldn't locate it. This is the first squirrel Cisco has grabbed this season.

For the next hour, until dusk, Cisco and I hunted the rest of the field, going way in, off the road. We kicked up a rabbit or two, and he chased a bird, but we left empty handed (or empty field bagged). We'll keep hunting here, as there is game, but it is not a very productive area.

Here's Cisco in a tree today: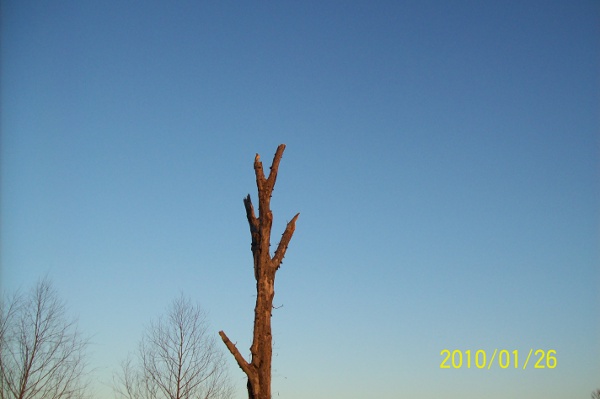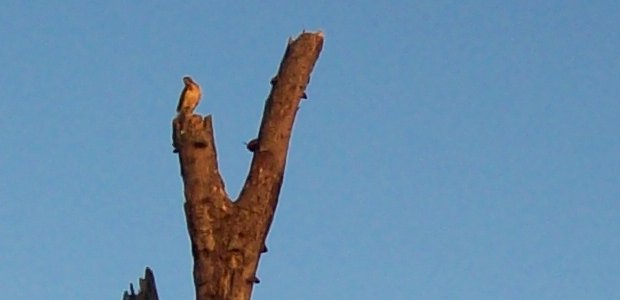 ---
1/24/2010 An afternoon in Katy, and another cottontail for Cisco

Bob Dalton, Diana Durman-Walters, Cameron and Sandy Taylor, and Mike Wiegel all came along as we flew Cisco out in Katy. He was looking sharp, and chased all kinds of critters. At one end of the field he caught first a cotton rat, then a cottontail rabbit.

The big news of the day was that Katy, Cameron's red-tail, was flown free today for the first time.

---
---
---
1/15/2010 Cisco's jinx ends in Fort Worth on the way to THA meet in Abilene

From another email:
Last Friday, We hunted the same two birds at the same spot, flying Cisco first. Many exceptional flights by him, and I was just beginning to wonder if he was jinxed at this field, when he nailed a cottontail on a spectacular flight in a little swale on the west side of the pond. See attached.

Then my erstwhile Dart (now babysitting for), who first caught a sparrow, then a cottontail later on the northeast side of the pond by the tracks.

We left and went to Abilene.

This was the same field in Fort Worth where Alicia Herrero and her friends accompanied me on the way to NAFA meet in November. Cisco put in great flights then, but settled for a Norway rat, and it was a little disappointing.

Photo by Cody Livingston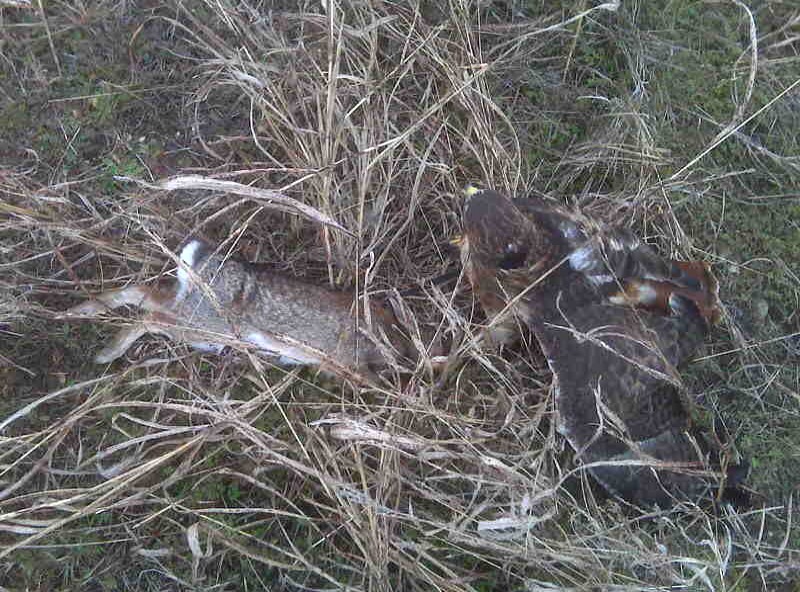 4 Photos by Bob Dalton plus one by Glenn Turner
| | |
| --- | --- |
| Dart | Cisco |
| Dart with sparrow | Cameron and Katy (Photo by Glenn Turner) |
| Jim Ince, Chuck Redding, Cody Livingston | |
---

1/09/2010 and 1/10/2010 - The giant sparrow hawk

From an email:
Cisco (4X intermewed PMRT) catches few mice and fewer sparrows. He catches tons of rats, but few mice. He has chased sparrows and doves for five seasons, but has never scored a sparrow until this fall. I don't hunt them anyway, they are inadvertent. Yesterday, we took him out to Katy, TX to chase some rabbits in a field where Mike Wiegel flies his Barbary tiercel. After flying Mike's bird we put Cisco up on the T pole. We walked along ditches having rabbits, sparrows, cotton rats and a few mice. Yesterday he started off with his best rabbit chase, at least here in Houston, in his five seasons . The rabbit broke from the ditch into the open, and Cisco chased it 80 yards upwind in a breeze, steadily closing on it. As he attempted to grab it, the rabbit escaped. Oh well, a great flight. Then he caught a mouse in the ditch. We left the ditch and walked across an open field where Mike had earlier flushed two rabbits while flying his Barbary (called Tariq). We flushed a sparrow, and the red-tail left the T pole, flying very fast after it. Cisco looked just like a tiercel Harris' hawk (one that apparently had a few drinks too many at the bar), but he nabbed it. He missed on the first strike, but the sparrow put into cover and he grabbed it. Amazing, as he has never pursued one like that. Previously, he had caught two sparrows this season, but of those, one had flown off, losing two feathers as Cisco was attempting to eat it. This one was gobbled down quickly. We then had another fine flight on a cottontail, this one turning under the hawk, and escaping for a few minutes, only to be caught in the heavy cover in the ditch.

That was yesterday.

Today, Lynne Holder brought her Harris' (my erstwhile hawk, Dart) down to Houston. Dart had no interest in birds, but quickly caught a cottontail, which escaped, only to be caught again 30 feet away. A great recovery there. We put Dart back in the car, so we could fly Cisco.

Cisco was very heavy this morning, weighing 980 grams, roughly two ounces heavy. I decided to see how he would respond. Initially he made a feeble attempt at a small bird, then flew to a tree, and cast. I could see the pellet drop from fifty yards away. Now he was ready. First he caught a sparrow, plunging into heavy cover across the ditch. I thought that he was after a cotton rat, but he hopped to the T perch with a sparrow, and wolfed it down. Then, after a while he caught a mouse. Forty minutes later, on the other end of the field he flew down and caught a cottontail.

Another thing today was interesting, While we were chasing rabbits in an area I call the "rabbit field" within this same big field, Cisco launched from the T pole and flew up to about 30 feet. He did a teardrop stoop, striking the vegetation on the ground. What was he hunting? It was a group of Savannah sparrows, which flew off. He is apparently turning into a giant sparrow hawk.

Amazing that today was a carbon copy of yesterday, at least game wise.

---
1/06/2010 A cane cutter after work

I will be updating this log backward as I am a little behind. After work I took Cisco up to a woods/field near the airport where he has caught a few squirrels. Today instead of going to the woods, I went out into the open. He was excited, weight around 915, and had been hooded in the car all day. He flew around the trees a little, and I called him to the T pole. Out by a brush pile he looked at a wren, and minutes later caught a big swamp rabbit, the first rabbit he's caught out here. He has caught six rabbits on the last seven flights. Wow.

Update: This afternoon, Katy was flying 120 feet to Cameron's fist.


---
1/03/2010 An afternoon with Jack Stoddart and Mike Moseley (updated 1/25, three weeks later)
Jack Stoddart was in town, and yesterday, a complicated set of Internet searches and a phone call or two, caught up with Mike Wiegel and me. jack needed some food for his recently acquired peregrine, a 7/8 Peale's. Mike had a freezer full of Coturnix, so took care of him. Today, (Sunday), he went out in the field with us and Mike Moseley. Mike was in town because I promised him some flights on rabbits for his rookie Red-tail, called Foe Hammer. We went out to the Westheimer field, and Cisco chased a squirrel or two (I think, as I am writing this three weeks later), and then we worked the detention pond. Not to much action until Cisco hit the deck and caught a cottontail or small swamp rabbit straight off the pole.

We drove down to Gold Fire to fly Mike's hawk. he did pretty well, chasing some rabbits and rats, finally nailing a cotton rat for his first field kill. I am waiting for Mike to send me a picture of that afternoon.
| | |
| --- | --- |
| Jack and his 7/8 Peale's | Mike's bird, Foe Hammer |
---
1/1/2010 - Happy New Year double for Cisco

I took Cisco to the De Soto Street field around mid-day. As always, he catches game on "his" special holiday. I am writing this update several weeks later, so a bit of memory is involved. It was clear and sunny, but nice and cool. He began, I think, by posting himself in a tall bare tree acroos the street, a perfect setup. Rarely do I flush game for him when he is so perfectly placed. This was the exception. A swamp rabbit bolted on the north end of the filed and Cisco flew straight out at about forty or 50 feet and dropped like a stone to the field. Am aesthetic A+. I made in and dispatched the young cane cutter. It happened so quickly that I fely obligated to keep flying the hawk even though I like to minimize the take from my fields. Soon he was squabbling with local local red-tails, but a tid-bit on the T pole ended that. WIthin minutes he slammed into the heavy Cheroke rose cover, and had a large swamp rabbit by the head. It was difficult to dispatch this rabbit, and I tore up my thumb in the process. I guess Cisco's slow rabbit streak has ended. Another poor cell phone picture plus others:
| | |
| --- | --- |
| | |
| Taken the night before at a field near my office and IAH airport | |
---
1/02/2010 Cameron's bird is doing well

"Katy" in her mew in Sugar Land. The corner perch arrangement was inspired by Jimmy Tompkins.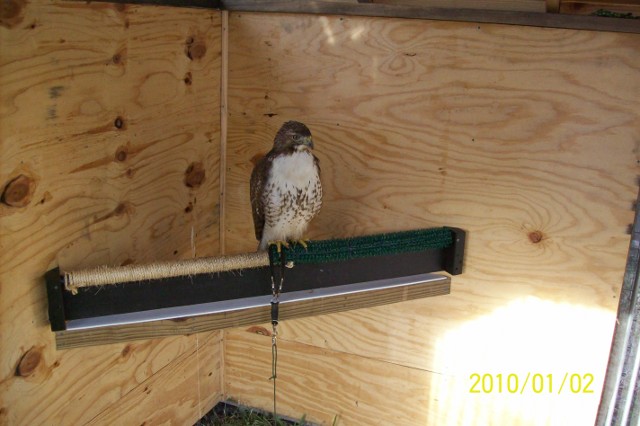 ---
12/26/2009 - A fine day for Cisco (an email to Rob Evans)

Rob,

Great day. I went down to see Cameron, and his bird is doing well. He has spent a lot of time walking her around, hooding and unhooding. At some point I thought she might eat today, so Cameron's dad, Glenn brought out a frozen Cisco swamp rabbit. Cameron had Katy on the fist about 15 feet away, and she gave that cane cutter a hard look. I decided she was ready so sawed off a chunk and thawed it. I gave it to Cameron and he messed with the chunk around her beak. She bit and tasted, and dropped it. I picked it up, Cameron repeated the process. Next thing I knew she had the rabbit on the fist ripping into it. She is also approachable on a bow perch in the yard. Cameron can walk up to her, and she will not bate. She's looking good. I should have taken a picture. This one is from Christmas Eve.

Later Wiegel and I took our two birds out to Katy by Pederson Road. Tariq, the Barbary flew around for a while, swooped around for a while, chased a sparrow or two, and Mike called him to the lure. Cisco was at 936 grams this morning with squirrel chaps on. That put him at about mid-nine twenties with normal anklets. I knew when I took him out of the car today he was going to be good. He was peeping in his hawk box, hooded, and was fired up when he came out. He chased ditch birds for a few minutes, then caught a small cotton rat. We walked the ditch some more, with him on the T pole. He flew to the boom on a back-hoe, a perfect setup. Wiegel flushed a cottontail, and it ran into the open. Cisco caught it about 40 yards out. A nice flight. We kept hunting for a while, and he continued to attack birds and cotton rats, and caught a mouse. We then had some great flights on another couple of rabbits, but they were in cover.

On the way back he went after a wild red-tail, and flew across the road. I ran after him because of the cars, and called him down. He screamed some at the wild RT, and I put him in the hawk box. Amazingly he didn't want to be put up, even after a a couple of hours of hunting and three kills.

Chuck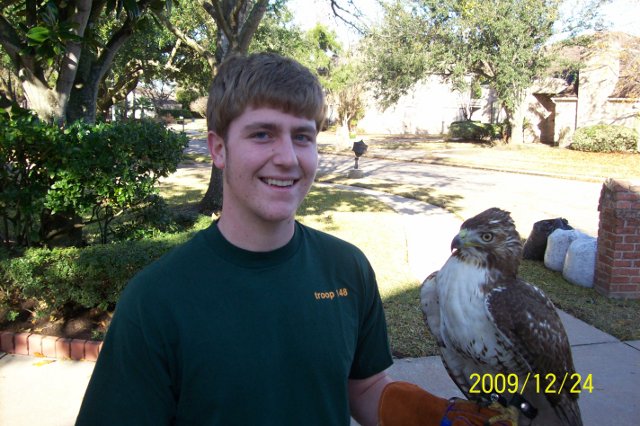 ---
12/23/2009 - Cisco catches a cottontail; Cameron traps a red-tail

Cameron needed a hawk. I had set up a weekend of trapping to try to get a hawk before the season starts. I had given Rob a call, and he was willing. I was prepared to put in some time as was Wiegel. Fortunately, yesterday, Jonathan Millican called to ask if I was going hawking, and where, and could he come along. Perfect timing as it turned out, since I was taking this morning off anyway (Wednesday). Also, he voluteered ti help Cameron. Cameron showed up at my house early, and we met Jonathan over at the Westheimer field. We stomped around there, but didn't see much. Cisco was looking good and was responsive. We put him in the hawk box, left the field and went to Gold Fire, always a good move. Within minutes we had a flight over the detention pond fence, and Cisco scored a cottontail rabbit in the corner of the pond. Jonathan and I concluded it was a cottontail, even though that place is choked with swamp rabbits.

I went to work, leaving Cameron with Jonathan. They called several times during the afternoon to let me know how it was going. They trapped three red-tails, two smallish males, but the third was a large female, weighing 1450 grams. Cameron now has his hawk, who he calls Katy, since she was trapped near Katy. Thanks, Jonathan.


---
12/18/2009 through 12/20/2009 - A three day weekend

Not too much to report here. Friday, Wiegel and I flew Cisco over at the field/woods off Westheimer. He caught an eastern wood rat after some squirrel chases. Then on Saturday, Weigel and I took four kids for some hawking. These included Cody Birdwell (now birdless) Cody Livingston, Daniel Rasi, and his friend from Japan, Koki. Cisco was fat at 950, plus it was windy. He put up a fine performance aesthetically, and caught a cotton rat. Finally, on Sunday late in the day, Cameron and I took Cisco back to Westheimer. He chased squirrels and rabbits but got shut out. All days were sunny.


---

12/16/2009 - Finally a big swamper

A Wednesday 1/2 day vacation. I dropped Cisco's weight just a little wondering if that would help his performance. Today at 0600 he was at 912 grams. I took him out to De Soto Street again. The hunt started with his crabbing with a local redtail. After a few minutes I brought him back with a chick head to the T-pole. We began to hunt, with his taking a high perch in a tree. After about an hour of hunting, I began to wonder about my hawk again, with lots of chases, and good opportunities, but continued misses. I was starting to wind it down when he put in a particularly hard flight on a big swamp rabbit, and then silence. Another miss? No, suddenly the rabbit started hollering and I ran in. It had it's foot in Cisco's face. A very big rabbit, and I let Cisco feed right on the kill. Cisco's doing well enough I guess. A good five pound rabbit is nothing to sneeze at, even in this weather.
---
12/13/2009 - Enough is enough - I'm going home

Cameron called, wanting to go hunting. Both birds were at flying weight, but I really wanted to fly the RT. We had limited time, since we left for the field after 1530. Cisco looked good, but missed the big swampers consistently, then caught a baby swamp rabbit.

With about 25 minutes of daylight left, we brought Dart out. He flew around, chased a swamp rabbit, then flew to the car and sat on the roof waiting for us to return form the field. He was done.

Lynne has now picked him up, and Dart is back in Chappell Hill, TX.

---

12/12/2009 Dart catches two birds and a cotton rat, Cisco a Norway rat

Saturday morning we took Daniel Rasi out with us, after the customary breakfast at Denny's. It was very foggy, so Wiegel did not fly his Barbary tiercel. This weather was fine for Dart, though he did not catch any rabbits. Instead he caught a couple of sparrows and a cotton rat.

Later, with Cameron Turner in tow, we took Cisco to the field off Westheimer Road, and he chased a squirrel or two then nailed a Norway rat. I over tidbitted him on the transfer, and when we took him over to De Soto Street he was balky and not too keen.

---

12/9/2009 Dart catches a respectable swamp rabbit

With Dart's obvious improvement as a rabbit hawk, I had a chance to see how he would do in a very tough field, De Soto. Oh yes, Lynne went to New York, and I'm taking care of Dart. A cold clear morning, and Dart went through the routine of trying to catch these elusive bunnies as they quickly moved from bush to bush. At one point I had to extract him from a swamp rabbit carcass, the remains of either a great horned owl or wild redtail kill. That was fun (not). After a good hour and a half of chases and misses, the hawk caught his break. Walking along the fence line on the north side we flushed a swamp rabbit. Dart struck and missed, but recovered nicely and grabbed him. A decent sized swamp rabbit. Crummy cell phone picture - my camera batteries were dead. As Dart ate the head, I put the body in front.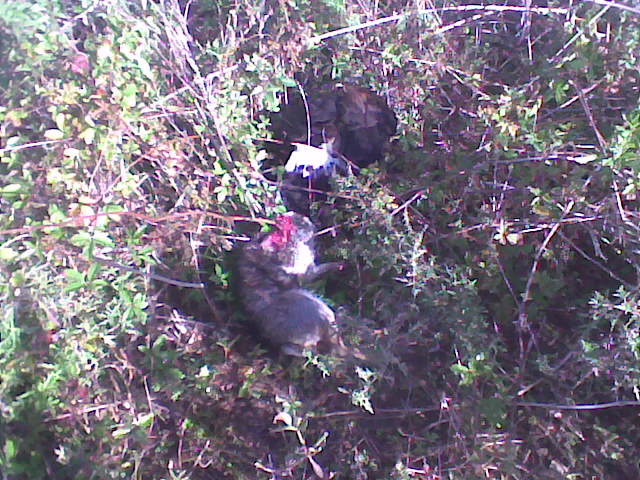 ---

12/6/2009 - Ince, Wiegel and I chase Cisco in the misty rain

Jim Ince called this morning asking if he could go hawking with us. I was planning to squirrel hunt Cisco late in the day. Cisco was on the high end of his weight, about 954 grams with a casting still inside from his eating a rat last night. Jim met Mike and me at the woods/field off Westheimer, and we put Cisco up in the woods. It was a misty afternoon with intermittent rain. It looked a little bleak squirrel wise, and Cisco wandered off a little. Then it started to rain, and he appeared to range farther according the telemetry. We got in our vehicles and drove down the road; he appeared to be in the woods, but east a little. So we drove back and got of the cars. Jim ran the receiver, Mike carried the poles, and I trudged ahead of them. Eventually we found him very close to where we started. The lure came out, and down he flew. He rarely takes off, but I thought he might have flown away looking for a large, shady oak. No, this is a dependable hawk who will often begin a hunt with a little reconnaissance. It was good to have him back. I did not want to leave him overnight in the rain, and have to take off from work in the morning.

---
12/05/2009 It's the flight, not the kill

Good thing because Cisco (910 grams) and I spent three hours hunting squirrels and cane cutters (swamp rabbits). We struck out again, but he did look good. The leaves are still on the trees which makes it very difficult to help the hawk with the squirrels. He put in some good flights on squirrels, then we hunted swamp rabbits in a big clearing. Zip. Oh Well.

I transferred Dart to Lynne Holder today. Hooray. She "texted" me, writing that he had caught a mouse and two house sparrows. He is doing well. I will no longer keep a record of his hunting after today.
---
12/04/2009 S'no bunny for Cisco

We struck out at De Soto Street field today. Cisco was at 923 grams, which should have been good. It snowed at the field, the earliest snow in Houston on record I think. My hawk attacked and attacked, but failed to score. Is it just this difficult field or is he slipping a little? He missed one rabbit right in front of me, off the T-pole. He did not lead it, and he missed it by inches, hitting behind it. Who knows? He may be high in weight, so I will do the counter-intuitive thing and raise his weight slightly, before I lower it a little.
| | |
| --- | --- |
| A view of De Soto field with snow falling | View toward White Oak Bayou |
| Cisco on my fist, with snowflakes | What is this? Swamp rabbits hide under these plants in Houston. Cherokee Rose? |
---
11/30/2009 A fence collision, a minor injury, a mouse, and a number of cane-cutter chases for Cisco

Cisco was at 944 grams this morning. I went out to Gold Fire after a week up in Woodward. It was drizzly, damp and cool. Not comfortable, but AOK hunting weather. There is a fence on the north end of the detention pond. Cisco pursued a cane cutter (swamp rabbit) to the fence and flew into it. He was not dazed when I got there, but his right eye appeared irritated, and he closed it. I was about take him home, when he opened it, and he appeared ready to hunt. I looked at it fairly closely, and it seemed OK. I thought that I would cautiously hunt with him to see if he was all right; from there on out he was fine, with no apparent problem.

We hunted cane cutters for the next hour, but they were always in cover. Cisco had some good flights, including a ground level pursuit of a circling rabbit. We would get a little rain, but nothing drenching. He caught a mouse, hopped with it to the T-pole, and we started back, hunting along the way. I called him to the lure, and we went home.
---
---
NAFA Meet 2009 - Woodward, OK, 11/21 to 11/28
More details later, as I fill it in. I met Bill Boni and Doug Pineo while at the meet. Wiegel and the Holders, plus my sister Kate were all there in Woodward.

Saturday, Ft Worth - Dart: cottontail, Cisco: Norway rat
I met Alicia Herrero and her two friends from North Texas University, in Ft Worth. Dart looked great while catching a cottontail, then Cisco, also looking very good, had to settle for a Norway rat. Unfortunately, because of the poison traps deployed aound the area, I buried the rat rather than take the risk. I then went to Dallas to stay with my friends, Jim DeBruin and wife Dana.
---
Sunday, Travel to Woodward
---
Monday - Dart: cottontail, Cisco: cotton rat
Lynne, Ron, and I drove caught 70 miles east of Woodward (Meno, OK) to a field offered to us. Dart caught a rabbit flushed across a parking area, while Cisco struggled with the rabbits and again settled for a rat.
---
Tuesday, Nutin'
A frustrating day, with our looking for fields. Also Lynne flew Dart at a ranch, and we saw no game.
---
Wednesday, Dart: cottontail, Cisco: cottontail
Lynne took Dart to fly east of town, accompanied by Sheldon Nicolle, to the same field as Monday. I got a text message that the hawk had caught a cottontail. In the morning, Donna Vorst, who I had met at breakfast, went with me while we flew Cisco. We went over by the Northwest Oklahoma State University extension campus. After an hour or so of difficult rabbit flights, he caught a cottontail up in a little horse pasture. See pictures below.

| | |
| --- | --- |
| Cisco with rabbit caught Wednesday (Donna Vorce) | Oklahoma terrain (Donna Vorst) |
---
Thursday, Dart: mouse caught late in day
Cisco was fat in the morning, so I took Sheldon Nicolle out to the field Donna Vorst and I had found the previous day. Kate came along. Then we ate the Thanksgiving dinner. In afternoon, we went out to a squirrel place. Manny Carrasco's RT, Dakota, predictably caught a fox squirrel. I put Cisco out, and his high weight showed. I ended up calling him down with the lure after he wandered off. However the neighbors offered their property, and a short while later, I brought Lynne and Ron back with the Harris' hawk. He chased a rabbit or two, and took a mouse, earning a "Miscellaneous" NAFA meet pin. It got dark, and we went back to hotel.
---
Friday, Cisco: Cottontail caught after spectacular flights
This day was great. Donna Vorst, Kate, and I went out to Hal Thomas's house to fly cottontails. It was clear and windy. Cisco soared with a wild RT, slope soared a little, and chased a quail about 75 yards into cover. I went in for the re-flush and sprang a cottontail. Cisco went after it, and when I re-flushed the rabbit, Cisco caught it on a crosswind flight.
---
Saturday, Dart: a cottontail and cotton rat in Ft Worth
2009 NAFA meet game summary, including travel: Dart had a great meet with 4 rabbits, a cotton rat, and a mouse. Cisco caught two rabbits, a Norway rat, and a cotton rat. Each hawk earned two game pins.

---
---
---
11/20/2009 - Last Houston hunt before NAFA meet

Originally I had planned to leave today, but decided to stay in Houston to hunt instead. I took Cisco out to Gold Fire, and he caught a rabbit immediately upon being released behind the church. It screamed momentarily, then wiggled off. Doesn't happen much. We worked the back part of the field, and Cisco caught a swamp rabbit that broke into the open, attempting to run to the ditch.

---
11/18/2009 A mouse and a rat for Cisco

I went out to Craven Road, and while checking the field pre-flight, Jim Ince pulled up in his truck. He was on the way to work, while I was enjoying a morning's vacation. We talked for a few minutes, he left, and I got Cisco out. He weighed 933 grams.

It was cold enough the night before, that with the clear sky, there was frost on the grass. I put Cisco on the T-pole, and we went to work. Early on he put in a beautiful flight on something, rat or bird probably, but as is typical these days, we saw few rabbits. By the time I gave up a few hours later, he had caught a young Norway rat and a deer mouse. Good enough these days.

---
11/15/2009 A Saturday evening swamp rabbit
De Soto, now my favorite field, induced great flights by my hawk, plus a young swamp rabbit for the freezer. Hard work for me and Cisco, but he caught a rabbit a dusk. Hard to beat.

A couple of pictures by Rob Evans earlier in day, of Mike's bird, Tariq, after he chased some black birds over the horizon, and we chased him.


---
11/13/2009 A barn owl redux
Out in Katy Cisco caught another barn owl, which I managed to release. Fortunately, barn owls are so slow that they can be easily caught close to the falconer, and can be released. This one screamed bloody murder until I extracted her from Cisco's grasp, then I had to pry her feet off Cisco's legs.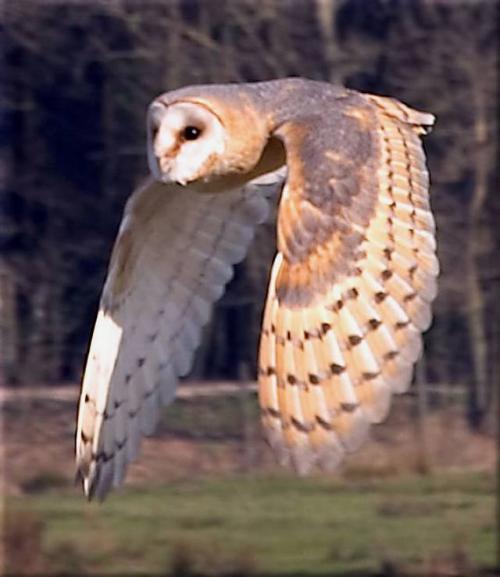 ---
11/08/2009 - A couple of birds and a cotton rat, while rabbit hunting with Dart

It has become sort of a tradition. Wiegel and I meet at Denny's, then go fly our birds. Pretty much every Saturday, and occasionally, like today, a Sunday. We took Wiegel's bird out to Katy, and in the process, met up with Mike Mosely and Zach, another long time falconer. Tariq, the Barbary, waited on well and caught a kitchen dove. A harrier showed excessive interest after the bird was on the kill, which made Wiegel run in fast.

We took Dart to a field right across I-10, where Cisco had chased a rabbit last week. Today, no rabbits, but Dart caught a couple of birds. Then we took him to Katy, where he nailed a cotton rat, and took a looooooooooooong time to eat it, after dragging it into the brush. Great picture, eh?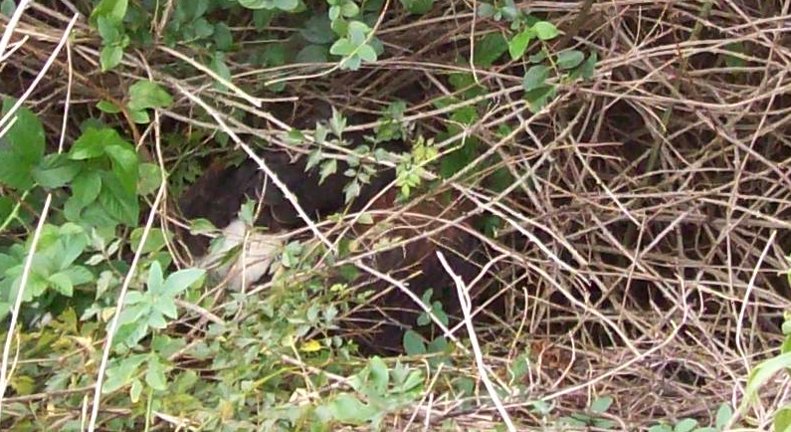 ---
11/07/2009 - Little swamper and Cisco catches a bird

Out at DeSoto Street field, Cisco caught a small bird, but as he started to pluck and eat it, it flew off. So it is not scored. Later, he put up an amazing flight, capturing a small swamp rabbit, around 1-1/2 pounds. After battling swarms of mosquitoes I retreated back to the car, leaving Cisco up in the trees on the east side of the field. I came back, and he had what I thought was a perfect perch, a bare vertical branch with a great view of the entire field. Cisco thought different, leaving that perch, and flying down a couple of feet into some leafy branches that barely supported him. I beat the brush, apparently not flushing anything, when he launched his attack. He flew straight out over the field about 40 yards from the trees, and hovered for a minute. Then, in an atypical redtail fashion he dropped straight down, feet down, with wings up, into the brush. A rabbit was squealing, and I ran in to find him with a cottontail-sized swamp rabbit. A weird flight, no teardrop stoop so characteristic of RT's. But it was great to watch.

Also shown are pictures of Mike's flying his Barbary this morning. The bird catches doves that could outfly him, but they go for cover. He follows them right in.
| | |
| --- | --- |
| Cisco, hooded before the hunting trip to prevent him from getting too excited upon arrival at the field | Cisco in weeds eating the head of the small swamp rabbit at DeSoto |
| Mike releasing Tariq to hunt doves | After finding him in bushes with dove - had to use telemetry he was so well hidden |
---
11/06/2009 - Dart catches 3 birds while rabbit hunting

A Friday morning. I carried Dart on the T pole for about three hours without flushing a rabbit. He did catch a couple of birds at Cravens Road, then a third at Gold Fire. Where are the rabbits?
---
11/04/2009 - Big swamper and Dart catches a bird

This huge rabbit weighed 5 or 6 pounds, caught Wednesday morning at Gold Fire. Earlier, I took Dart out and he caught a bird while rabbit hunting at Cravens Road.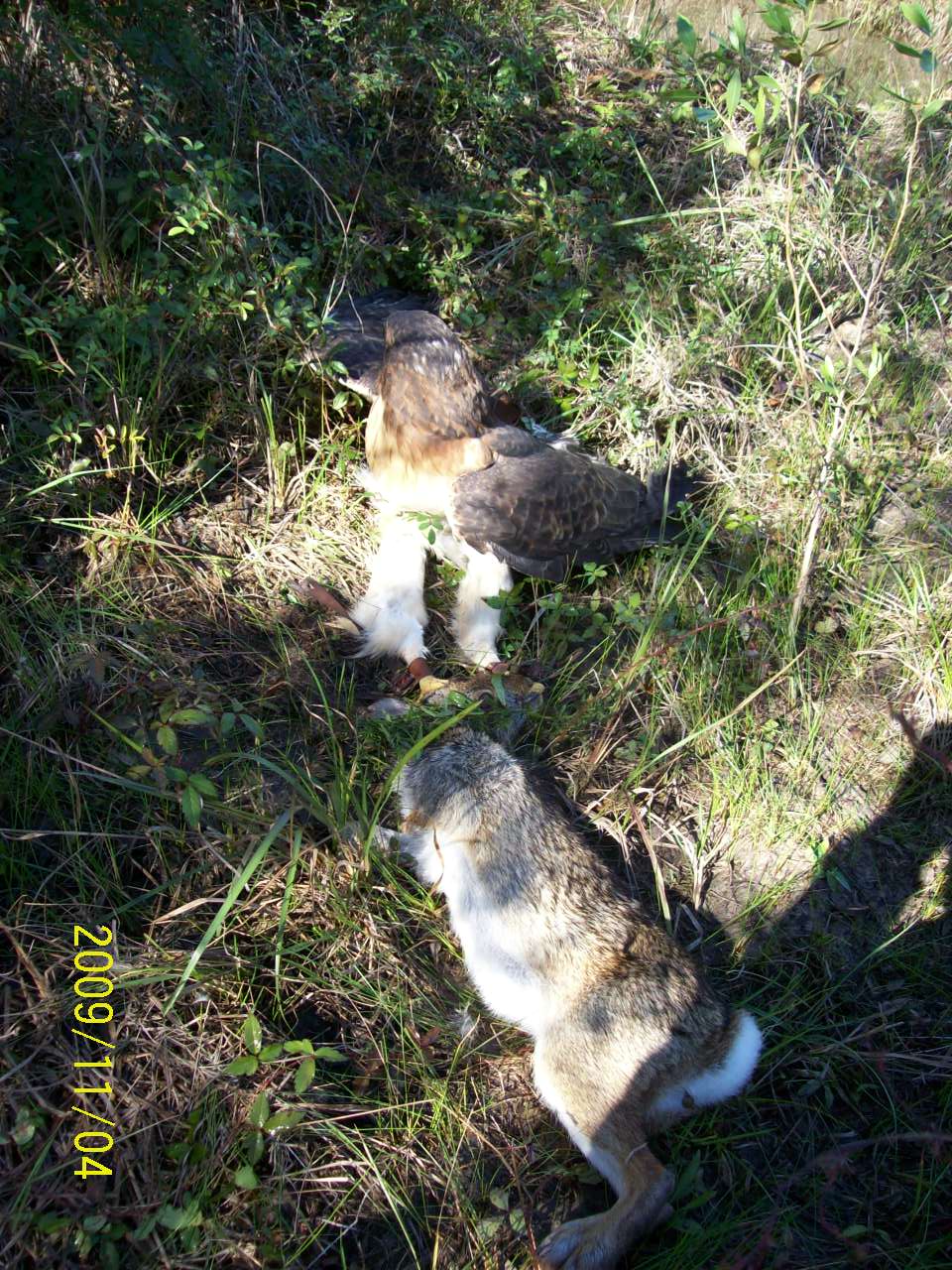 Cisco with large swamp rabbit, looking to drag it to a bush
---
Weekend of 11/31 through 11/1

Cisco: Three cotton rats in two days. No rabbits
---
Weekend of 10/23 through 10/25

Friday morning I took Cisco out to Katy. We kicked around for a pretty good while, walking a lot. I did not scare up one rabbit for him to chase. Not even a cotton rat. There were lots of small birds, which he chased, but at 955 grams, he is not red hot. I finally called it good after a couple of hours.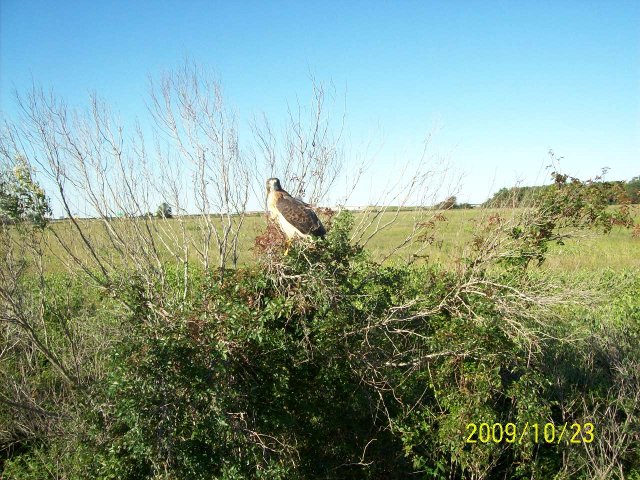 Cisco, not catching anything................

Saturday I took him to Gold Fire by the Ft. Bend Tollway expecting at least something in the bag. Parking in front of the church, I released him and he waited up in the trees behind. We went over to the fence on the south side of the part on Summit Ridge. He landed on the fence, then promptly went after something inside the detention pond. I got over the fence, and he was on some game down in the wet vegetation. He saw the T pole and carried a large cotton rat up to it. With a few tidbits, I managed to extract most of it, and put in the game bag. Then I walked toward the south end of the pond, and flushed a swamp rabbit, but Cisco was looking the other way. Then he flew to a tree that gave him a perfect shot at the rabbit on the reflush. But I could not get over the fence. Discouraged, I walked the other way and he soon followed, then nailed a young eastern wood rat, gobbling it down. By now I thought he should quit. He was wet from the vegetation, and had a good crop. When I got to the north end of the pond, I needed to get the hawk and me out, by going under some barbed wire. I couldn't with the hawk on my fist, so reluctantly let him go. Once out I flushed a swamp rabbit, but Cisco was wet and full. Getting him down was no small effort. Glove, lure, and T pole all interesting, but not enough. Finally I lashed the cotton rat to the pole and the soggy red-tail flew down. After eating that, he was really cropped up, but will be at weight by next Wednesday.

Saturday evening and Sunday morning we flew Dart at Lynne Holder's. He chased a rabbit and some birds, but struck out. He also did not care for Lynne's pink hat.



Lynne getting ready to fly Dart in Chappell Hill.
---
Sleeping buzzard and para-buzzard (not to scale, Cisco outweighs Dart by 50%)

---
10/18/2009 - Tariq's first wild dove


Wiegel's Barbary is a hunting hawk. We got to the field at around 0830, and Mike released the bird. I stayed on the grassy road because I'm not supposed to be in the field for a couple of weeks. The bird played around in the sky a little and suddenly started pumping his wings hard. A dove! He flew it down either just short of the cover, or caught it in the cover. Either way it was spectacular. These are pictures taken right after. The bird transfers off like a charm. Sorry - more cell phone shots.

We also saw a harrier ambush and kill a dove right in back of where Mike is standing in upper right picture. In fact the harrier is in the grass about 100 feet away.
---
10/17/2009 - Flying Tariq while I recuperate and Cisco rests


Wiegel's Barbary chasing some doves and a savannah sparrow (click on link and wait a few minutes). The bird looks like a dot.
sparrow chase
| | |
| --- | --- |
| | Post flight debriefing. |
---
10/11/2009 - A cool and misty afternoon with a cotton rat
Wiegel joined me at my house and we drove out to Katy. Drizzly and cool, with Cisco at the very very high end of his flying weight, about 960 grams. It was one of those days that seem a little ominous. The mist was on the windshield, it was grey, the wind was up a little, with the hawk hardly at a red-hot weight. Concerned but not worried. We got out to the field and sprayed ourselves thoroughly with DEET and released Cisco. He flew about 50 yards and landed on a low tree by a ditch. We slogged through the water, and got him back on the T pole. We walked toward I-10, and put up a number of sparrows, probably LeConte's, ignored by the hawk. We crossed another ditch, and he hit the ground, catching a cotton rat. Fine for me today. I let him eat it, then called him to the fist with a cockerel, which he ate. A fitting end to the opening weekend. I have some minor surgery coming up. There will be a break here of at least a week, I'm sure. Maybe the weather will cool down, and stay cool.
---
10/10/2009 A typical Cisco season opener at Gold Fire
Cisco typically opens his season at the the Gold Fire field, 90A at the Ft. Bend Tollway. This season is no exception. He was heavy, at 950 grams plus his telemetry, but that has always been the case on opening day. It was cool, overcast, and a little windy this morning. I took the Cairn terrier, Suki, along, just for her entertainment, but she stayed in the chilly car. The front part of the field has been mowed, not a good sign, though it has grown up some. I parked at the church, and released Cisco. He flew to the trees behind the church and stayed there until I could get all my gear on. I walked toward the trees, then out to the mowed field, and he came down to the T pole. We slogged to the back part of the field, also behind the church, and he flew to a small tree north of the detention pond. He spotted a swamp rabbit immediately, flew over the cyclone fence into the detention pond and caught the rabbit with a straight flight from the tree. Sorry, poor quality cell phone pictures.
| | |
| --- | --- |
| | |
---
10/9/2009 - No Country for Old Boots
It was rainy and warm this morning, rainy and cool this afternoon. This morning west of town Dart and I went looking for grackles and rabbits. It was warm, but the cold front came in as we were out hunting. I ended up hooding Dart as he was hanging upside down, so that I could get him back in the bad weather. A summer with little hooding, made him a challenge for my hooding skills. It was raining hard by the time I got back to the car.
After a few hours break, we headed out to Katy. On the way to the field I stopped at Academy and bought some new boots. The old ones leaked badly; the new ones are perfect. Dry feet finally......... It was rainy, and cool enough that a hat felt good. Dart got blown around in the wind, but chased a rabbit or two and some birds. He got wet on the soggy ground, and the rain drove us back to the car. I dried Dart out with the A/C and heater, and we set out again when the rain let up. He caught three birds, the rain and wind picked up, so we called it good.
Tomorrow, Cisco's season opener.
---
10/3 and 10/4 - Cody Birdwell and his red-shoulder hawk
Two days of fruitless hunting with Dart. Saturday with Nick Morgan, who happens to know Matt Mullenix through Nick's 82nd Airborne buddy, Tyler, in Baton Rouge. Today Wiegel and I tried grackles, had a telemetry chase in the wind and rain, then had no flights out at Tariq Field.
Just a few days ago, Cody, on his own, trapped a passage red-shoulder hawk out west of town. The bird is coming along well. Probably another success story for this able young falconer.
---
9/30/2009 - An early morning cottontail with a hawk at flying weight

I finally got Dart to his flying weight of 635 including his harness and transmitter. A beautiful morning, nice and cool, and sunny. He chased a bird or two, a cotton rat, and put in a nice flight on a rabbit. That flight very long with my trying to keep up. The cover is still affecting him, but a few minutes later he speared a nice female cottontail. A good outing in Katy at "Tariq Field," where Mike flies his Barbary. A cell phone picture of Dart's feeding on rabbit:
---
9/27/2009 - "A man's (hawk) got to know his limitations" Harry Callahan (Dirty Harry)

Late in the day, I flew Dart out at DeSoto. Big swamp rabbits and heavy cover, his two least favorite things. Skunked. Nothing but exercise. He chased - there are tons of big swampers there, but wouldn't close on them.
From an email:
I just now got back from a very warm afternoon hunting with the Harris' hawk in a field much better for Cisco. Heavy cover and enormous swamp rabbits, and Dart does not care for either. But I left some antibiotics over at Steph's (sinus infection) and had to go back over there (to Oak Forest), and that field is nearby. Gawd, it was hot! And my little hawk wouldn't attack those huge rabbits, the wimp. :-) I was beat when the sun went down. (Maybe I'll put this in my blog).
---
9/26/2009 - A morning with Dart and Fury

I got up very early today to take the Harris' out. Rather than hit the same field, I found another, that coincidentally is adjacent to a machine shop that I am familiar with. After an hour, I gave up out there, and called Rob. At another field Dart caught (another) cotton rat. I ran out of steam, we put his red-tail out, but it was too hot. Rob called later in the afternoon to brag about Fury's (his red-tail) catching her fourth rabbit. She's putting team Cisco to shame right now.
---
9/19/2009 - A morning with Dart and Tariq

Cameron met Mike and me at What-A-Burger at 0615. The plan was to have a quick breakfast and get out to "Tariq Field" by 0700 to fly first Mike's Barbary, Tariq, and then Dart. We drove out to the field west of Katy and put the Barbary up first. He did fine, chasing a couple of doves, taking a higher pitch than I have seen before. Then Mike swung the lure, brought him in, and fed him up. Dart is converging on his hunting weight, coming in at 629 plus transmitter and harness. He was not overly fired up, but chased a couple of birds including a quail, a few rabbits, and caught a cotton rat. A few pictures from this morning below. We all tried some anti-tick spray today and it seemed to have worked.
Rob called to tell me that his RT, Fury, caught two rabbits today.
| | |
| --- | --- |
| Getting ready | Getting ready |
| D'artagnan with cotton rat | Tariq released |
---
9/13/2009 - Another cotton rat for Dart, and Rob Evans' bird catches the first Houston rabbit

I had not planned to fly today, believing that Dart would be fat after yesterday's cotton rat. I weighed him at noon, and he was about 640 grams plus transmitter. This evening we went out, this time with Cameron Turner. It was warm at 1800 when we got to the field. Cameron encountered two large water moccasins, almost walked into a wasp's nest, and found two or three ticks on himself. Dart had little interest in closing on two rabbits that he could have grabbed, but finally caught another cotton rat. He was eating it on top of a bush when suddenly he began dancing excitedly around the bush. Turns out he had dropped the varmint and couldn't reach it. I reached in and got the rat, and let Dart feed on the fist as we walked back, something I rarely let him do.

I found a few ticks also.

Probably the biggest falconry news of the day came from Rob. His intermewed red-tail, Fury, caught the first rabbit of the Houston season, along with a mouse. Rob's on his way to another successful season.
| | |
| --- | --- |
| Later, on a hot Houston afternoon | Out in the field, taken with a cell phone. |
---
9/12/2009 - Season opens: Dart scores while Cisco molts

After flying Mike's Barbary-in-Training (BIT) we took a very heavy (649 gram) Dart along the ditches in the same field. A few lazy rabbit chases, and Dart caught a cotton rat. First kill of the season for Team Cisco. This is a great field for a Barbary, RT or HH. Exciting. A big huge open field with a bunch of wet ditches. There are plenty of rabbits, mice, cotton rats, snipe, and deprecating black birds. Dove too fly over. We had to chase Mike's bird down the road a little bit. He was sitting on a power pole over a huge bush full of blackbirds. I picked up two ticks.
---
8/2/2009 - More summer stuff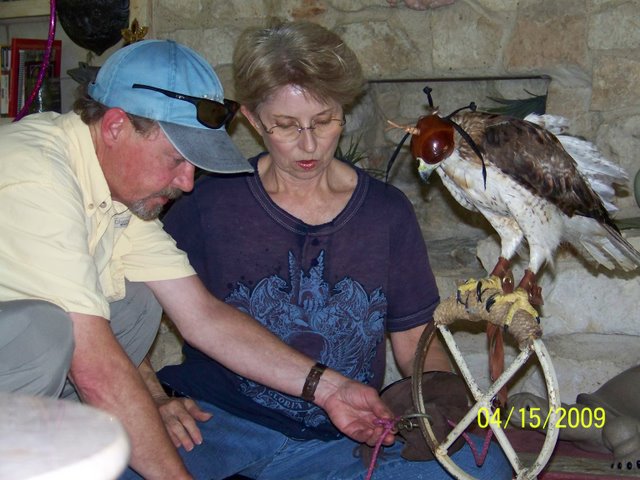 Marc Ellett explaining some fine points to my new apprentice, Charli Rohack (Photo by Stephanie Jennings)
7/3/2009 - Mike Wiegel's new captive bred barbary tiercel

Mike got the bird from Garrett Starr up in Washington state. Came in last night. A very mellow and already pretty well manned little tiercel.
7/1/2009 - Molting

Cisco is slow as usual, with Dart's ripping through fast. He will be ready by late September easily. Cisco, next February (not really, I hope).
---
4/30/2009 - Birds are fat and molting
Cisco at 1020 grams, Dart at 700, both 48 hour weights.
| | |
| --- | --- |
| Cisco's nightly ritual - a drink | A bath by the sprinkler (Stephanie Jennings) |
| Cooper's hawk in Danny Bynum's yard about 1/2 mile from mine | |
| Bill Rhinehart's FRT, "Sugar," on black-tail jack in California | Former THA Director-At-Large, Jay Lehmer with his 3/4 gyr X 1/4 peregrine tiercel, "Cowboy." Taken at sky trials in February 14, 2009, where he placed second. |
| The boys out to weather on Sunday afternoon - Mike Wiegel's house | |
Nothing silly about these four pictures...........
6/27/2009 - Dart and I watch falconry videos.
He's watching Cody Fields' red-tail chasing rabbits. Video taken up in Amarillo back in 2005.


10/07/2009 - Cisco and Suki, the cairn terrier, hanging out in October of 2009. The redtail will stay in the box from dusk until about 1000 the next day, then wants to get out.