Navigate to: Chuck's Falconry Home Page
2011 / 2112: Seventh Season for Cisco – 2nd (last) for Elbert; Introducing "Farrah"

The birds started to molt in early April of 2011. That ends the 6th season.
The previous season log can be found at Cisco's 6th Season
Newest updates towards top of page, except for field meet logs, where order is reversed
Please email me. Click on hypertext below, or copy and paste address using your email client.
cisco@virtualvideo.cc

The two hawks can be seen via web cam during most weekday daylight hours here: Cam1 & Cam2.



Cisco in Katy, TX, hovers - January 2011- In my opinion this picture by Bob Dalton is one of the very best taken of Cisco ever.



Ms. Elbert in Abilene, Texas, January 2011 (Photo:Bob Dalton) The beautiful photograph above was the cover photo of Bob Dalton's

World of Falconry,

Issue #7, July 2011. Below is a picture by George Nalbandian taken in September, with Elbert's having a starling on my fist. She had molted into her stunning adult plumage. Unfortunately, MsE got very aggressive, and I had to release her on 11/18/2011.


New Harris's hawk I acquired from Keith Denman right after the NAFA meet. I call her Farrah.


Elbert at her best, with a starling, a month or two before I released her.

---
3/21/2012 – Season Finale
An email to Lynne Holder:

Vegetation is just exploding. I'll bet I picked up ten chigger bites (or spider or poison ivy) on Wednesday. Cisco soared over the woods, the Barbary went over the horizon, and Farrah chased just one squirrel. I tend to write my journal in my head as I go along. For a few minutes, it was, "Cisco was last seen soaring off, mostly unencumbered, with only his anklets, a tail bell, and a loosely fitting Track Pack carrying his transmitter. I'm sure he'll do well in the wild." Then I heard his bell. He really doesn't like to wander too far…….


An email to Jeff LeCompte and Matthew Mullenix, edited slightly for this entry:

I'm calling it good. Vegetation with lots of poison ivy is growing all over the place, the HH caught a pregnant rabbit last Saturday, and I'm running out of steam. Wednesday in about five hours of hunting, I picked up a bunch of chigger bites, and none of the hawks (I flew Mike's Barbary) caught any game. Farrah did the only chasing, trying to catch a squirrel in the heavily leafed woods. I started last August, early season hawking with the red-shouldered hawk, picked up a very nice female HH over Thanksgiving, and caught a lot more game with my hawks than I expected to, especially given the drought. In Amarillo on the way back from Vernal, Cisco chased and caught his first jack rabbit, a six pound black-tailed. Two chases, one kill. Since 12/20, the day of the HH's first catch, Cisco and Farrah were neck and neck in putting game in the freezer, with 22 head between them, mostly rabbits and squirrels; it was roughly 50/50 mix, with a couple of cotton rats thrown in. I'm looking forward to flying Farrah next season. Other than the fact that she hates everybody but me she's a great hawk and a sweetheart.

---

3/17/2012 - "I don't know how a hawk can catch a rabbit in this stuff"


So said Jim Ince, just seconds before Farrah grabbed a cottontail that ran upwind along the thick brush by some RR tracks in Bellaire. The best looking rabbit flight from her yet. Of course as Jim modestly pointed out, we would have caught nothing without Jim's fine job of flushing those rabbits. Actually it's true - Jim was up on the RR tracks and the rabbits didn't want to run up there and across to the other side.


Earlier in the day, in the woods, Farrah had some good squirrel flights, but couldn't connect. Then the day warmed up and she became less interested. Joe Philabaum was with me in the morning. I had a veterinary appointment at 1:00, so hunted until I had to leave. The HH has been favoring her left foot. Wiegel and I have looked at it several times, but haven't seen anything. Dr. Mark Peckham concurred that there was nothing obvious, but told me to keep an eye on it. Farrah sits on her right foot about 90% of the time. I needed to get Cisco to the vet anyway - a follow up from some treatment for internal parasites. All was negative with the float, as was Farrah's. I was in Bellaire, so called my friend Jim. I hung out with him and Carol for a while and then called my apprentice, Daniel Rasi; he told me that his RT, Alice, had caught a rabbit by some RR tracks in Bellaire today. "Tons of rabbits," Daniel said. I asked if he minded if I gave my hawks a shot at it. No.
Jim wanted to go hawking, so we headed over to the spot, not more than ten minutes from Jim's house. We flew Farrah first. Cisco had been at the high end of his hunting weight this morning; he rode hooded in the car most of the day. Upon release, the HH followed us along for just a few minutes before we flushed a rabbit, not seconds after Jim's not too prophetic statement. She shot after it, chasing it upwind in breeze. Farrah flew hard and fast, catching the rabbit which didn't dart into the protective brush that runs along this strip. A great flight with some distance to it. I traded her off with a huge chunk of rabbit - it was so large that I had to coax her the fist. Normally she's on the fist instantly after her field portion. We headed back to the car. On the way back we flushed another rabbit, which she started at, even with her immense crop. "There's Cisco's bunny!"
I put the Harris' hawk back in her box, and got Cisco ready. It was breezy. He flew to some power poles and followed loosely for a bit, then saw a wild RT. This always results in a delay. Cisco flew about a quarter mile away, got things settled and came back. He started following a rabbit ahead of us and had a nice flight with a near miss. We proceeded along farther, when he suddenly headed back toward where we started. Initially I thought it may be another RT encounter, but no. I found him looking intently into the brush below, and flushed a rabbit. It took off into the wind, but this time ran out wide, along a wire fence. Stress. Cisco handled it perfectly, catching the buck cottontail under the wire fence, without any harm to himself. A great day. Daniel showed up, we chatted briefly, and headed back to Jim's house.


---
3/12/2012 - After work cotton rat for Cisco

I took my mother with me today. This is the first post-DST hunt; I no longer have to take a hawk to work with me, since I have an extra hour to hunt. We went to Gold Fire, and parked in front of the church. The nice folks there even brought some coffee for Mom. A month or two back I gave a woman there a tender young cottontail, which Cisco caught earlier that evening.

Cisco flew to the trees, then across the ditch, almost self-hunting, but really he was following a swamp rabbit and I was lagging behind getting my gear. He settled in following, and flying from T pole to trees, and back. Recently he has begun using the very tall power pole by the tollway, and has taken several rabbits from its top. This is new behavior for him. I think the last time he flew up there was six years ago late one evening. Now he knows its value. Today there were few rabbits around. I flushed one while he was atop the power pole. He pursued, but in a three stage descent. It was obvious the rabbit had found cover, but the flight was pretty. At the north end of the field he found a very large cotton rat, which I let him eat.

I now had little time, since he had a full crop. After a large cotton rat, I figure I have about twenty minutes of hunting before I need to get him secured on my fist. I walked along the ditch on the north side; he followed on all right, and put in one long flat pursuit, but then it began to get late. I called him to the fist, and let him eat a chick.



You can barely see him on the top of the power pole - he has caught several
rabbits from this perch this season.


Eating his cotton rat

---
3/11/2012 - How Farrah Got Her Groove Back (from an email)

Farrah, an enthusiastic squirrel chaser, has been in a slump. As good as she looks chasing squirrels, the last catch was in early January. This season has been
slumpy
anyway. Yesterday at De Soto, Cisco grabbed a big swamp rabbit. The rabbit barely screamed, but handily kicked off the hawk within about 20 seconds, and escaped. Cisco rarely loses them like that, but it does happen. He
has
caught two squirrels in the last two weeks.
This morning I fed the Harris' not expecting to hunt today given the nearly constant rain we've had. Late in the day I changed my mind; the weather cleared a little, and even if she weren't red-hot, she would get to fly. She weighed in at 828 grams, more than 1/2 ounce heavy, but a lot of that weight was DOC and mouse breakfast. I took her near the park where she hunts squirrels. The creek had overrun its banks and I could barely get in with my vehicle. I released the hawk and Farrah spotted a squirrel immediately. She chased it around in the trees using her close-engagement HH style. Today the advantage was to the hawk. The squirrel couldn't bail out of the tree because there was too much water below, so had to stay in the branches. The squirrel jumped from a high to low branch, and the brief delay it had moving after the jump was all the hawk needed. She grabbed the squirrel and parachuted down immediately. Right into a foot of water! She held the squirrel under water, and when I pulled it out with her on it, she had a good solid grip on the head. This is her ninth kill, and fourth squirrel this season.
Lynne Holder's HH, Dart, caught five rodents today, including a few cotton rats.
| | |
| --- | --- |
| In the center you can see the Harris' hawk holding squirrel in water | Wet! |
| Aftermath......... | |
---
3/3/2012 - It's the kill, not the flight


An email to Rob Evans in response to his asking if we'd be hawking out near him:
Shoot - missed you and we were out there most of day. Cisco caught a squirrel - didn't even see the flight, and we spent most of afternoon tracking Daniel's big 'ole PFRT. She finally settled east of the park in those trees and Daniel manged to coax her down. My car is messed up -think it's a short in the ignition, but will maybe take the HH for some rabbits out your way. Will borrow my old Taurus from Mom. Farrah has some foot issue, favors the left most of the time, but I see no nasty looking inflammation. Will take her to vet's next Sat. and keep her away from squirrels in meantime. Her foot issues may be why she dropped two squirrels last week. I don't know when I'll head out your way, but will call. This may end up on my site............



Atul Chopra and wife, Haley, met us at Denny's this morning. Farrah has been getting some R&R so we took Cisco. He was a little too efficient, catching a squirrel across the creek, with no view of the flight. I found him under a bush with the dead squirrel. There were few squirrels in the woods today, but he found one. We spent a good four hours chasing Alice, Daniel's RT. She wanted to soar, but stayed within about a mile radius of the woods.


An assortment of pictures..........

| | |
| --- | --- |
| Cisco with his invisible squirrel on Saturday | Farrah in my backyard on Saturday |
| Matthew Mullenix with Jeff LeCompte's RT, called Alex (Jeff LeCompte) | Jeff with Alex (Matthew Mullenix) |
| Farrah last season with swamp rabbit (Keith Denman) | Dart with a cotton rat Friday (Lynne Holder) |
| Chris Manzano's very efficient RT, Chaos (CM) | Another picture taken next day (CM) |
| Bill Rinehart's intermewed western RT (called Jaguar) with cottontail (CM) | Yet another picture of Alex in Louisiana (Jeff LeCompte) |
---
2/26/2012 - Sunday Squirrel - a long day for Team Cisco


Today's hunt was the antithesis of yesterday's. In the woods behind Ron Wilson's house on Saturday, neither hawk was very good. The Harris' was too heavy, flying at 818 grams, and repeated some behavior that she pulled earlier in the week. This is her driving squirrels out to the spindly branches in the trees, where they would be vulnerable, then flying off. She did that twice on Tuesday. After she repeated it again on Saturday I decided it was weight related. The RT, also a little heavy at 931, was about to take a squirrel, then spotted a wild red-tail on the horizon. Off he flew and that was pretty much the end of his hunting, though he put in a feeble chase or two afterwards. Mostly he sat in trees showing little interest in squirrels.
Both birds were at weight today. Farrah came in under my target (810) at about 800 grams, which is the high end of where Keith flew her last season. Cisco was at 928 this morning, so I planned an afternoon hunt. I took the HH to the woods; she never looked better. She pursued squirrel after squirrel and soon grabbed one, but lost it as she hit the ground with it. Discouraging, but her pursuits were thrilling. She was panting hard at times. Mike Wiegel called asking if I wanted to join him and Nancy for lunch. I decided it was time for a break so headed back to the car. On the way, minutes later, Farrah caught another squirrel, but also lost this one as she hit the ground with it. This is a hawk with a grip comparable to a red-tail's. I couldn't believe it. After lunch, I took Farrah to some woods near the restaurant; I didn't see any squirrels, but apparently she found one. She quit following, flew off and crashed into the vegetation. She returned a few minutes later with blood on her foot (mostly from earlier tree abrasion) but there was a small fresh puncture wound on the fat part of her big toe. That was it. I fed her up, treated her feet and headed home to get Cisco.
The RT was excited, obviously ready; he now weighed 922. Mike Wiegel, who wanted to come along, met me at my house. We drove back to the same woods where Farrah caught the squirrels earlier today. Cisco exploded into the woods, finding the first squirrel about 50 feet from the car. After a number of attacks, the squirrel bailed out into the ground vegetation and disappeared. Cisco entertained us for the next hour with some interesting and close chases, but it began to look like he would also go home without a squirrel. He was panting and beginning to tire. One of his nearest misses was spoiled when a wild red-shouldered hawk hit him in the middle of his stoop at a vulnerable squirrel. That was one I believe he would have captured otherwise. This RT is nothing if not persistent, and he finally got a squirrel just where he needed it. He smacked it about 30 feet high on a branch and quickly parachuted down. I held my breath momentarily as he hit the ground hard with it, though Cisco has only lost one squirrel in six seasons of squirrel hawking in this situation; this wasn't the one. At the end of a long day Cisco salvaged the hunt.
In terms of flights, this was a great day, but I am a little concerned about Farrah and her footing. She much prefers chasing squirrels to rabbits, though she seems to be a good rabbit hawk. Farrah needs to improve her ability to hold squirrels. Keith caught a lot of fox squirrels with her last season, but she got chewed up a little on the last day of the season. She has only caught three squirrels with me, all in one week in early January. Her aerial skills, and her ability to corral the squirrels are impressive. But she needs to figure out how to use that crushing grip of hers. I will keep her weight down in the low 800's - that certainly made a difference today.
| | |
| --- | --- |
| A tired Cisco with his squirrel. I have my knee on the pole, pinning the squirrel so Cisco won't wander off with it. | Cisco finishing off the head |
---
---
2/19/2012 - Triple Play on Bob Bunnies


My apprentice Daniel put me onto a new field where he had seen rabbits. The rabbits were there and I put Cisco out first. He flew to the top of a power pole; below him was a disabled transformer. He began watching the rose bushes, then flew out over the field, hovering and wheeling. It was the most beautiful flying, followed by a tear drop stoop, and the capture of a small rabbit. From here on out, these will be called Bob Bunnies, in honor of my friend, Bob Dalton; he likes to give me grief about the size of Cisco's rabbits. See hand illustration below. That is the size of a Bob Bunny. Cisco gobbled the hapless creature down, and I put him in hawk box in car.
Next up was Farrah. She was flying at 831 grams today, and flew to same pole but landed on an insulator below the top. I was very uncomfortable, even with the transformer disabled, as there was still a hot line there. She flew to my fist for a mouse and we then began to chase rabbits around the field. We ended up back where we started, and flushed another Bob Bunny, caught and eaten. A rabbit that can be eaten by a 831 gram female Harris' can't be too big.
At Lowe's shopping for a lamp a few hours later, I got a call from Lynne Holder. You guessed it. Dart and Lynne's dog, Max, had teamed up to catch yet a third one. A big day for Team Cisco with the Bob Bunnies. Dart, flying at 621 grams today also ate the whole thing.
| | |
| --- | --- |
| Harris's hawk with Bob Bunny | Red-tailed hawk with Bob Bunny |
| | Team Cisco out to weather a few weeks ago at Mike Wiegel's house. Dart at left, Farrah, and Cisco in foreground. |
---
2/12/2012 - Sunday Update
Cisco caught a rabbit today at Gold Fire, very quickly. The rascal has learned that he can easily catch rabbits from the tall metal power pole, and flies up there to watch for his victims, which he nails. Has not missed since he began doing this a few weeks ago and is now three for three. He has caught probably 70 to 90 rabbits in this field over seven seasons, and just started this. Cisco never hunted from that pole before. Old hawk, new tricks. It's almost too easy for him, and he knows it.
Today he labored up there, spent a few minutes looking around, and down he came, smashing a buck eastern cottontail. Jim Ince, Ron Wilson, and Mike Wiegel were all with us.
---
2/11/2012 - Harris' Hawks on Saturday
Farrah caught a cotton rat by the park, which she carried off, while Dart caught a cottontail - Lynne Holder brought him to Houston, and we hunted in Katy. Lynne was quite excited as Dart has had a quiet season so far. Cisco goofed off, being fat. Pictures by George Nalbandian to be inserted later.

---
2/4/2012 - Farrah's quick catch
I took Ron Wilson with me out to Gold Fire. Farrah was at hunting weight, and now knows how to hunt this field. Initially a little slow to follow, she flew from a tree by the church, over to the T pole. Within minutes she was sitting high in the trees, and shortly caught a rabbit. Apparently an eastern cottontail, it was a pregnant female which I hate to see. Nevertheless, the Harris' hawk's performance was excellent, almost too good, as we really had little hunting time. Of course she dragged the head under a bush. In future I will use a different technique for trading her off kills.
---
1/29/2012 - Cisco and Farrah


A great day in the field after about nine or ten day slump. The last game caught by either hawk was the big swamp rabbit that dragged Cisco about thirty feet into a big Cherokee rose bush the week before last. Since then, lots of flights on some days, then yesterday in the woods, neither hawk had a single squirrel flight.



Today was different. I went back to Gold Fire, having
not
been there in a month at least. I planned to let Farrah fly first, but Cisco began squawking (hooded) in his box when I started fooling with the gear. I let him fly first - he was definitely ready. He started hunting in the little grove of trees by the church, then rode the T pole, as I crossed the ditch. He flew back and forth from the pole to the little trees, then flew to the top of of a big power pole that sits at the edge of the tollway and field. He attacked one rabbit, but missed, then flew to the lowest of the three phase power wires on that same pole. He looked intently down for a few minutes then caught a swamp rabbit at the end of a nice stoop. It was very efficient, and he was looking so good that I wished that he had more time in the field, at the same time glad we finally caught some game. I let him eat the head, and gave him the organs and a chick. If a swamp rabbit, certainly not a huge one. Time for the Harris' hawk who has really been in a slump, though generally doing everything right. In early January she caught three squirrels in one week, and nothing since.

Farrah was also charged up, very excited. Normally she is so-so about hunting rabbits; her real interest is squirrels. Today she chased repeatedly around those bushes, once flying right into the bush and disappearing while the rabbit took off through the side entrance. Another time today Farrah walked under a bush scaring the rabbit out the other side. Too bad I didn't have a flying ferret. She'll learn. Maybe Farrah figured that if she flushed the rabbit, I'd catch it. Or maybe she's just a knucklehead. All her enthusiasm was not paying off, so I walked to the ditch that leads to Highway 90A. She followed, landing on the T pole. I walked along with her riding, then she flew across the ditch to a tree on the other side. A rabbit flushed behind her, following her up the bank. Farrah was distracted, but just managed to see it as she turned around to face the ditch. The rabbit ran and she clobbered it. It was now dusk. The best day best day in several weeks.
| | |
| --- | --- |
| | |
---
1/18/2012 - A swamp rabbit takes Cisco
In Amarillo last fall Cisco stopped a six pound jack rabbit dead in its tracks. Today after work out at De Soto Street Cisco grabbed a cane cutter that didn't even slow down, taking Cisco deep into the heart of a Cherokee rose. I have never, in seven seasons, seen Cisco so out of control. He had the rabbit by the hind leg and it had every intention of scraping him off. It was an old rabbit that didn't even scream until I reached in. Cisco was stretched out on his back, mouth agape, and wings spread, but would not let go. I dispatched the rabbit, and had to cut the bush to let Cisco out.
Farrah's first kill (with me) - 12/20/2011

At 821 with her gear, including transmitter.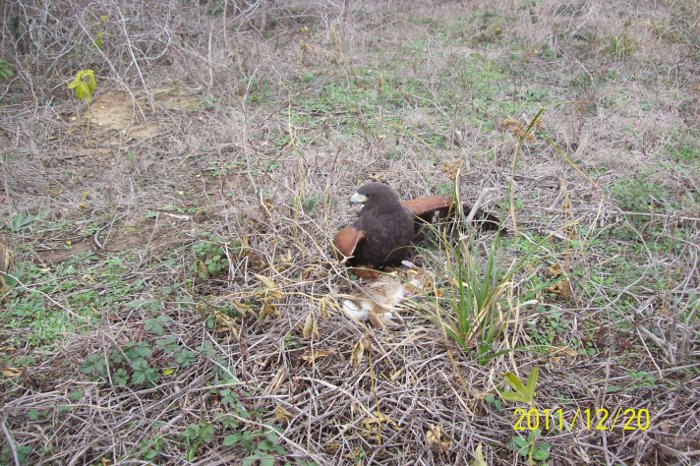 From an email the same day to Lynne Holder:
\

Cisco put on quite a show afterwards in the heavy cover. He ended up with a mouse after about two hours of teardrop stoops, chasing one bunny about 100 yards after bouncing out of a ditch. I thought about Dart but the cover is heavy. Now, in the same field where Farrah caught this rascal Dart would be fine. Unfortunately the rabbits hide in the ultra-heavy stuff about 30 feet from this kill. This is the field behind the Pavestone plant at Pederson. Tons of rabbits that we will never deplete. It takes a dumb one like the one Farrah caught. Any of our three hawks would have caught this rabbit.
---
It was a great day for the Houston Hawking Club!

- 12/18/2011

I went out early today, a Sunday, and quiet. I took Cisco to chase some squirrels at a nearby woods. He did well considering the still highly

vegitated

woods. Vegitated? Too much ground cover, and too many leaves on the trees. Cisco grabbed a squirrel at one point but it must have bitten its way to freedom, based on the bite Cisco had on the fleshy part of his big toe. Cisco wisely bailed. In the middle of the hunt, Jim Ince called saying that he was a falconer again, with Tariq's taking a snipe from a fine pitch in fine style. Jim was excited. Mike Wiegel called, and invited me to join him and friend at LePeep. He was also excited - Jim had called him first.

Today was the day I decided to free-flight Farrah. She had very hot response to fist yesterday evening, flying 50 feet to the fist. Having never lost a bird in my life on the first free-flight, I decided to do it. No lure training, no creance work. I would never do this with a new bird, but she has a season behind her with Keith Denman, whom I acquired her from. I was cautiously confident that I would get her back.
Wiegel came along this afternoon. Farrah
exceeded expectations. She followed-on well, and came repeatedly to the fist from trees. We flushed a rabbit, and she came close to catching it. A+ for my new Harris' hawk. I gave her a large crop of rabbit tonight, and will not feed her until Tuesday's hunt. I weighed her tonight. 938 grams with her transmitter, harness, bell, anklets, and jesses held.

Cisco continues to be unstoppable. After this morning's long hunt, he was still ready and at a good weight. We put the Harris' in the buzzard box and took Cisco out to Katy. He soared a bit while I was getting my gear on, and we had to walk a ways to get him from a tree. He was hunting. Cisco rode the T pole, and we flushed a rabbit which ran out into the open. It looked like it might get away when Cisco tripped it up. For a drought ravaged season, Cisco is doing OK.

The title of this day's log came from Jim Ince, his response to a text I sent out.


| | |
| --- | --- |
| Cisco with his rabbit, probably an immature swamp rabbit | Farrah today - she still has some immature feathers |
---
Nothing if not relentless - 12/15/2011

Thursday afternoon. Joe Philabaum came in again from Fayetteville, which demonstrates his keen interest in falconry. We met at the squirrel woods, where Cisco gamely tried to catch squirrels on Tuesday. Today it was clear, sunny and warm. Yuck. Cisco, always businesslike, set to work. We had a number of chases, a couple quite close to success.
Cisco
was focused, coming to the field at 923 grams. He continued to chase whatever squirrels he could find, but the action was often hard to follow from the ground, and he drifted off. A good hour or more went by. Right across from where we parked was another small woods. Cisco flew over and within minutes had his second squirrel of the season, a young buck cat squirrel. The Uberbuzzard is good.

I rushed home to fly Farrah, and before dark had just enough time to get the line set up between the perches, grab the hawk, and call her to the fist. She has very hot response to the fist at an estimated weight of 825. She veers off some, but in general is good. She is still skittish, but coming along. I was in such a hurry I had no time for the scale, but she weighed 871 afterwards, and I estimate she ate about 50 or so grams of food. I can tell she will be a great hawk. I would be willing to bet I could take her out at this weight and she would take game. But I don't quite feel comfortable with her yet.

---
deus ex machina - 12/10/2011

Lynne Holder brought Dart in from Chappell Hill, Joe Philabaum came in again from Fayetteville. Mike Wiegel, Jim Ince, and Daniel Rasi all came along as we took Dart to a new field that Daniel found. It had lots of Cherokee Roses, and a fair amount of swamp rabbit sign, but is a huge field. We did not actually see any rabbits; obviously they are spread out. The group split up after about an hour, with Jim, Joe, and Mike's going to watch Tariq, the Barbary tiercel, fly.

Lynne, Daniel and I headed to Gold Fire, a field with plenty of rabbits though the cover there is not to Dart's liking. When I was flying him a few years ago, I only took him there a couple of times. This is also the field where I lost him for three days. Dart grabbed a swamp rabbit there once, but it wiggled away in the heavy cover. Today Dart set to work, immediately catching a small rodent. We took him across the ditch where he chased some rabbits, but was a little befuddled. He really does not like this heavy cover. It began to get late and it appeared he was starting to slow down. I suggested Cisco, which was agreed to. While Lynne and Daniel wrapped up Dart's hunting, I got Cisco (Deus ex machina) ready. Dart caught another rodent right at the end.

Cisco started out fooling around in the trees east of the ditch. I called him to the pole. It was time to teach these rascally rabbits some respect. Within minutes Cisco launched from the pole, flew about 40 yards and caught a big swamp rabbit.

We all went to Los Tios for dinner.

Farrah flew about 10+ yards to the fist today. Almost instantaneous response, amazing to me since she's at 840 grams. Still much heavier than the 765 Keith flew her at. Maybe she'll fly at over 800. That would be nice.

---
Rodent Warrior

's

earliest squirrel in 7 seasons - 12/8/2011

Rodent Warrior:
t
hat appellation was attached to Cisco a couple of years ago by Matthew Mullenix. Cisco continues to be impressive. This morning I told Lynne Holder that Cisco would catch a squirrel today. There are still a ton of leaves on the trees, making it difficult for the austringer and hawk alike. I went out to the squirrel woods; crews were working very near by, cutting dead trees down. Cisco was at a fine weight, 933 grams, and screaming a little. I pulled his jesses off and he went to work. We had some chases fairly quickly, but they were hard to watch because of leaves. The pace slowed down, and I actually got bored. No squirrels, no flights, but Cisco stayed engaged. Finally he began to chase again. Just before the end, I flushed a squirrel which to me, looked like a good one to chase. It ran right ahead of me, and Cisco had a clear shot at it. Cisco showed no interest, so I expected he had another one he preferred. Sure enough. He struck a squirrel about 20 feet up in the tree, and struggled with it before parachuting

down. It had a grip around Cisco's hallux, but hardly any scratches or bites resulted.
| | |
| --- | --- |
| Farrah, out on the side lawn | Cisco working on the severed head. I will take the body shortly and put in game bag. |
| The new "Team Cisco," consisting of these two, plus Lynne's hawk, Dart. The Harris' is on the ground because she wants to come over and whoop Cisco, who appears to be not overly concerned. | |
---
---
A windy day swamp rabbit - 12/6/2011

Joe Philabaum came in from Fayetteville. I took a half day off from work; as I drove to the field in Katy I noticed the wind was blowing hard, not conducive to hawking. It was cold and grey as well. Joe met me at the Love's truck stop and we proceeded the short distance to the field. Another issue today was my having to use a very short T pole - my bamboo favorite finally gave out after being run over and repaired with tape.

Out in the field, it was uncomfortable, and there was not much game. Cisco twitched at some sparrows, and flew around a bit, battling the wind. Today was the first time that he would not fly into the wind to the fist. I had to move a little downwind. After stomping around a good hour, we walked along the ditch. This was the same ditch where Ms. Elbert killed a water moccasin but got bitten in the process. As Joe and I walked a small swamp rabbit broke from cover and with some quick aerobatics, followed by a somersault, Cisco had a nice rabbit for the cooler. An admirable catch on Cisco's part.


| | |
| --- | --- |
| Cisco with his little swamp rabbit (Joe Philabaum) | Farrah in the kitchen in Houston (Lyn Redding) |

Farrah Update: The Harris' hawk is coming along. I have not been nearly rigorous enough with her weight control, with my concentrating more on Cisco. She is coming along, at 850 grams she will now hop on my fist indoors, and after bating off the perch once she will hop to fist outdoors too. I have been tidbitting her. I have a stuffed animal red-tailed hawk on my dresser. Farrah now bates at it. I think she's ready to take hunting! Not. I will now get serious, and feed her about a hopper mouse per day. That results in roughly a 1% decrease in weight per day. I am amazed how she retains the weight. I used to feed my kestrels more daily food than this.

---
Cisco's Anniversary- 12/3/2011

Six years ago today, Cisco was trapped in Fort Worth. He has been a spectacularly successful and versatile hawk from day one. Today, along with Jim Ince, Daniel Rasi, and Mike Wiegel, I took Cisco out to the field we call Gold Fire.
Since early 2006
Cisco has caught scores of mostly swamp rabbits in this field. It was so windy this afternoon that I considered not flying the hawk. However, he has been successful in icy, cold, hot, rainy and blustery weather; this was not the worst.

I put him in a small stand of trees by the church and Cisco began by trying to catch a cotton rat immediately. He flew across the little ditch and then put in all kinds of interesting aerial displays, alighting on the tops of small trees, zooming back to the T pole, hovering above the wild rose bushes where the prey often hides. After a few unsuccessful attempts at rabbits complicated by the wind, Cisco used his brain and flew to the top of the very tall power transmission pole, which sits at the edge of the field. Within a minute he dropped nearly straight down, feet first (Harris' hawk style) and snagged a cottontail deep in a bush. When I ran up Cisco was nearly buried in brambles, his feet stretched out below him holding a wiggling but secured rabbit.



Cisco each season:




Picture by Jim Ince - the anniversary rabbit - season 7





Pictures from the previous six seasons:




Season 1: Right off the trap in Ft. Worth - 12/3/205 - poor guy
very frightened


Season 2: A swamp rabbit caught near my house in Houston
(Oak Forest)


Season 3: With a cat squirrel


Season 4: Possibly his biggest rabbit ever, a swamp rabbit taken in Oak Forest


Season 5: A big swamp rabbit taken at Gold Fire


Season 6: A squirrel taken after work

Lots of Things - 12/1/2011

I went to NAFA meet in Vernal, accompanied by my sister, Kate, and Mike Wiegel. On the way we released Ms. Elbert in Bryan because she footed me
in face
on several occasions, drawing blood. See previous update. Cisco caught his first jack rabbit on the way back from Vernal.
More verbiage and pictures later (or not).

| | |
| --- | --- |
| Cisco and new Harris' hawk, Farrah, taken out in Katy, TX (Joe Philabaum) | Cisco with 6 pound black-tailed jackrabbit taken in Amarillo, TX on way back from NAFA meet (Mike Wiegel) |
| Amarillo BTJ..... (Mike Wiegel) | New Harris's I call Farrah, a second year sore hawk acquired from Keith Denman. |
| Farrah last season while being flown by Keith Denman | Kate in Vernal with one of the Peel's juvenile Harris' hawks |
| Randy and Jane Peel in Vernal with their two HH's. | |
| | |
| | |
| | |
| | |
11/17/2011 - Elbert's Epilog
I released MsE up in Bryan TX, at Charli Rohack's house. Months ago she crabbed with a wild red-shouldered hawk, then returned to the fist. She was very agitated and went for my face, drawing blood behind my ear. There is a clip on my YouTube site, chuckr1951. At the time, I considered the behavior to be an anomaly. A couple of weeks ago, with Andrew Hill, I flew Elbert out at Gold Fire, where she chased a cottontail. Upon returning to the fist, she footed me in the cheek, again drawing blood. I immediately thought, "Strike Two!" I did not expect another attack for a long while, but a few days later she got me again. I called Charli, and the plan was to release her on way to NAFA meet. Wiegel and I spent the night at Charli's and released her in the morning. We called her down, cut off her anklets, and she was not seen for more than ten days. That put a damper on the NAFA trip for me, but one day a red-shoulder flew across the pasture and swooped right over Charli's head. Charlotte had never seen that behavior from a RSH before, so was very confident that it was our hawk. Ms Elbert was a charming hawk who enjoyed sitting on my knee. It is too bad she became face aggressive

---
11/12/2011 to 11/13/2011 - Weekend Update
Lots of news and I have been poor about keeping the site updated. Cisco is now well into his season, and in fine form. On Saturday, I took Daniel Rasi, Joe Philabaum, and Andrew Hill with me and Cisco. We went to Gold Fire to hunt. There is one little section still open, very heavily overgrown, but still has rabbits. Cisco caught a cotton rat after chasing a swamp rabbit or two and a sparrow. Then as we walked on the south side of the field he grabbed this rough green snake. The snake was safely released, not punctured.


| | |
| --- | --- |
| (Photos: Joe Philabaum) | Cameron and Katy |
Cameron Turner brought Katy, his third season PFRT, who caught a small rabbit and a cotton rat.

Finally, Sunday evening, thanks to Rob Evans, Cisco caught a cottontail down the street from Rob's house in Katy, TX

MsE will be released this week up in Bryan. She has taken to attacking my face.
| | |
| --- | --- |
| Livingston, TX: Week of 10/3/2011: Nathan Andrews' first year PFRT with her third squirrel. The bird is doing very well. | 10/9/2011, Baton Rouge: Matthew Mullenix's team: A whippet called Rina and a tiercel Harris's called Ernie |
---
10/9/2011 - Birds in The Rain
George Nalbandian came along with me this morning, his fourth with the red-shouldered hawk. We first met Mike Wiegel for breakfast as Denny's at 0700. Today had the first consistent rain we have had in Houston for a long time. MsE put in a fine long flight on one bird and caught another for her lunch.
---
10/2/2011 - Starlings for Breakfast
George Nalbandian came along with me again this morning. After last week's outing being spoiled by the RSH's crabbing with a wild bird, I was hoping for something better. We got it today. On the very first slip, with no weathering at all (we were looking for a place to let her hang out a bit first), I spotted a lone starling. A little bit too far off the window, but MsE was ready. As she closed on it, the starling shot out to the right like a bullet. MsE's good footing skills took care of that. I transferred her off with a entire chick, and put the starling in the box. I told George to be ready with camera because the instant MsE finishes her ground snack she will launch to the fist, George caught that instant. Elbert does this even if she has eaten half a mule deer. She goes from mantling like crazy to launching to the fist every time.




Since she had caught her first bird before we even began to hunt, we continued on for a while. She chased some grackles, but there were not many birds out. We were starting to circle around toward Wiegel's house so George could look at the Barbary tiercel*, when we spotted a couple of starlings. MsE set up again perfectly and caught her second. In one I'm on my belly using the Mullenix make-in trick. We were on a boulevard, she was fat, and had more than a full chick, plus a little starling in her crop. Plus, she will sometimes just hold birds, not finishing them off. I made in, squeezed the starling and headed to the car. Though she's a not a carrier, I wanted to make sure she didn't fly off, and she was looking a little restless. No problem today. It was a year ago today that she took her last double on birds, a rail and a sparrow. After that she got on a cotton rat tear, and didn't catch another bird until a few weeks ago. That is unless you count the five second ride she had on the back of a big cock pheasant up in Dodge City at NAFA meet.




I also stumbled on this nice picture of Cisco taken by Bob Dalton last winter and had to throw that in.............




*Tariq is the bird Mr. Ince will take in a couple of weeks to fly this season.

Five pictures by George Nalbandian
| | |
| --- | --- |
| Starling a la plastic box............. | Trading a chick for a starling |
| The instant after finishing the chick | Belly in on starling #2 - don't want her taking off........... |
| Great being in Oklahoma sometimes | Great picture of Cisco taken last January by Bob Dalton - has nothing to do with today's activities |
| Tariq this morning | |
---
9/18/2011 - A few weeks of dumpster hawking


Today George Nalbandian and I took Ms. Elbert out for some serious dumpster hawking. George, a colleague of mine, was in the field with me and Jonathan Millican back in 2006 when Cisco caught a swamp rabbit out at the Gold Fire field. George has not been out with me since, but I happened to ride a van home from the office with him Friday evening, and invited him. We met before dawn at a Target near my house and began the search for starlings. We had some flights, with MsE's pulling some feathers off a grackle, nearly catching a starling, and flying into a bush narrowly missing a house sparrow. This was a weekend with no kills after two in a row. We finally had some rain. Pictures from the weekends are below.

| | |
| --- | --- |
| The next Sunday morning, on a sad anniversary, she catches another. | MsE feeding on fist, 9/18/2011 (George Nalbandian) |
| MsE draws a crowd after she catches her first bird on Labor Day | This thing was wiggly. In fact it escaped momentarily after Elbert had held it for a minute or two. I did not want to provoke her to carry, nor have her let go of the bird to fly to the fist. She did that with a starling last fall, and it went over the horizon. |





Cisco while training on a Greg Thomas "Launcher Leash®"


Mike Wiegel's Barbary, Tariq - picture taken in his mew


Dart hanging out at Lynne Holder's in early September



Nathan Andrews of Livingston with his very young
female sore hawk red-tail trapped this summer. "Karah"
has already caught a squirrel and a rat.






Elbert hanging out in the living room - pretty much finished molting



Ms. Elbert's namesake, Mt. Elbert, tallest mountain in CO. Mike Wiegel, my nephew Jeff Ward, my sister Kate, and I climbed Mt. Elbert during Hurricane Ike in 2008.