Navigate to: Chuck's Falconry Home Page
2012 Chuck's Falconry Mountain Hiking Club (aka CFMHC) Excursion to Mount Harvard

A little background. In the spring 1970, my late father, Edward Redding and I were driving through Leadville, CO.
I happened to look up and see a mountain peak.
The following is paraphrased, but generally true. Probably bored, I said, "Hey Dad, what's that?" He replied, "That's Mount Elbert, the tallest mountain in Colorado. I used to climb it when I was a kid. It's easy.........." My father passed away in 1990.


Mt. Harvard, our destination 7/21/2012............



Farrah, a traveling companion


Cisco, another traveling companion(hates the back of passenger seat)


July 6, 2012 - Depart Houston - First Stop: Charlotte Rohack's in Bryan






Vlad, The Impaler


Charli Rohack showing her new remodeling


Not an Element rally - really (3 Elements?)


Farrah at Charli's


Cisco at Charli's


Charli's Angels, including Cory with immature male red-shouldered hawk



---

July 6, 2012 - Dallas - Jim and Dana
| | |
| --- | --- |
| Jim and Dana | |
| Quick class on falconry, with a HH who hates everyone on earth except for me. "Dad, I'm outta here - there are other people over there........" | |
| Zena | Clifford |
Santa Fe, NM @ Frank Palumbo's
| | |
| --- | --- |
| Farrah riding the seat............. Cisco would rather be tied to an ant bed than sit on the car seat. | Cadillac graveyard west of Amarillo |
| | Frank's guest house |
| Cisco and Farrah at Frank's | Frank while out on walk in Santa Fe |
| Franks' House in SF | |
| | |
| | |
| | |
| | |
Durango: Nephew Jeff Ward and wife Lisa
| | |
| --- | --- |
| Durango: Nephew Jeff Ward and wife Lisa | Jeff with son, Carter |
| Lisa with Dane...... | |
The following is a summary of the climbs - it omits most of the social details involved with this trip. It is an email sent to a number of my friends. I have a number of pictures taken at Frank Palumbo's in Santa Fe, plus the Freels' place in Frisco, CO. I hope that I will post later.

---
Hi,

Here are the events that culminated with the climb on Mt. Harvard, with Jim and Ted doing some fine mountaineering and great teamwork. I have asked them to write their own inside stories, which I'll send.

Day 1 -7/14/2012: "Let's knock off a couple of 14er's" - Peaks Redcloud (14,038) and Sunshine, aka Sunshine My Ass, (14,001)

My nephew Jeff and I drove to Lake City in two vehicles after I had a nice visit with him, wife Lisa, and the fours boys, Carter, Clay, Grant, and Dane. We arrived in Lake City on Friday evening and checked into the Bates Hotel.......... OK it was really called the Silver Spur or something.

A propitious start? At 0415 the alarm went off; Jeff and I got dressed, grabbed our gear and hopped in my Honda Element. Unfortunately some of my gear was left in the hotel room, since I had taken it out of the Honda believing we were taking Jeff's truck (I'm glad we didn't!!!). Jim DeBruin had asked me in Dallas to take his climbing poles - they were in my Honda, with the ones I planned to use left in the room. Out on the road I was soon sure we were heading in the wrong direction, though Jeff had done the research and knew exactly where we should go. "Jeff, we're just wasting time right now........" What neither of us knew was how nasty the road to the trail head was. Full of big rocks and major drop-offs at the shoulders.


There were very few climbers, even though this was a Saturday. The climb to the summit of Redcloud was good and long. I arrived after Jeff, alone at the peak, as Jeff had continued on. It was exhilarating. Sunshine (renamed as above) is only another 1.5 miles across a saddle and most hikers do both in one day. It results in a loss and gain of 500 ft elevation in each direction, and by the time we got to the second peak we were beat. Neither of us in high spirits - at that point we wondered why we bothered with the second peak. We had the same view, but had gobbled up an extra couple of hours.

Jeff and I headed down the 5.5 miles to the trailhead. On the way back across the saddle some weather developed, but we had to climb rather than descend because Redcloud is a waypoint on the way to trail head. I slipped and fell about a half dozen times on the descent, bashing my elbow, and nearly hitting my teeth on a rock. The weather cleared up, so we didn't need the ponchos that were sitting on the hotel room bed. We encountered another climber on the way down. He turned back earlier because of weather while he was traversing the saddle between the two peaks. He traveled with us most of the way down.


No regrets - Jeff and I both glad we did the second peak.

Jeff and I parted company the next morning, with his going back home to family in Durango and my heading to my friends Dan and Joy Freel in Frisco. The Saturday night after the two summits I remarked to Jeff, "I'm beginning to hate my new hobby..." but very shortly I was ready to go again. I had originally planned to climb Quandary Peak solo either Tuesday or Wednesday ahead of the Harvard climb.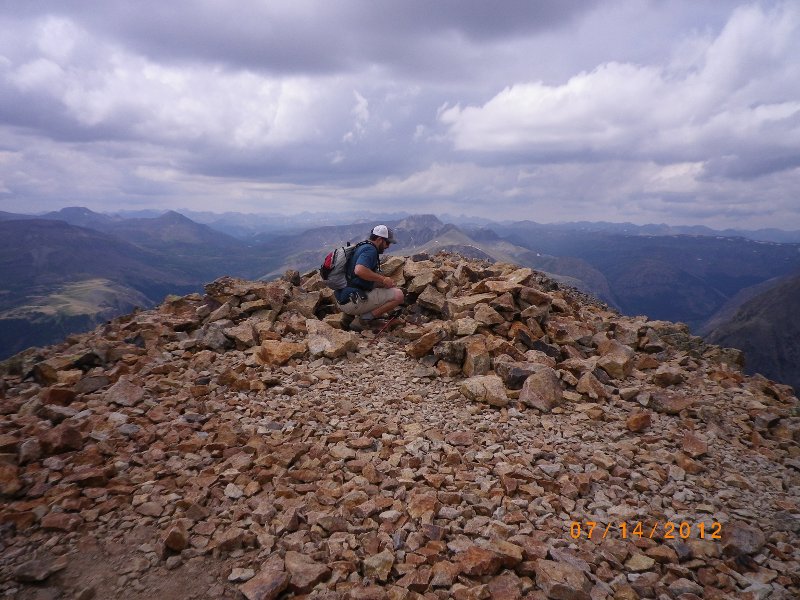 Jeff signing register at Sunshine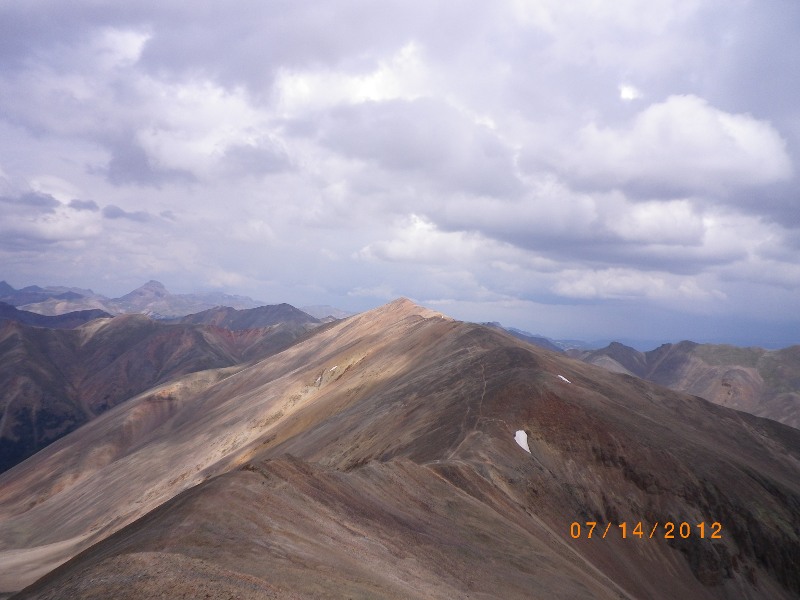 Redcloud from the summit of Sunshine - Uncompahgre is that nasty looking volcanic peak to the left


Day 2 -7/17/2012: Quandary Peak (14,265)
On Monday night the weather forecast was terrible, but while having a sailboat in Houston for nineteen years I learned to always prepare to make the trips. I put all my gear together and got up early Tuesday morning. I was soon at the trailhead, south of Breckenridge. Beautiful weather and a fair number of climbers. With Quandary's being only a six mile RT, I decided it would be a relatively easy day. It was fun, I talked to a whole lot of people on the trail, but pulled the car off the road and took a nap on the way back. There are no easy 14er's........

| | |
| --- | --- |
| Sign at trailhead of Quandary | Picture of me at beginning of climb |
| | |
| A view toward west-southwest from summit of Quandary - La Plata, Elbert, and Massive, the fifth, first, and second highest peaks in CO are off in distance, but not easy to see in picture | Looking back toward Quandary summit on way down |

Day 3 -7/19/2012: Mount Royal (10,500)
Jim DeBruin, Ted Andrews, and my sister Kate showed up on Thursday morning in Frisco. That afternoon the four of us headed to the nearby 10,500' peak, Mount Royal, which is easily viewed from the Freels' house. A 10'er, it taught me to respect every mountain I climb. It has a 1500' elevation change in 1.5 miles. At summit it yields a nice view of the surrounding area, but we did not linger because we hit a little stormy weather at the peak.
Kate and Jim near the summit of Mount Royal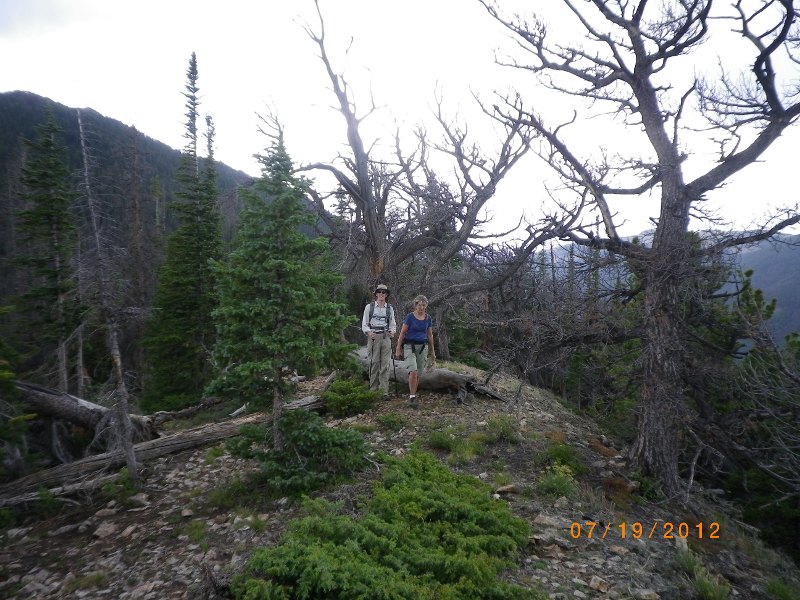 Day 4 -7/21/2012: Harvard - Denouement



The entire trip to CO was planned around this hike. Jim and Ted flew in from Texas, scooped up my sister in Denver and headed to the mountains. Mt. Harvard is the third tallest peak in CO, which put it on the schedule for this year, since we already climbed Mounts Elbert and Massive in previous trips. All's well that ends well, but the day had its tense moments. Jim and Ted both wanted to take the Frenchman Creek Trail up to the summit of Harvard, a longer, but more aesthetically pleasing route. After climbing Redcloud and Sunshine a week earlier, Jeff and I had no intentions of taking any longer trails anywhere. That was a non-starter for us. Ted and Jim had dutifully checked into the ranger station in Leadville on their way to Buena Vista from Frisco, but failed to learn that Frenchman Creek was closed, impassable.

Along with Kate, the four climbers met for dinner in Buena Vista the night before. Jim and Ted were to take their route, while Jeff and I took the North Cottonwood Creek trail,far more popular. It is quite long, 10 to 12 hours typically. We thought we might meet at the top, though Jeff and I should have been well ahead; we had no plans for waiting too long at the summit; it is recommended to be off the summit by noon.

Jeff and I started at 0538 from the trailhead. Jeff was consistently faster, but would frequently stop and let the old guy catch up. At one point, the trail seemed to be leading away from Mount Harvard toward Columbia, so thought I might have lost Jeff and decided I would climb Columbia instead. Around the next bend was Jeff, waiting. We were on the correct trail. A mostly uneventful long hike took us to the summit. Very near the summit, with Jeff already there, I yelled up to him, "Any sign of the Frenchmen?" Negative. Slightly disappointing, as Jim had made tremendous time last year at Massive. Last year Jim started almost an hour later after dropping us off at the other trailhead, took a longer route with more elevation gain, but made the summit ahead of Ted and me.


Making the last 30 feet to the summit was difficult and tense for me. It required crawling on some huge boulders, with the possibility of falling. I am finding myself to be consistently in the 99.9th percentile of age on these climbs.

Jeff and I stayed at the Harvard summit a total of about 45-50 minutes. I was there about 35 minutes, but Jeff arrived ten or fifteen minutes ahead of me. At 1240 we headed down, but I was vaguely uncomfortable about not waiting. My rational mind told me it did not make much difference to Ted and Jim, and in fact it did not. Glancing across the valley there appeared to be nobody on that side. While at summit I received this message from Jim via text: "11,500 elevation @ 9:10" This was more than three hours delayed due to poor cell phone coverage. I replied: "We descend at 1245"

The descent was long but mostly uneventful. On the way down I asked some swifter, younger climbers if they had seen a couple of older fellows wearing tan shirts at summit. No. This was repeated a time or two with same result. As I got nearer the trailhead my uneasiness increased. It rained some on the way down and there was thunder off in the distance. Cell phone beeped with a voice mail from Kate. Just wishing us well. Jeff and I got to trailhead then drove to the hotel. No calls from our climbing partners. It was getting later and the weather was getting worse. Kate called the authorities.

I decided the best plan would be for me to continue to make frequent trips from town, say every 30 minutes or so, to North Cottonwood trailhead to see if Jim and Ted would show up. Jeff agreed. Kate and Jeff would try to reach Jim via cell phone down in town. The original plan was that Jim and Ted would summit then return on the Cottonwood trail.


On my first trip to the trailhead, the weather was bad. From an overnight-staying climber, I got directions to Frenchman Creek, north of Buena Vista, and decided to see if Jim/Ted's white GMC was parked there. I picked up Kate as I went by the hotel and we drove to Frenchman Creek. We passed Deputy Boz on the way down. He stopped and confirmed that the vehicle was there. He was heading to his station to get Search and Rescue involved. It is hard to describe the emotions I was feeling at this point. Ranks low for the past few decades. I still wanted to look at the vehicle, followed by another drive up to North Cottonwood to check there.

A few minutes later, Kate's cell phone rang. It was Jeff. Jim had called Jeff telling him that he and Ted had picked up a ride at the N Cottonwood Trailhead, and were heading to their hotel. Wow! Relief.

What happened? A major blown-down of trees about a mile long and wide had blocked and hidden the trail. The trail was closed. Ted and Jim used their maps, GPS, good attitude, and teamwork to climb up Harvard to descend on the other side. They were over 14,000' at one point, but wisely did not ascend to summit.

No doubt we'll get their side of the story soon and I'll forward to you. Ted said he would write something up. He described the experience as "Exhilarating."
| | |
| --- | --- |
| View of Harvard in morning | Jeff hiking ahead |
| Youths at summit | On way down in deteriorating weather |